Bonsoir,
Our weekend has been easy and fun, slightly cooler with more rain!  Ugh!  However, we are excited to greet Bernie's son James and his partner, Stephen, tomorrow for a two-week visit.  They will be staying in an apartment very close to us, about a 3-minute walk. We are glad the river has found its banks again and hope it will stay that way for their enjoyment!
Yesterday, we walked to Place Vendôme which has been under major restoration for the past two years, along with the Hotel Ritz. It is a very nice area and much of our stroll was under the great old arcades of Paris with the very old tile floors.  Here are some pretty examples.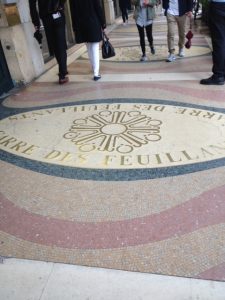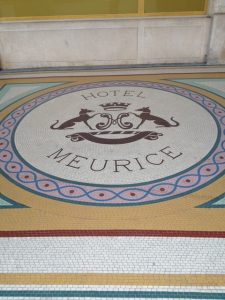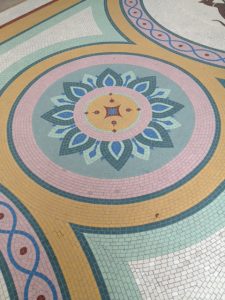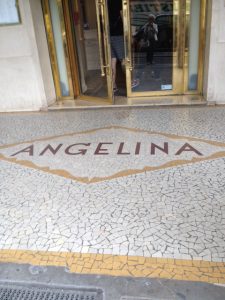 Getting into the Ritz was no problem…we have mastered how to look rich and appear to belong!  The interior remains exactly as before which was by design, but much work was done behind the scenes on things like the HVAC, plumbing, and electrical. There are supposedly fewer rooms, but larger. A noticeable change will be a Chanel spa which is not quite ready yet. The Hemingway Bar remains unchanged (which I'm sure includes the price of 35-40 euros for a mixed drink!) We were greeted by a very nice staff member who even gave us a tour! His closing remark was something like…our home is your home anytime. We were pretty amazed at the hospitality. The regular room rate is €1500 per night so I'm reasonably positive they will never see us as guests! Here are some shots of the beautiful courtyard and the exterior as well as a few of the items on display in the shopping arcade.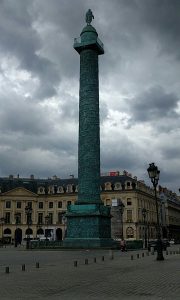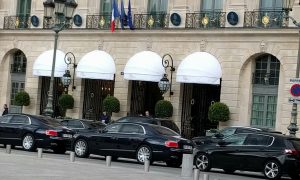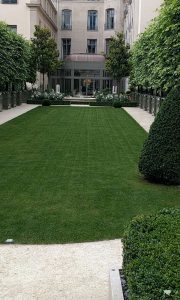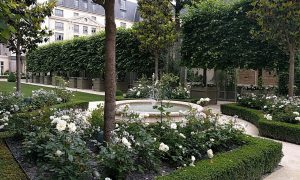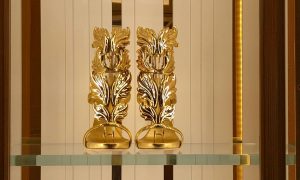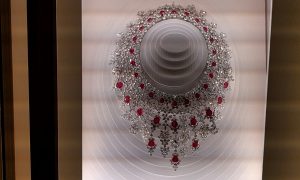 On Saturday evening, we accompanied our host, Richard Nahem, into the second arrondissment to Club Raye, a fascinating, petit piano bar decorated to the max in black and white stripes.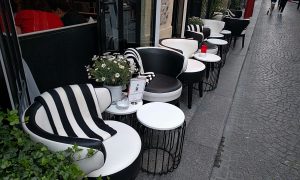 We were there to hear a friend of Richard's sing. Her name is Connie Frederickson Malone, and she was fabulous. Think a combination of Ella Fitzgerald, Billie Holiday, Ethel Waters and Aretha Franklin.  Connie and her husband, Jim, live in upstate New York and spend three months a year in Paris. The evening far exceeded our expectations, and introduced us to an area we were not that familiar with along Etienne Marcel and rue Montorgueil. We will return to check it out.
This morning we attended Sunday worship services at The American Cathedral of Paris where we have been many times. It is the gorgeous church which has a flag and needlepoint prayer bench for every state in the US. Truly lovely.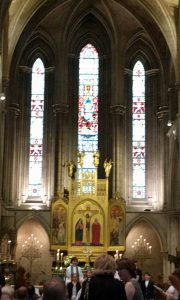 After that amid a steady rain, we stopped for a light lunch at The Marriott Hotel along Les Champs. Peggy Bilbro, how's this for a  coffee cup in Paris for a double espresso?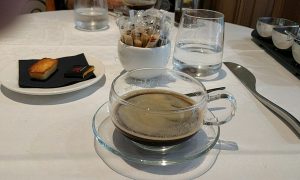 We're snuggled in for the rest of the day as walking in a cold rain is not our favorite pastime. Hope your Sunday is full of relaxation and enjoyment!
A bientôt
L & B