Bonjour mes amis,
I love to start with good news. The River Seine is almost back to normal, and I think within a day or two, sans any significant rain, we will see the cruise boats back out on the river in force. The water needs to drop another couple of feet in our estimation. The current is still quite swift, and that may be a delaying concern. It is wonderful to see the river banks and promenades once again! The highway is still not open, but hopefully soon!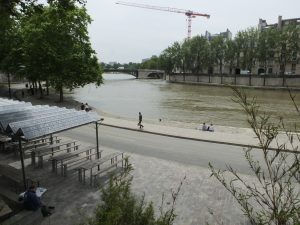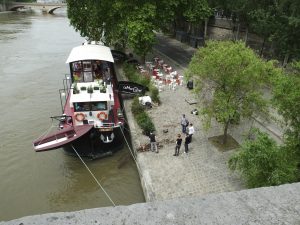 Paris is loaded with tourists right now given the start of the European Cup yesterday. These international soccer games will last a month and have the city hopping with the European version of football. Directly behind the Eiffel Tower in the Champs de Mars (massive green space) is a "fan zone" with a giant screen for viewing the games.
For dinner last evening, our Paris friend, Ann Jeanne, treated us to a lovely meal at Closerie des Lilas, a historic bistro along Boulevard Montparnasse. The placemat is composed of signatures, poems, pictures, cartoons and notes from famous people who have eaten here such as Hemingway, Henry Miller, Yul Brynner, Peter O'Toole, Lauren Bacall,  Albert Camus, and many others. 
Ann is a former teacher, turned tour guide in Paris who will provide you with a native's view of Paris like no other.  Through her eyes, you will get an authentic sense of various areas of Paris, and we hope many of you will seek out her services.  Her web site is http://afriendinparis.com.
This evening we are off to a concert with another good friend in Paris, Richard Nahem, who is also a private tour guide and offers a cooking school as well. We will be hearing a friend of his sing at a local venue and really looking forward to the evening.  Many of you subscribe already to his blog, http://eyepreferparis.com.  How blessed we are to have friends in Paris!
Café chairs of the day are navy blue, something new!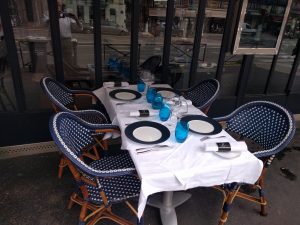 Have a lovely weekend,
L&B