Bonjour mes amis,
We gave considerable thought to going up to Montmartre yesterday, but we decided to wait until later in September in hopes of seeing a little color appear in the beautiful vines which drape some of the houses. With so little rain, who knows what kind of fall will develop. I look at my black raincoat every day hanging on a peg by the door and wonder if I'll ever need it even once on this trip!
We chose instead to go to one of the iconic areas of Paris around the opera house, Le Palais Garnier. Getting out of the subway on Line 8 at the Opera, you're greeted with these delightful images which I have posted before. They are throughout the station and always bring a smile.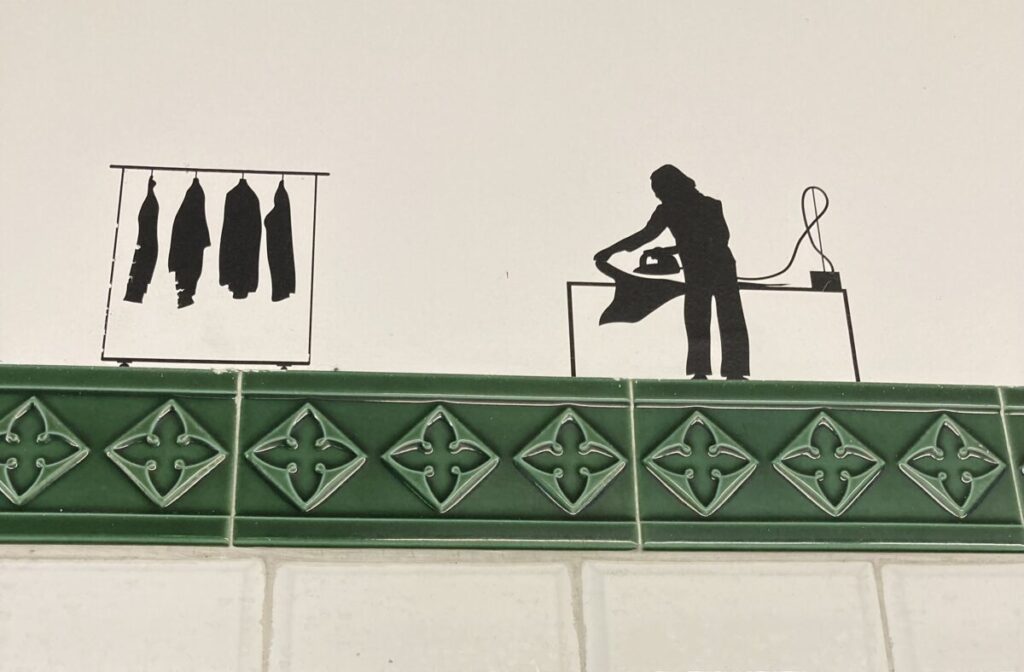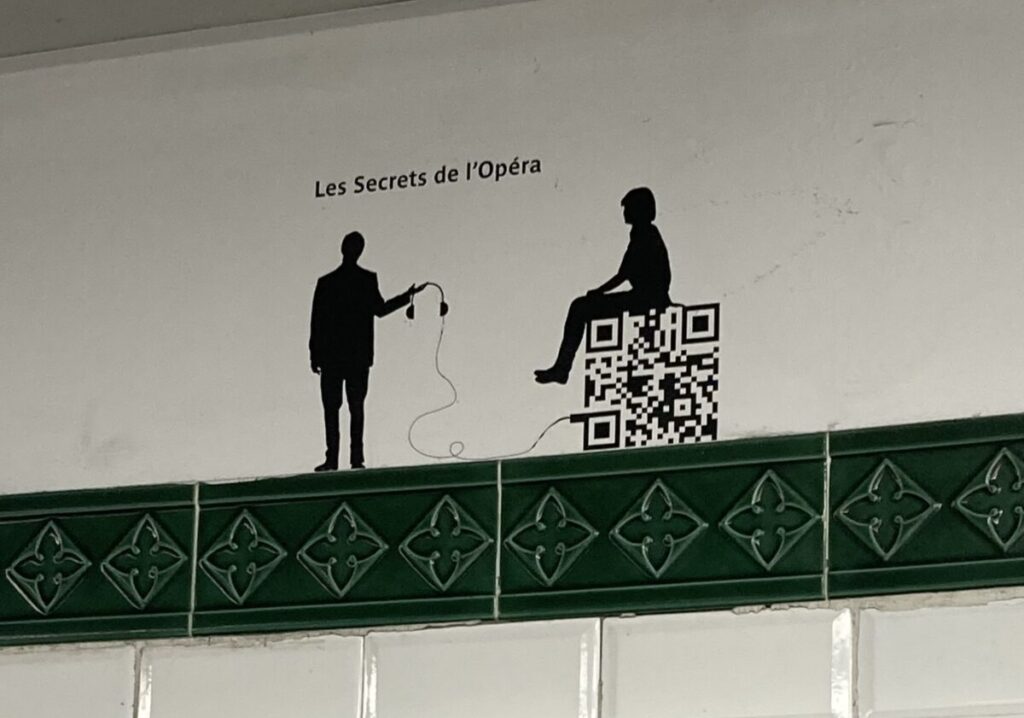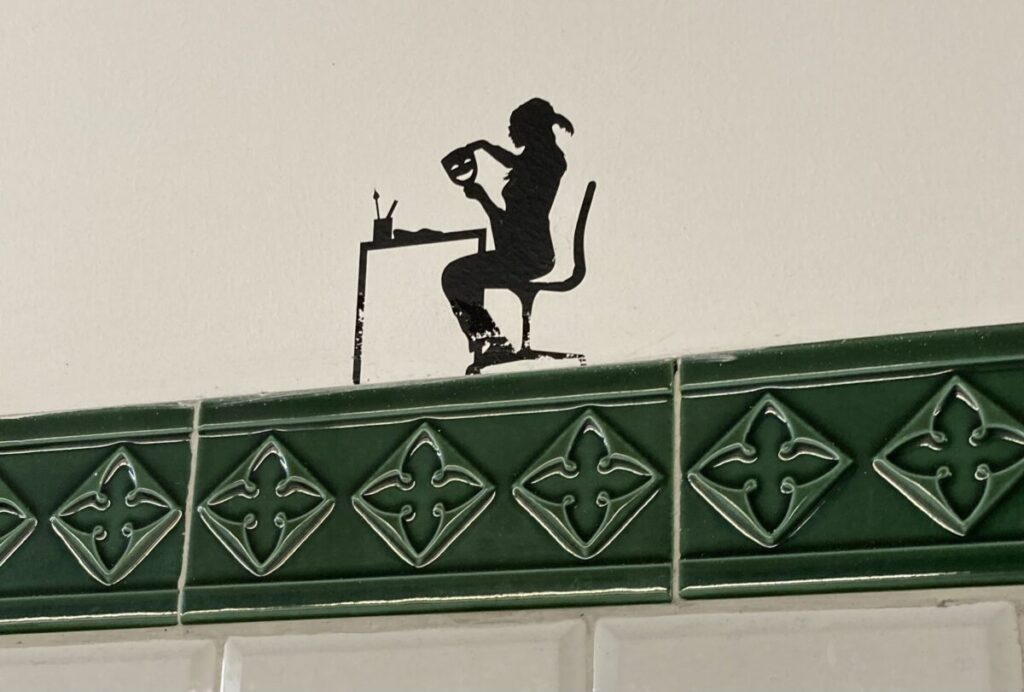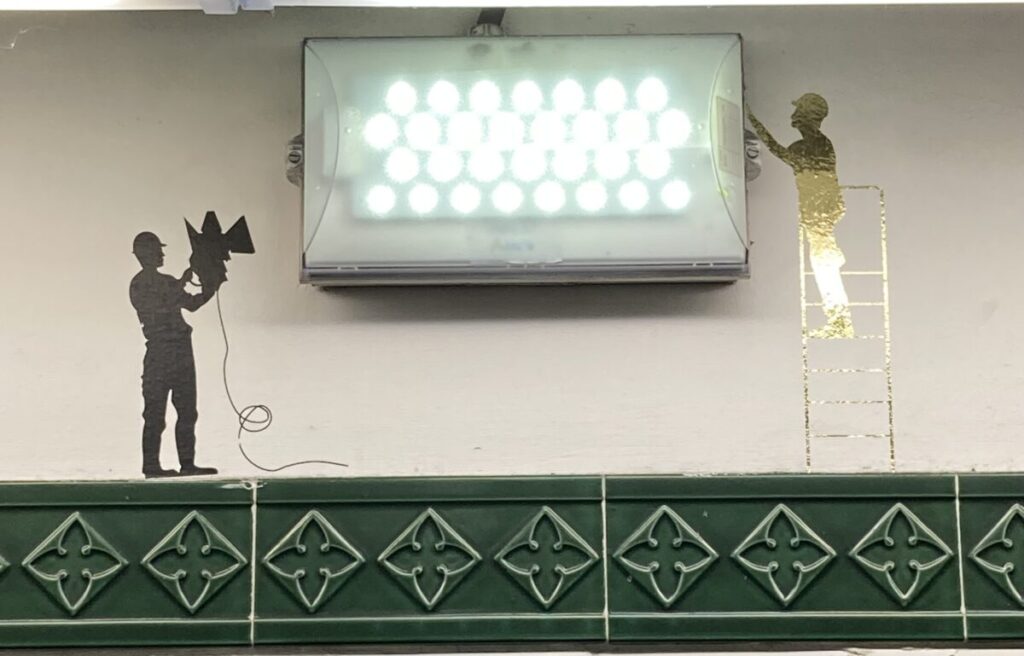 After a leisurely lunch on the terrace at Café de la Paix (onion soup for me and fish and chips for Bernie) in the Intercontinental Hotel, we walked around the opera house with a stop in their adorable gift shop. If you have an interest in dance or ballet, this is your place.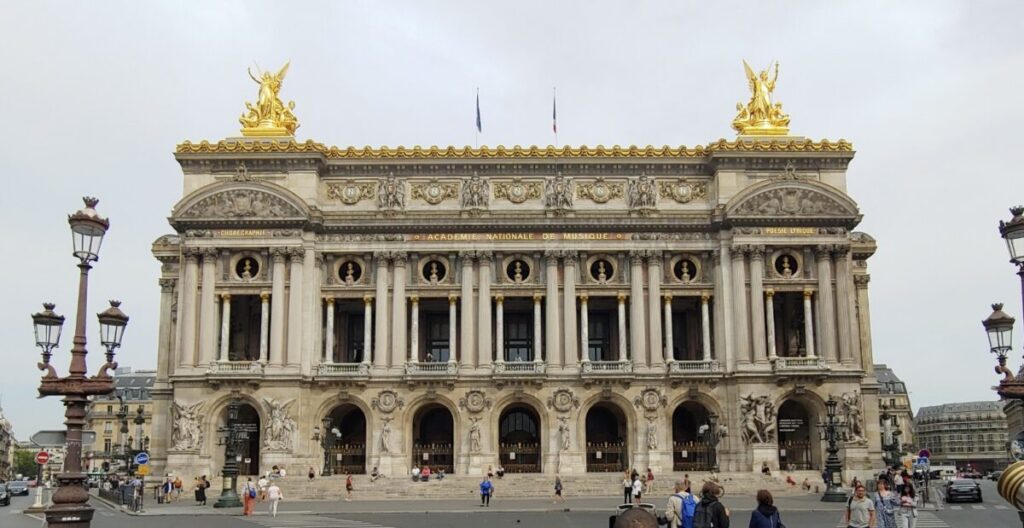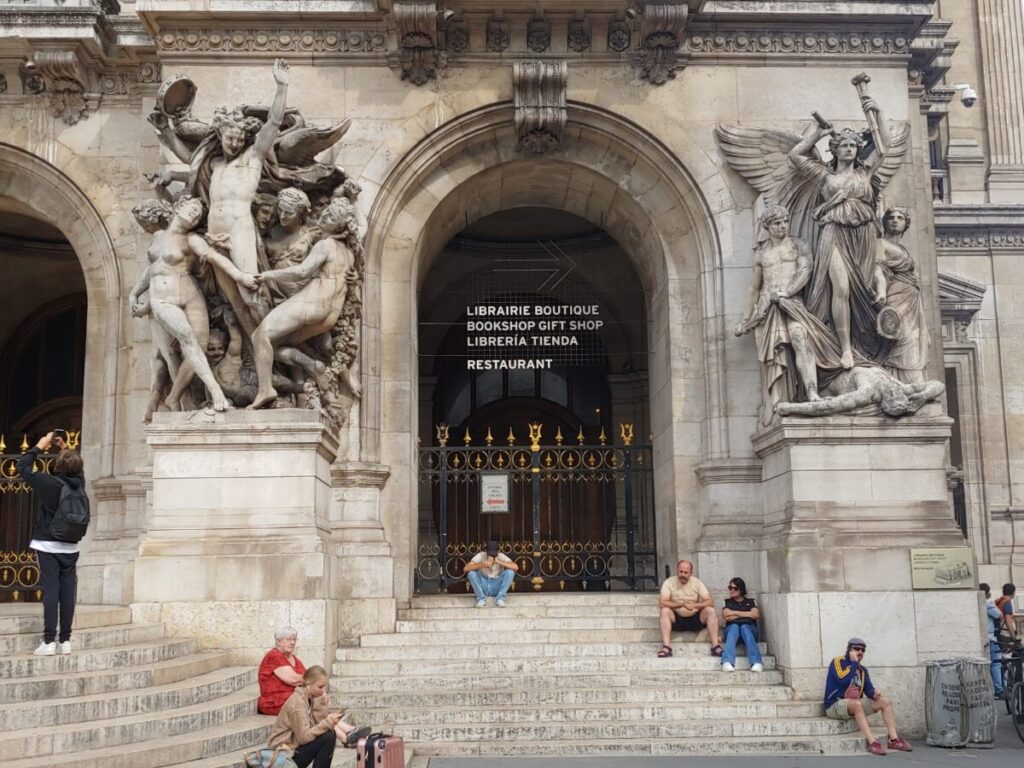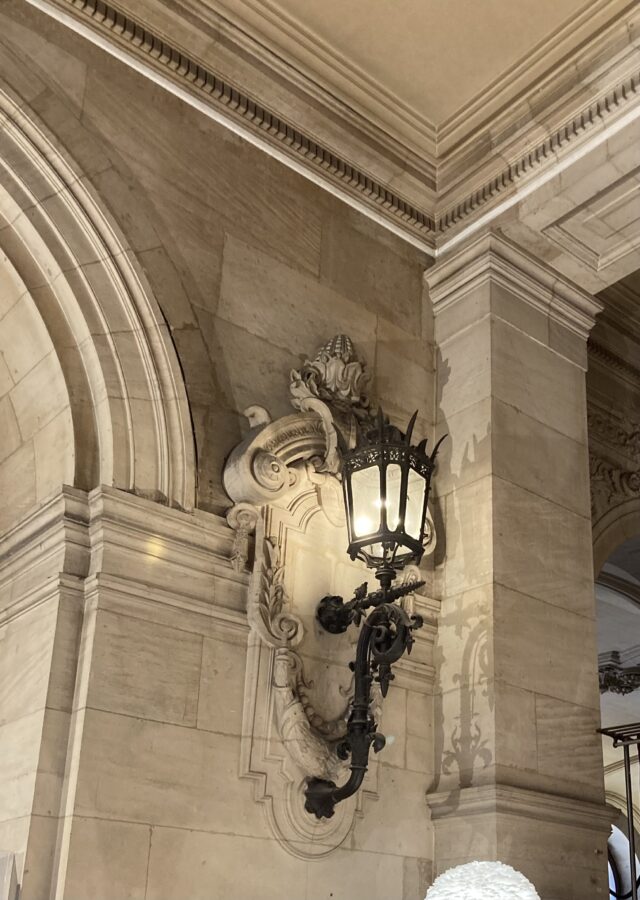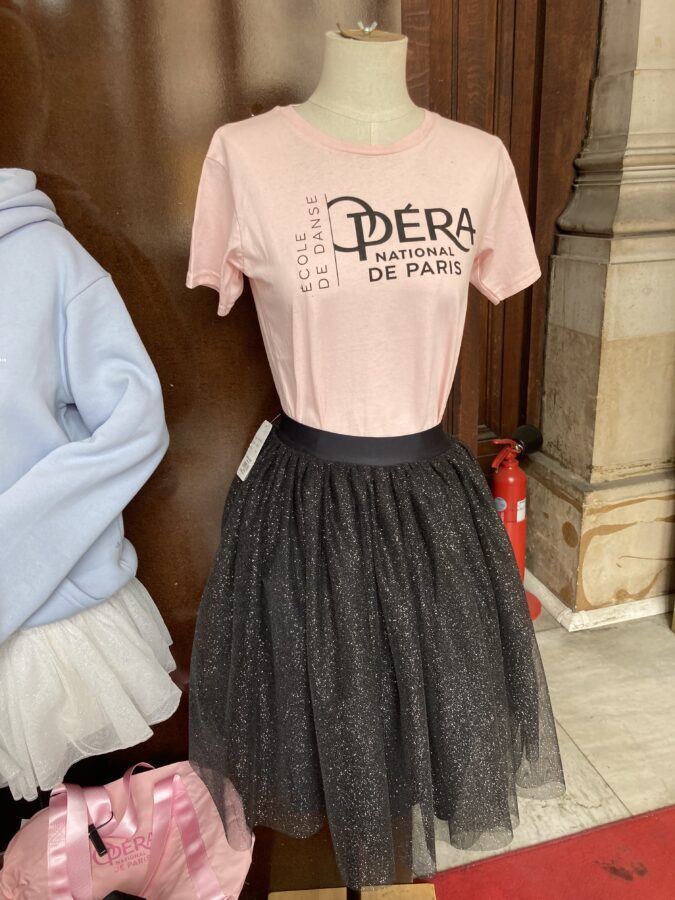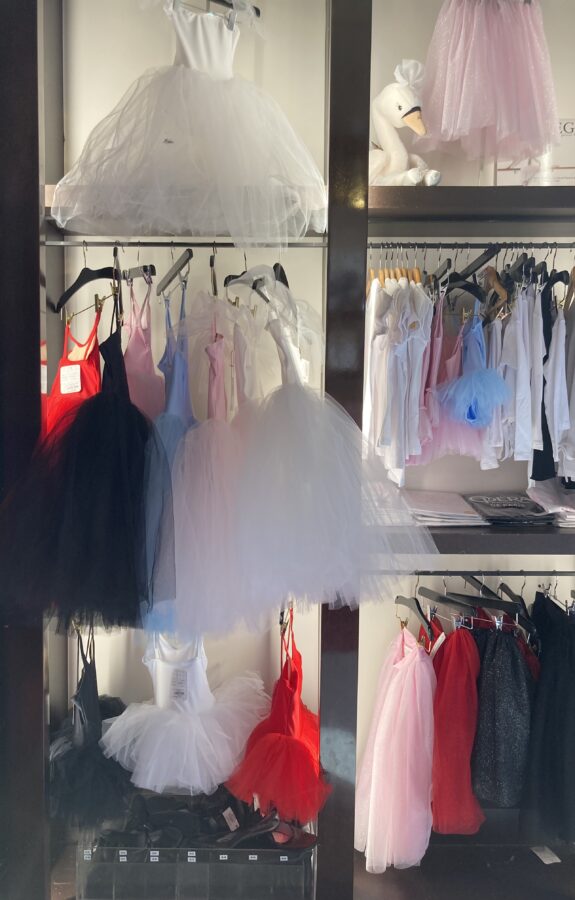 On the way to the Galeries Lafayette, we ran into some interesting hair!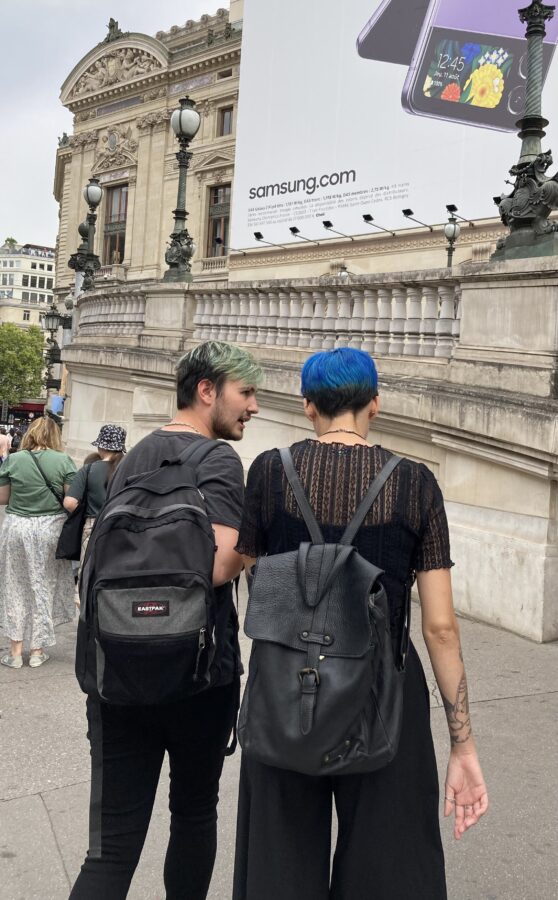 Since it was a Tuesday, Les Galeries Lafayette was subdued and as empty as I've ever seen it which was SO nice. We stopped upstairs at one of the little bars which hang over the edge for a mid-afternoon break…green tea for me and a Ricard for Bernie. The counter was a smokey glass and I captured some interesting reflections with my phone. Bernie got some great shots of the doom and some looking down at the main floor. And of course, a selfie!
Of course, some looking around is always fun and we found an entire section of used or recycled clothes which is this year's big fashion trend in Paris. These shops are all over the city (one right next to our apartment), and they shuffle clothes in and out all the time. I couldn't believe there was one in this elegant department store. It appears to be about saving the planet if you read the signs.
On the escalator down, I just happened to see a "knife and fork" symbol for the shoe floor of all places. That connotes a restaurant and this was our big discovery of the day. We believe it's totally new. El & N and it's out of London. Certainly a new lunch spot for us!
After a most pleasant day, I was content to eat in the apartment, but Bernie convinced me we should go out. It doesn't take much arm twisting!! We picked a tiny little Italian place off Ste. Catherine's Square that we have walked past probably 500 times over the years…Salento's.  It was packed and the food was yummy, not elegant, just plain ole home cooking kind of stuff. We sat outside next to a couple who tried to convince us to rent their apartment but it was only 40 square meters (400 square feet). That's not quite large enough for us. Bernie really enjoyed his dinner but mostly enjoyed the beautiful young woman sitting behind him. She and her sister were from Seattle and dressed to the nines. First time in Paris and they still think that fashion is a big deal here. We all know that's no longer true. Anyway, they were off to the Crazy Horse Saloon to "look for men."  Ah, to be young again!
And lastly, there is hope for me yet as an artist. We saw these displays at one of the very nicest art galleries in La Place des Vosges along with this eye-catching perfume store!
Hope you enjoyed the post today! Happy Wednesday.
L & B