Happy Saturday to all,
We are having fantastic weather in Paris, especially yesterday, when it was just barely 70 degrees under blue skies and a frequent breeze. What a contrast from the year before when we had rain and flooding the first few weeks of June!
The highlight of our day was a trip to Les Galeries Lafayette, the historic and lovely and huge department store in the heart of Paris. At a time when major retailers are folding in the US, this store continues to thrive as a vital part of the Parisian landscape. We proceeded to the very top for the gorgeous view and captured some more shots of Le Palais Garnier or Opera House as well as Montmartre.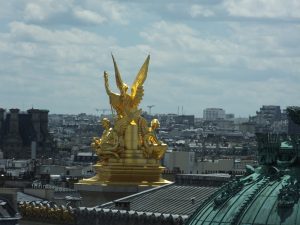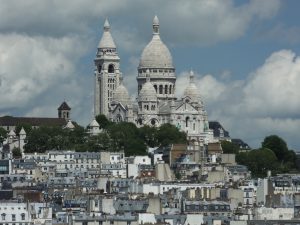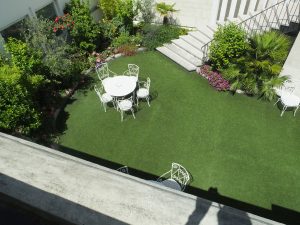 We ate lunch in the open air which was a bit pricey but worth it.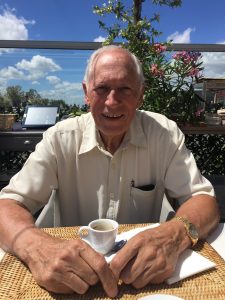 The interior of the grand magasin is most well-known for its domed ceiling.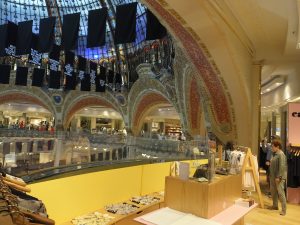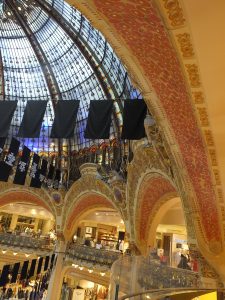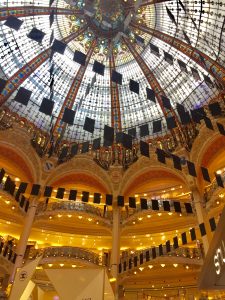 We'd like to take you on a tour of the multiple floors and their unique fashion displays. Hope you enjoy. First, ladies, the shoes!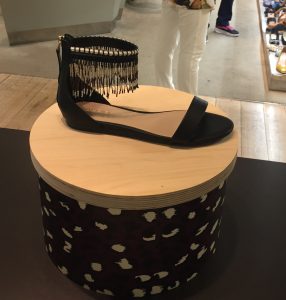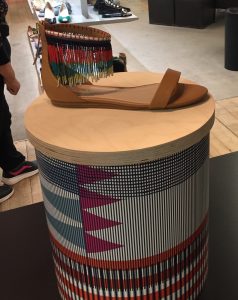 And now, other women's fashion which I observed is pretty conservative this year. We failed to capture the main floor which is all perfume and purses. The Longchamp line is always the longest. And for you guys, sorry, we didn't make it over to the men's store which is in a separate building.
Before we left the main store, we made a bathroom stop and noticed something new from previous years…a kiosk which asked you to rate the cleanliness of the restrooms. I gave it the very best, but as Bernie was taking this picture, a gentleman came out and gave it the very worst rating.  Oh, well!
Finally, a glimpse into the gourmet store which is directly across the street where you can truly spend hours. They have every name brand from Pierre Hermes to Ladureé as well as meat, cheeses, spices, wine, pastries, and a full grocery store underneath. All very pricey!
The "Purely Paris" photo of the day has to be these lovely flowers which are everywhere along the streets of Paris.
Runner up is this example of how the French take the most mundane of activities like building renovation and turn it into an artistic statement. This is the back side of the opera house and is just a facade to cover up construction.

Thanks for all of your comments. Keep them coming and have a nice day.
À tout a l'heure,
L & B