Bonjour mes amis,
When there's no blog from me for your morning cup of coffee, that's a sure sign of a rainy previous day in Paris. Taking photos in the rain is not a hit with us, and we choose to stay inside the apartment. Such was the case on Tuesday when it rained almost all day. Yesterday was another story, extremely cool for late July, but lovely outside. We can't believe the temps as we approach August. Nor can we believe we've been here for almost a month!
I'm the day planner, and we had two items on the agenda Wednesday: lunch at the rooftop bar and restaurant at the Centre Georges Pompidou called simply "Restaurant Georges" and pursuit of English bookstores where I might be able to find an American crossword puzzle book. I brought a stack from home, but I inhale them especially on these rainy days.
We have visited this museum many times, and must admit that it's not our favorite. It's bizarre facade is unlike anything else in Paris and houses very modern art which is also not our favorite. It's definitely an experience everyone should have…once.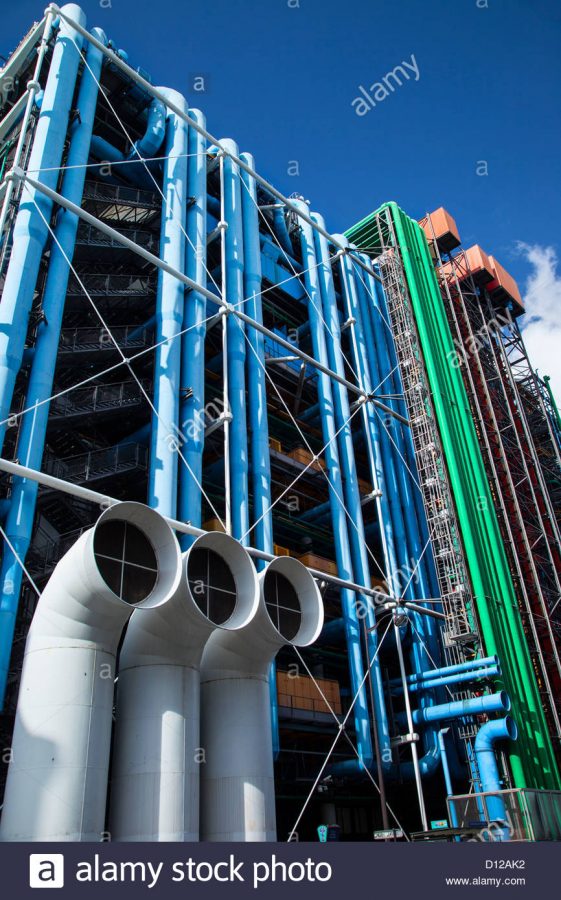 Through the years, however, we have never been to the restaurant on top. This is where we should have watched the fireworks, and we'll pursue that next time, if indeed there is a next time!
I had carpaccio de boeuf and Bernie had his favorite, tartare de boeuf with literally a stack of French fries. We finished by splitting a yummy eclair with salted caramel. The interior of the restaurant captured the ambiance of the museum. As I approached the toilettes, I saw two port-a-potties and feared that was the restroom. Not so, just additional facilities for busy nights at the bar. Thank goodness! This is a popular drinking spot for the young.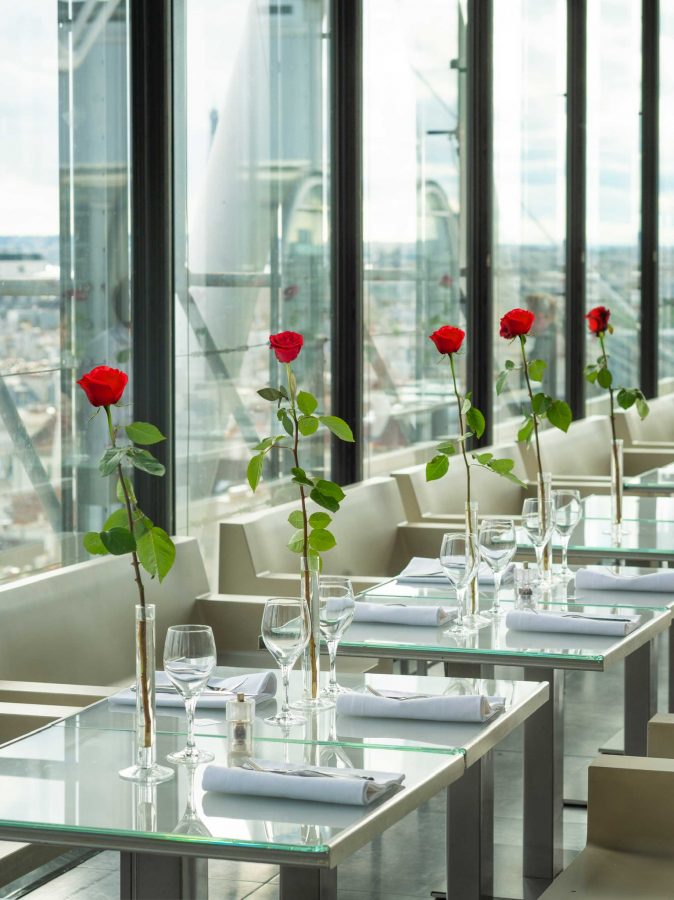 Here are some additional outside views which Bernie was able to get with his camera.
The door of the day is from Elgise St. Merry, a very old church we passed approaching Centre Pompidou.
Next to the church was an interesting piece of sculpture done by Khalid Dawwa, a Syrian. The work represents the portrayal of a tyrant.
After our restful and lengthy lunch, we finished our outing on rue de Rivoli, the major thoroughfare which runs almost the length of Paris, changing to rue St. Antoine by our apartment up to the Bastille. It's old Paris at its best. If you ever doubted the effect of carbon in our environment, you have only to see the dirt and grime which collects on the older structures like Le Louvre from car exhaust.
Well, alas, no crossword puzzle books but a fun jaunt anyway. And got the new Louise Penny book set in Paris called "All the Devils Are Here" at Smith Sons bookstore, formerly WH Smith.
The Bilbros have arrived in Paris and taking a day or two to get settled. Hopefully, we will link up soon. By the way, we used our vaccine pass at Restaurant Georges to enter for the first time. Also discovered from the pharmacist that one cannot get any NSAIDS here in Paris like Aleve without a doctor's prescription. I sometimes use a half of an Aleve PM to sleep. Too bad as sleeping through the night is an issue for me.
Please stay healthy all of you in Alabama!
À bientôt
L & B