Bonjour,
Our day started with horses in our neighborhood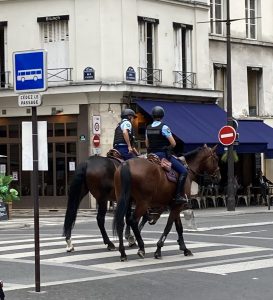 and ended with gorgeous sunsets on Pont Marie …with a haircut in between. It was cold yesterday and though we ate outside at lunch, I froze. Mine and Bernie's wardrobes are scant for this kind of weather!
There is a new frenzy in Paris called the Hotel de la Marine and the new museum and café which envelops it on La Place de la Concorde. We tried the newly opened Café Lepérouse yesterday and found it to be lovely but a bit snooty. We weren't allowed to sit inside because we didn't have a reservation but neither did many who followed us, as I became keenly aware. We were seated right by the hostess station so could easily keep tabs. Something about us reeks of being American: I can't imagine what! They forgot part of my order (12 euros for a bowl of broth which finally came) and the portions were so small we hardly felt like we had eaten. The tab was 97 euros which is over $100!  So…we'll give it another chance perhaps because it looked lovely on the inside. They are only open for lunch and the dinner restaurant will open in early September, will be Michelin rated or very expensive. Here's a look.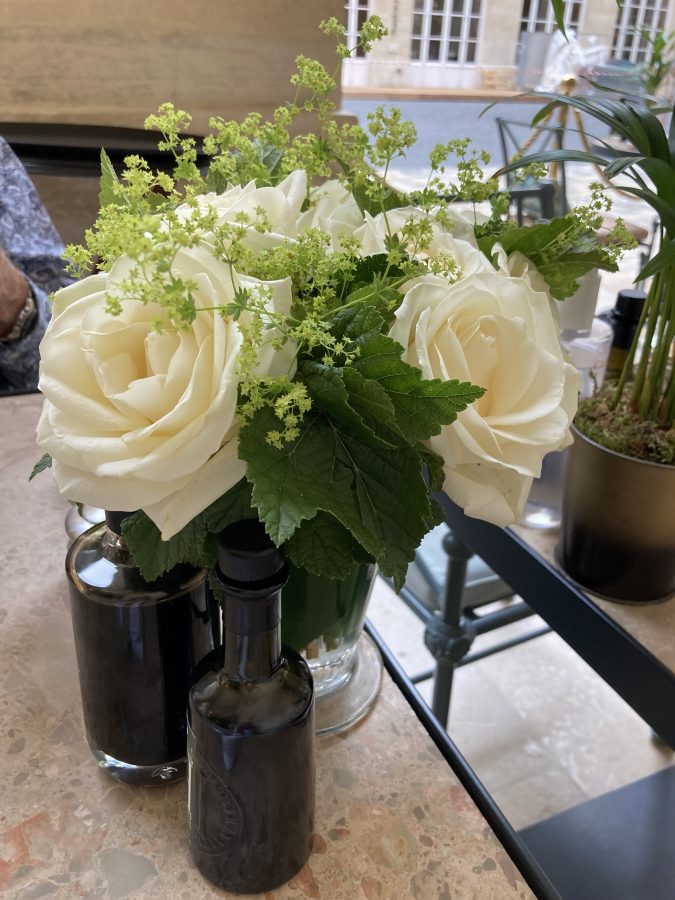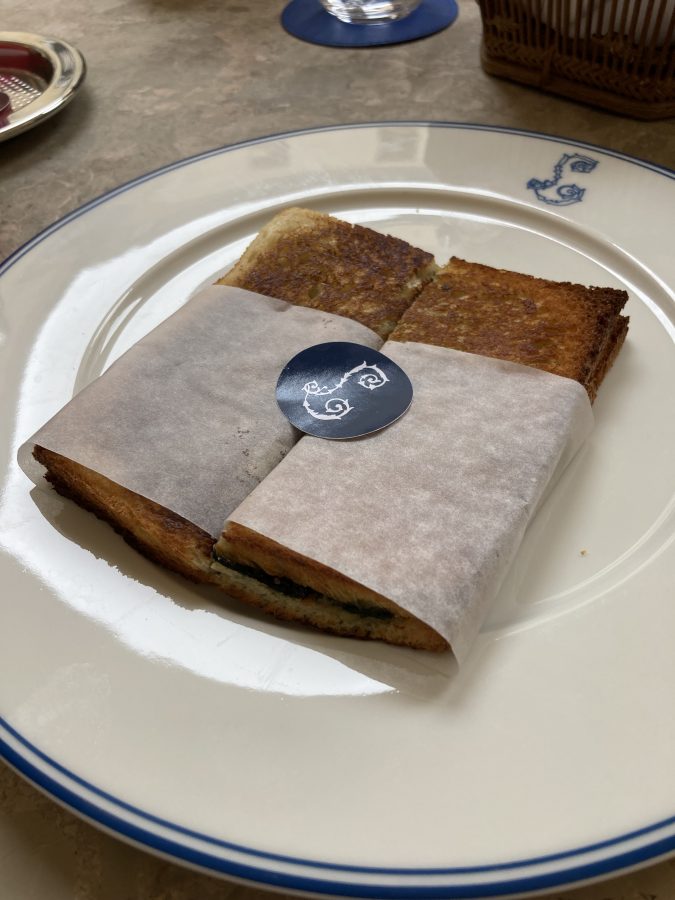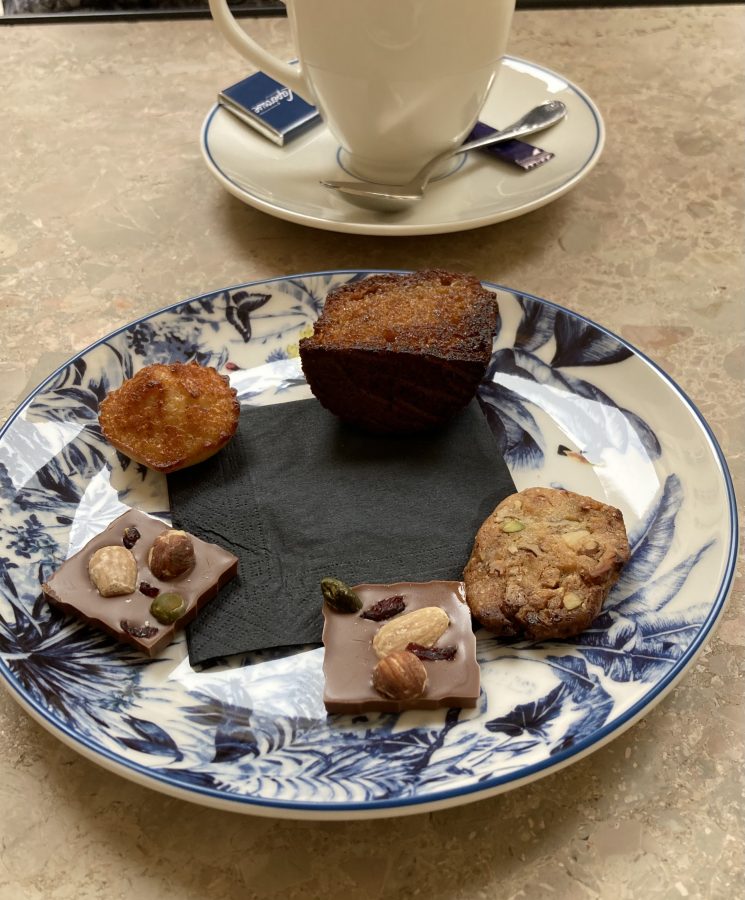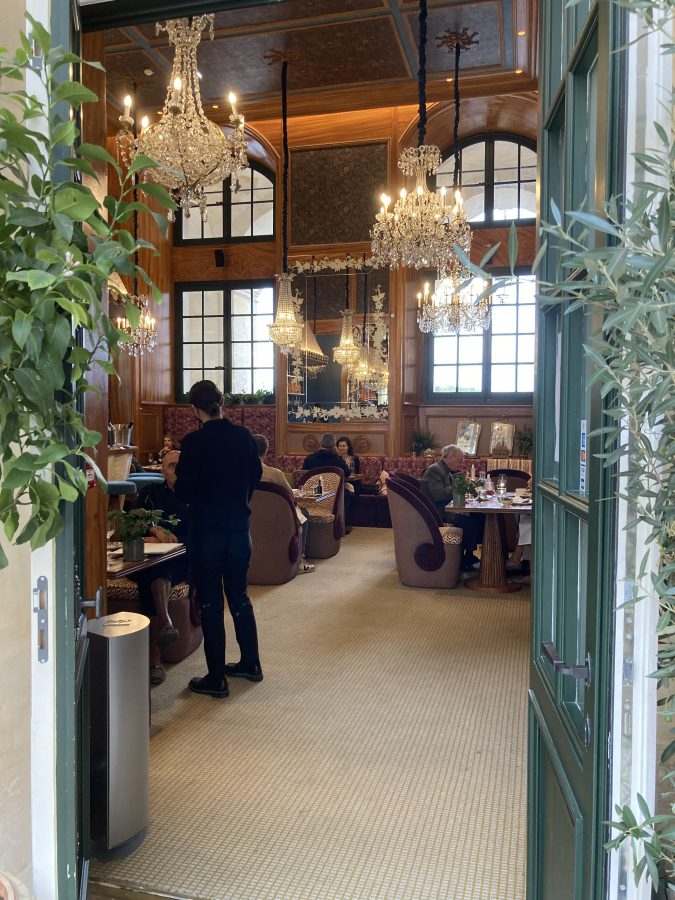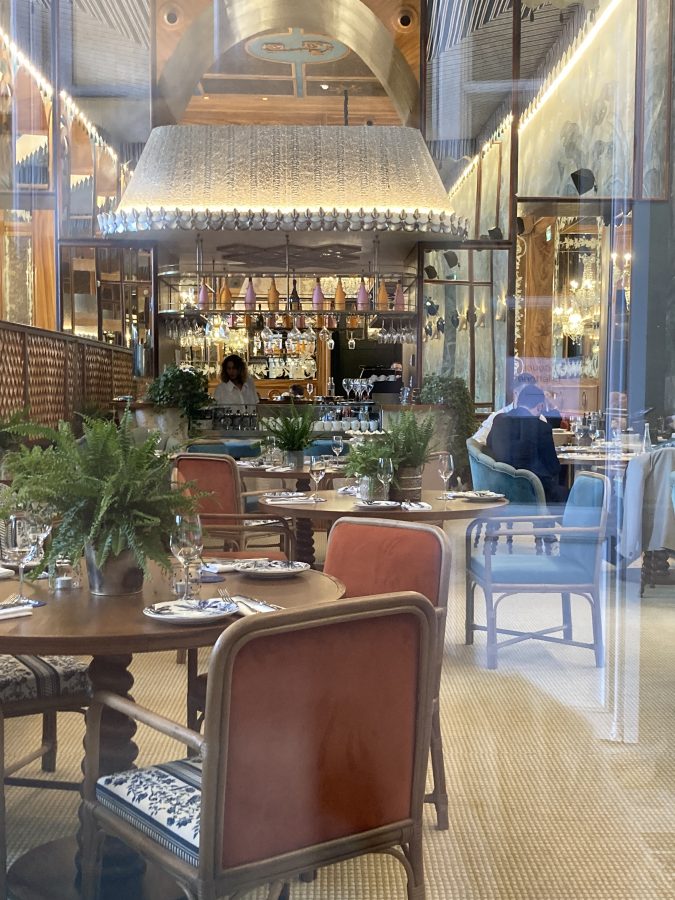 The classic, historic Lapérouse Restaurant which sits on a Quai on the Left Bank has been completely renovated and reopened only to be shut because of COVID. It was established in 1766 and is known for its richly ornate boudoirs or salons where illicit affairs were fabled to take place. It rose to glory as a site for prominent authors and thinkers such as Delacroix, Emile Zola, Victor Hugo and Georges Sand. One of its original owners, a man named Lefevre, used to make limonade for the king. The café where we ate is run by the restaurant. On our chocolate square yesterday which came with our coffee, the wrapper said in very fine print "La maison de plaisirs" or house of pleasure which is a play on words. It hints at the older restaurant having been a brothel! Bernie always finds these little tidbits.
We debated about walking around and decided on an inside walk through Le Carousel de Louvre which is the major shopping center which serves as one entry to Le Louvre, where we found many of our favorite shops permanently closed and almost no one inside. There was no security line to get into Le Louvre!
Directly across the street is Le Palais Royale (built in 1633 for Cardinal Richelieu and later occupied by Louis XIII and XIV) and behind that La Galerie Vivienne, one of the prettiest spots in Paris. It's a must see.  Our stroll to both places was sad to me, almost nothing open in either place. But we still managed to get some nice photos for you.
Here are our lovers for the day and the glorious sequence of sunset photos from Pont Marie.
Many thanks for all of your wonderful comments from yesterday's post. It makes all the time and energy worth it in writing the daily blog. By the way, I have written a novel which will likely never be published called "8 Days in Paris." Some of today's material is in the book! It's full of intriguing twists and turns that are pretty captivating. It's set in 2035 and showcases a future Paris. Many thanks to Beth Thames for reading the book and offering positive feedback. If you'd like a digital file, let me know; I'll send it to you upon our return to Huntsville via email.
À bientôt
L & B