Bonjour mes amis,
The weekend is here with warmer weather for us, maybe low 80s today which feels like a heat wave! Alas, it's August 21 and the days are getting shorter and shorter. It's fully dark by 9:30 now as opposed to 10:30. Will have to catch those beautiful sunsets on Pont Marie earlier and earlier.
Happy Anniversary to Natalie and Steve, my daughter and son-in-law, married for 17 years today. Hard to believe.
Yesterday we discovered a new street called rue Paul Bert in the 11th arrondissement which was given a fantastic write-up on Google. We checked it out and 90% of the cafés and restaurants were closed. We'll go again in September! One small bar which was open had these gaming tables outside.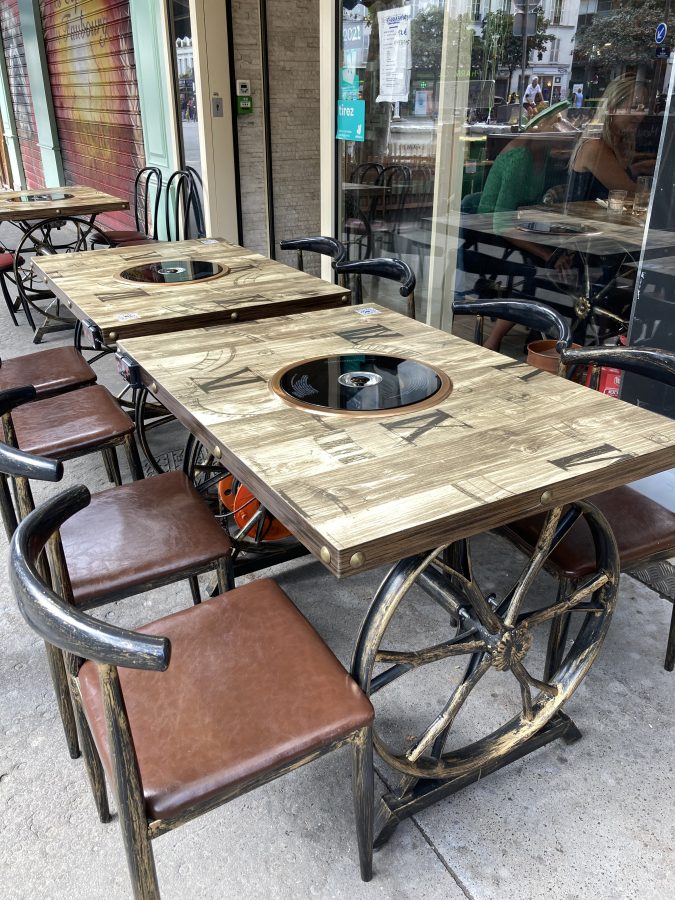 We did find another open spot serving crepes and galettes. Had a chocolate banana crepe but oh, no! Forgot to take a picture before it was half-eaten! Jim Bilbro, where are you when we need you? It was delish.
Then we were off to Le Forum des Halles, a huge underground shopping center, in pursuit of some hair products I needed by Redken. That brand is very hard to find in Paris. I found what I needed at a price similar to what I pay in the States. There's not much to take pics of, but I did snap this street art as we were going down the escalator.
That put us next to what we call "the food street" or rue Montorgueil. Delightful pedestrian street, always so lively. We sat for hours just watching people.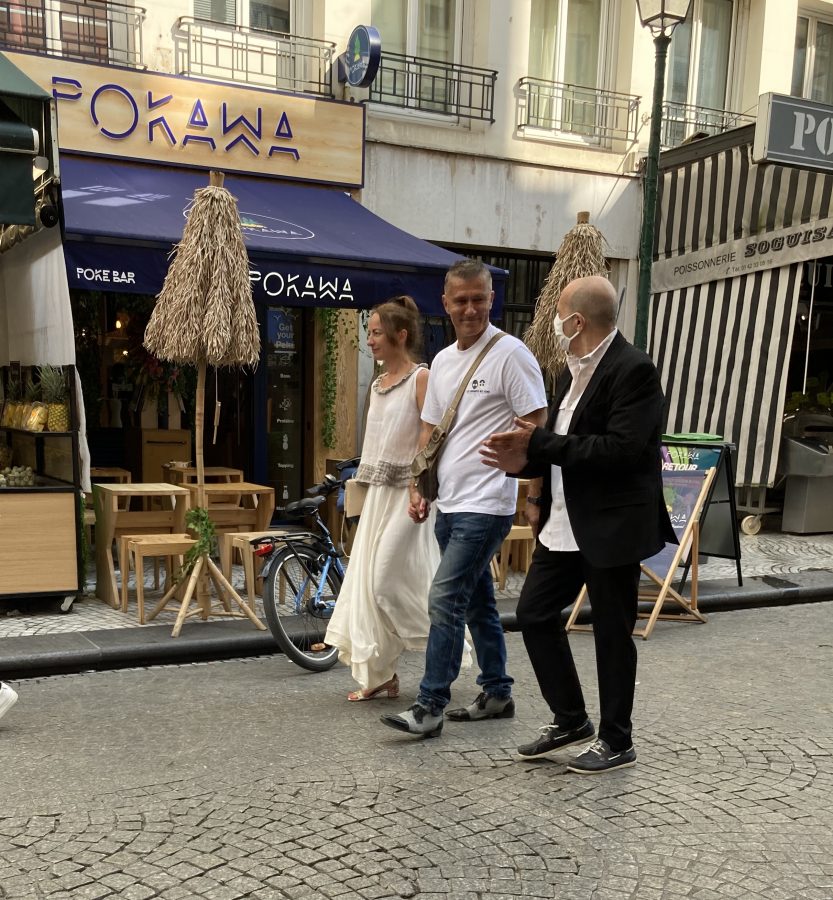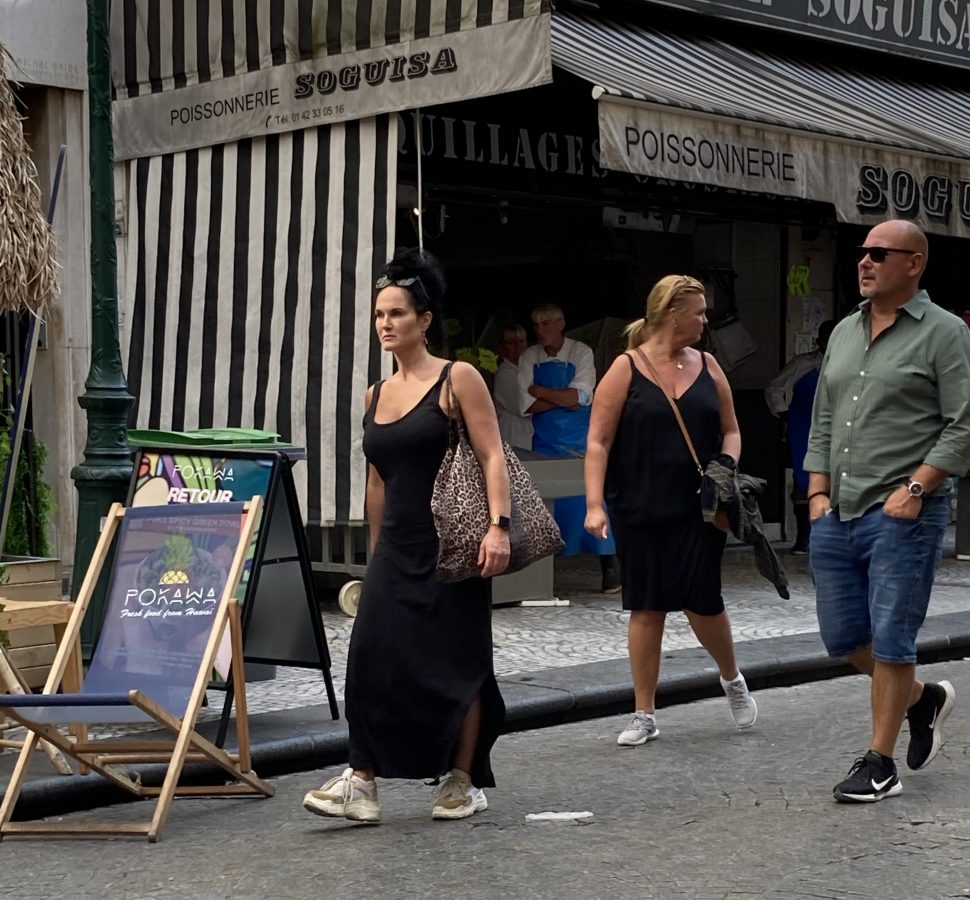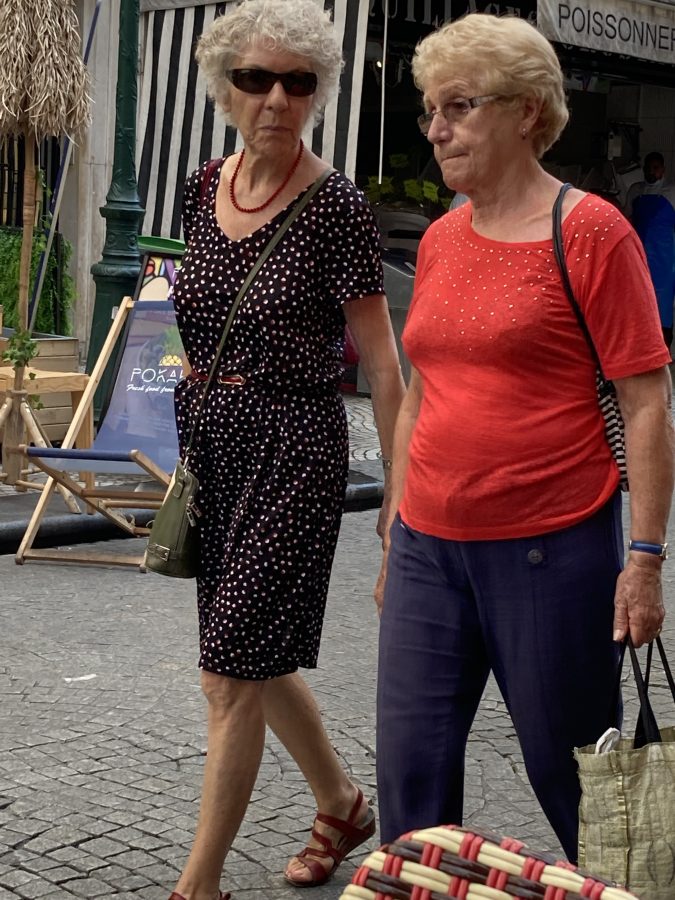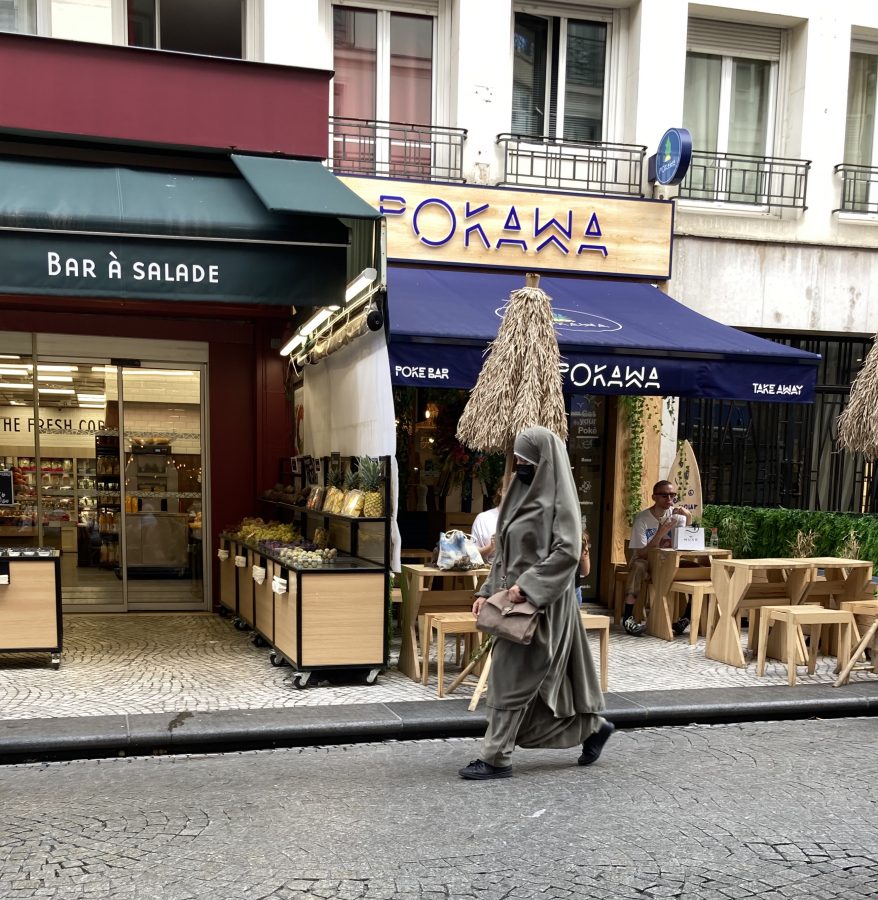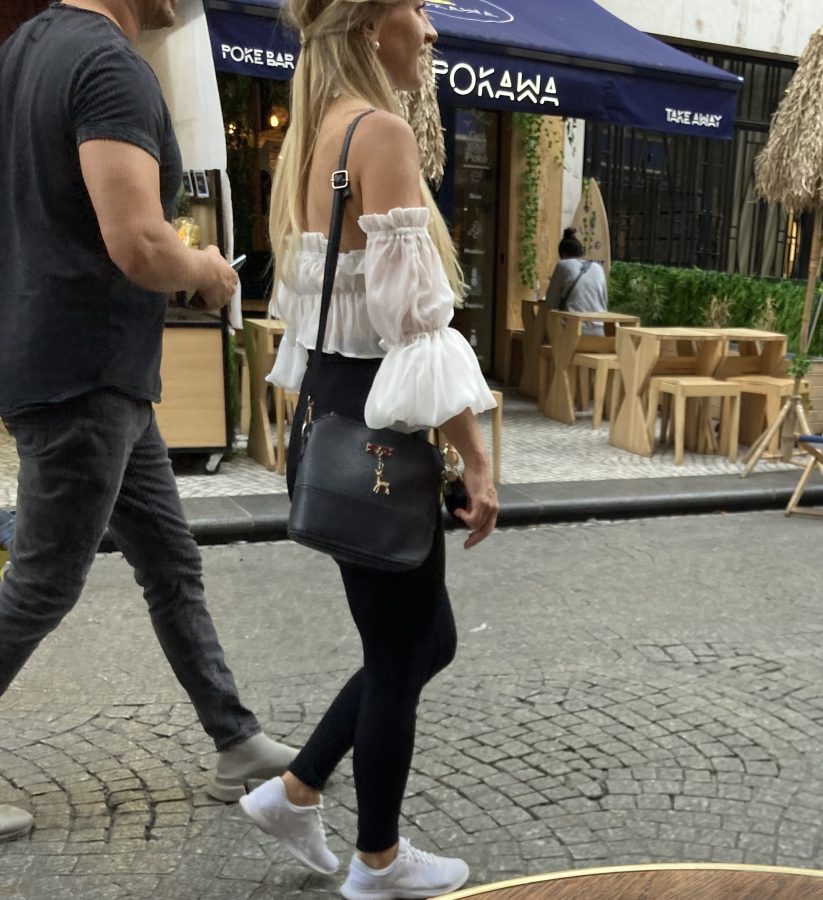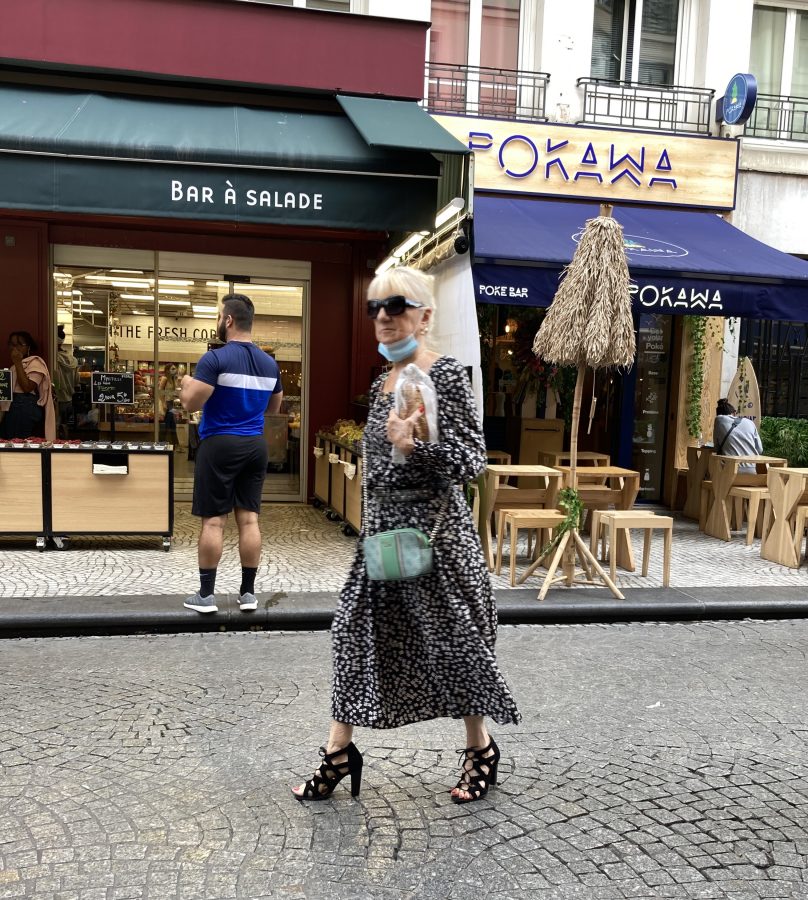 Yesterday, at Le Palais Royale, there was a series of photos of the fire at Notre Dame covering some of the vacant shop windows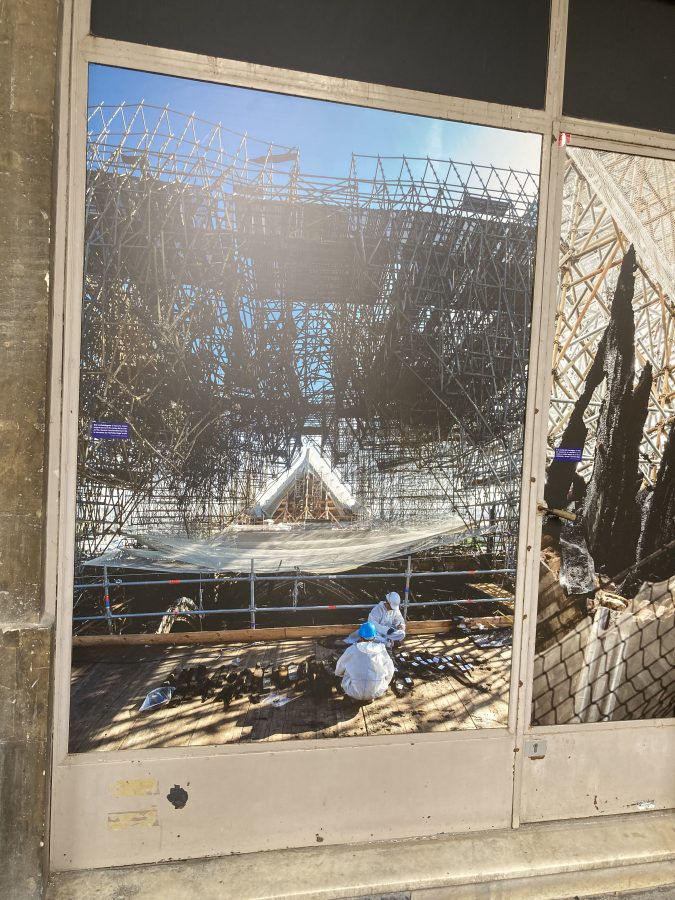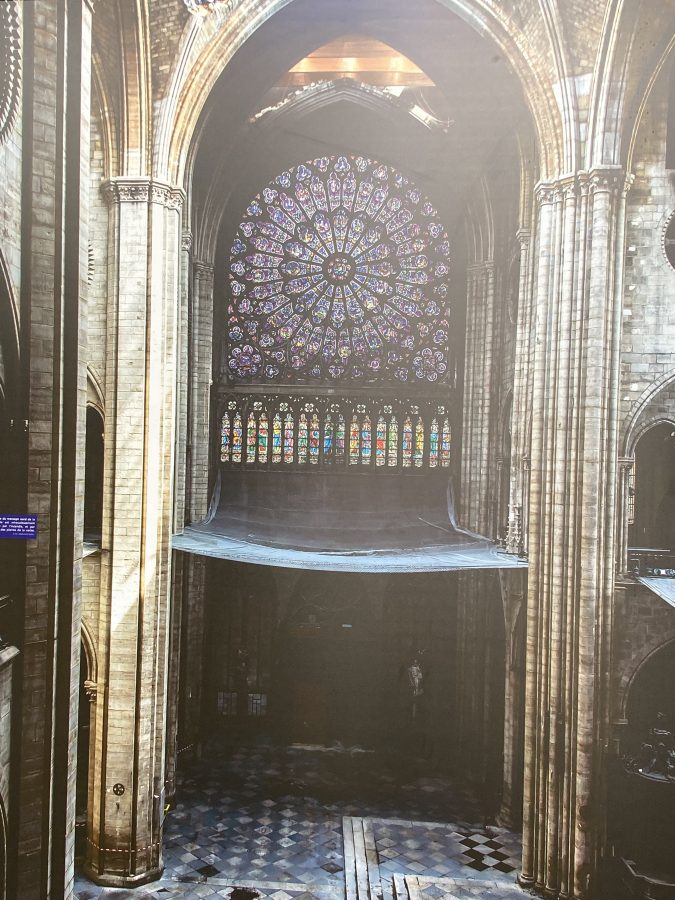 It reminded me of an article I received from Carol Madry Bell, a delightful story about a wood workman in D.C. who may be helping out the reconstruction of the "forest" in the roof. I have included the web site for your reading pleasure. It is fascinating. Just copy and paste. One of these days, I'll remember how to make a hot link.
https://www.curbed.com/2021/08/notre-dame-cathedral-paris-roof-truss-beams-usa.html
The closest I came to lovers yesterday was on the subway. As usual, I missed their kiss. So hard to get.
Have a lovely weekend. Laundry tomorrow so likely no blog.
À bientôt
L & B