Bonjour,
Sometimes, even in Paris, a break is good, and guys need to do a guy thing and the girls need some time to shop! That was our yesterday plan even amid the rain in the morning hours. We are counting down our last days together after what has been a wonderful visit.
Cindi and I worked harder than any two women could to spend some significant money. Cindi was looking for that special knock-out purchase but alas, never found it. All we could muster was a pair of cheap jeans for me and a new suitcase for Cindi (to hold all the other things she's bought for family and friends!) She and I did have a delightful lunch at Mariage Frères tearoom. It's a favorite that I haven't been to in a while.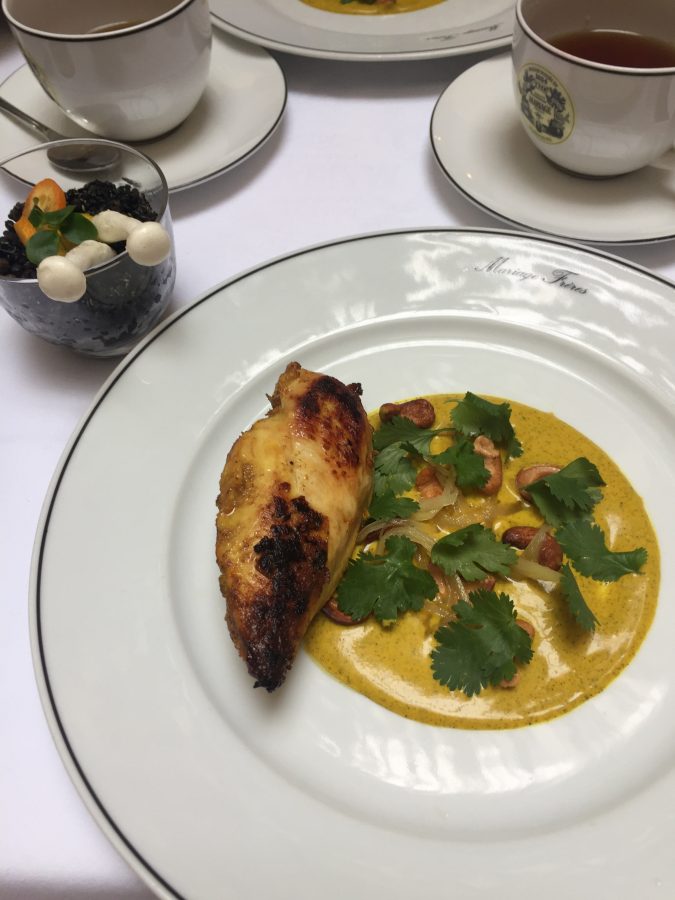 We did find some shoes and other outfits which turned our heads and enjoyed the ambiance of Saturday shopping that turned into mobs of people by mid-afternoon and without any rain. As odd as it may sound, shopping in Paris is hard!! So many shops, so much to choose from, different sizing and always the language barrier, though I manage pretty well. Ladies, the season's colors are the mustard yellow, oranges, dark greens and navy blues.
The guys found protests, a wedding party, and the port of Paris where people store their yachts around La Bastille area.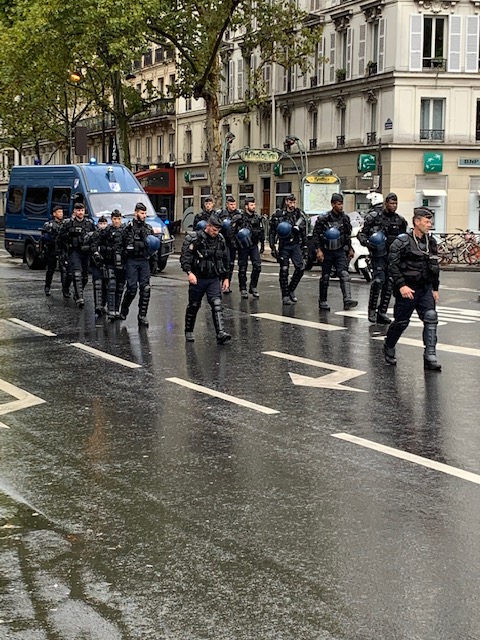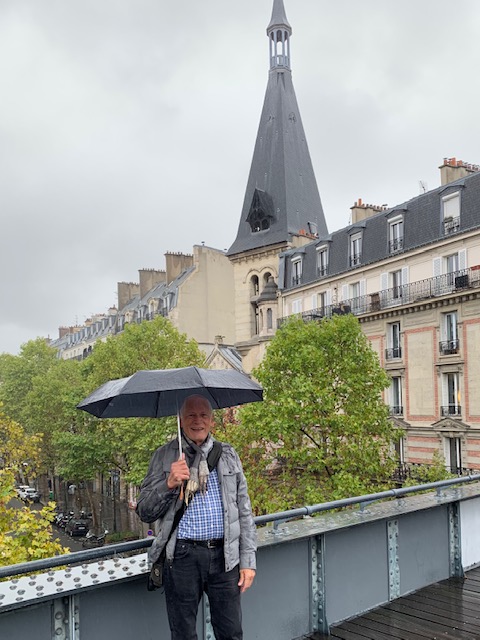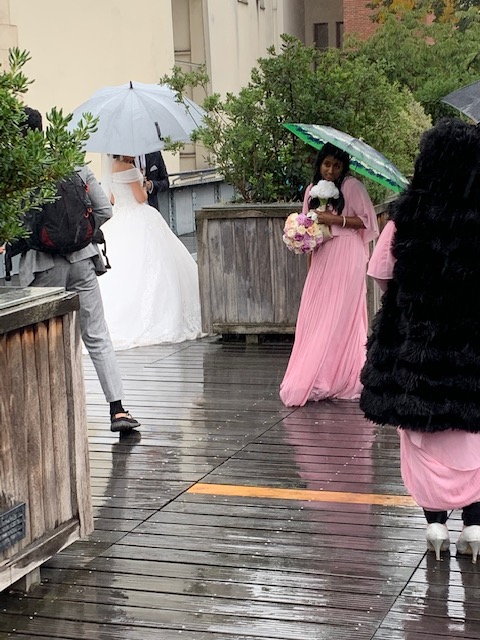 We ended the evening with dinner in the apartment from a wonderful deli in our area and said our good nights about 9pm. Suddenly, there was music and commotion outside our window, and we opened it up to discover a big parade. Bernie grabbed his camera and did the best he could to take some photos. Our neighbor came over to tell us that it was "Nuit Blanche" or White Night which started years ago when the museums are open all night for free, and there is illumination throughout the city. The parade is an extinction of that. It was rowdy but fun. Amid it all, Cindi texted that they had a ring-side seat at their hotel window. What fun!
Today will be our final day together which we will spend at the large Bastille market, then lunch, then packing for Bob and Cindi and our grand finale dinner at Le Train Bleu.
Our "light" photo of the day is a funny…Bernie blowing out birthday candles that were not lit. Alas, no matches!
We will see the Ludwigs off early Monday morning with wonderful memories and enriched friendship. I'm going to take a 4-day break on the blog until we welcome Paula and Tim Steigerwald on Friday.
Have a lovely Sunday,
L & B