Bonjour,
Before I take a blogging break, we wanted to share our final day with the Ludwigs. We put them in a cab at 7:30 this morning (Monday) and wish them safe travels with no drama!
We spent Sunday morning at a very wet Bastille market which was disappointing. It's hard to negotiate an umbrella in such tight quarters. Cindi found a cute purse, and at least they got to see the largest street market in Paris.
Bob had devised a meal plan to showcase the difference between eating American style at lunch and in French elegance for dinner. There is now a Five Guys on the Champs. Bernie and I have never eaten at one so as a joke, we agreed to have a hamburger there. It's not our thing but a fun memory. That afternoon, Cindi and I shopped (again) and yes, she found a beautiful, sassy coat and a nice blouse with matching scarf. And shame on me, no pictures! The day, by the way, turned out to be beautiful sunny skies.
After a rest and time for them to pack, we ended a fabulous visit with dinner at Le Train Bleu. It's always impressive, and I invite you to check out their web site for a full description.
Here's some fun photos of our day!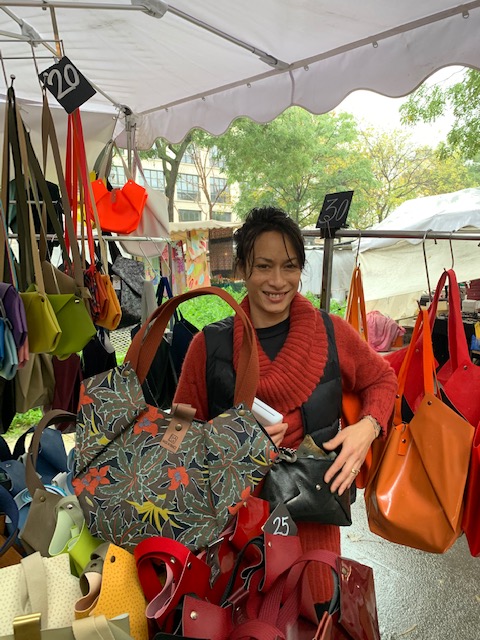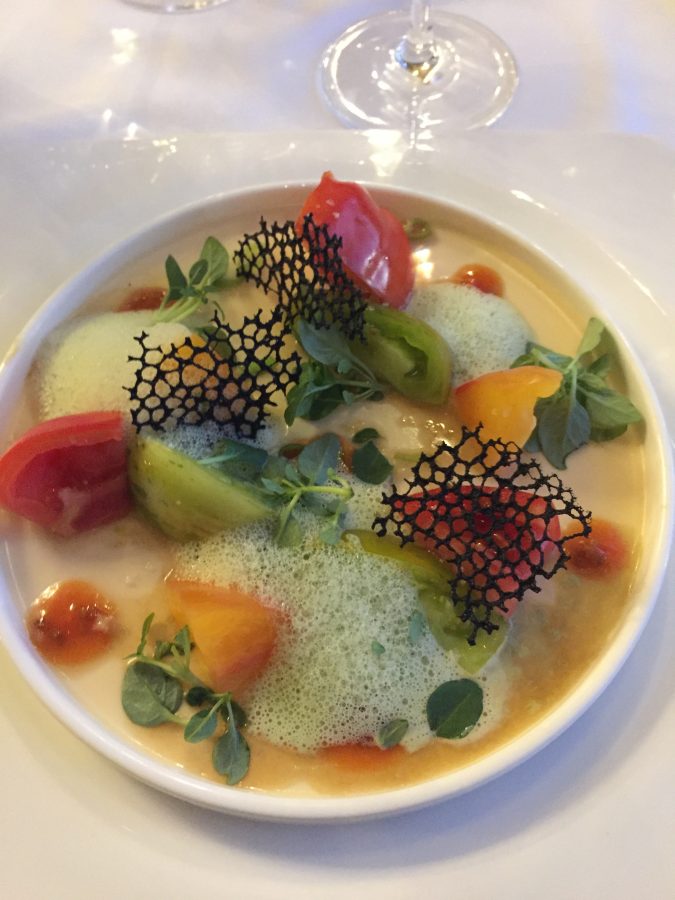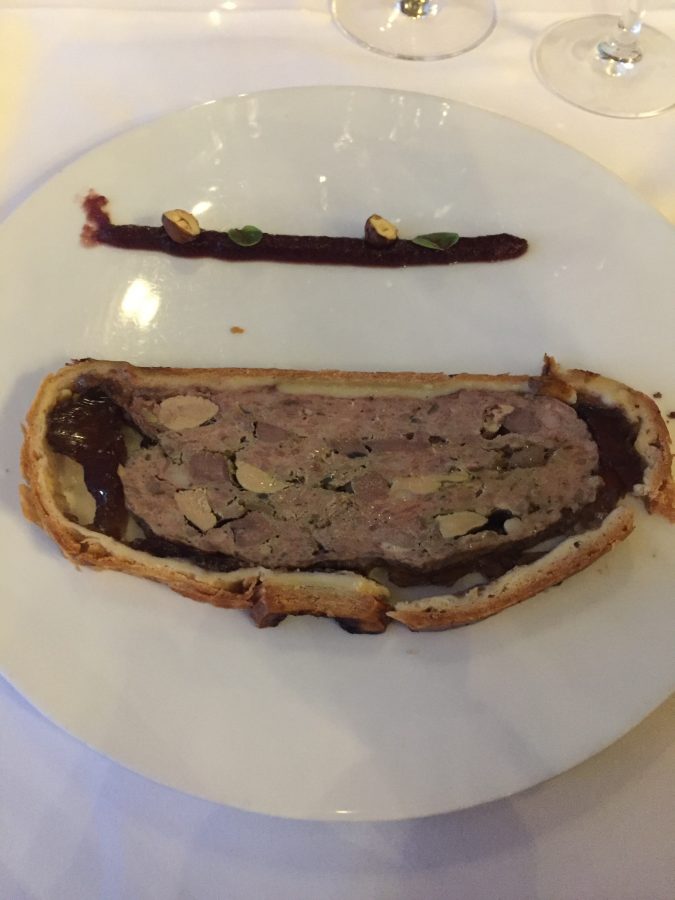 I asked each of them to reflect on their trip, with what surprised them the most and what they enjoyed the most. Here are Bob's thoughts:
"Feel goods 20 years after our last trip:
1. Bernie and Linda leading us every step of the way to 12 days of fun, food, history and art.
2. A smokefree restaurant scene and streets almost devoid of cigarette butts, a complete turnaround that was very pleasant
3.  A subway system that was easy to follow, inexpensive, clean, fast and amazingly quiet as passengers stay to themselves.
My don't miss attractions:
A.  Impresstionists  Monet etc at the old train station, Le Musée d'Orsay. The extent of the art, the description and write ups and the cafe where we had lunch (the artsy chairs) were exceptional.
B. Montmartre is always such a great people watching spectacle. The church is exceptional and seeing the museum and learning about Renoir, the last winery, the room with pictures of Montmartre before it was developed was most interesting.
C. I remain mesmerized by the enormity of the historic structures including churches, museums and the Pantheon at the University. I wish there was a science building dedicated to how the buildings were constructed hundreds of years ago.
D.  The Illumination exhibition featuring Van Gogh is a must see. The venue brings his work to life with music and a technology that is itself an art form.
FYI, I did miss putting in food/restaurant comments.  My highlights were Cobert and Le Train.  Very interesting how most menus were similar and how many offered cheeseburgers. And note to escargot lovers, practice at home with the "spoon" before trying six in public.
And remember, when eating outside at night in October, be sure to ask for the Burger King heater seating, especially at the Iceburg Cafe overlooking the Eiffel Tower. (Le Café de L'Homme)"
And from Cindi:
"No 1 favorite thing is that we got to see Paris through your eyes and hearts.
No 2 was the history & architecture
No 3 was the rich culture in the museums, neighborhoods, and shops
No 4 was bread and pastries
No 5 were the unique subway stations.
No 6 was the unexpected parades, protests and encounters
No 7 were the street markets
No 8 Luxembourg gardens and all the green spaces
What I was surprised about was the lack of smokers; the number of people who spoke English; the cleanliness of the streets and subways; the crazy motorcycle drivers; the number of churches that are being maintained despite the obvious cost.
Once again I can not thank you both enough for making this one of the best trips we have ever taken. It goes to show that places are special because of the people you share them with."
And we can't thank them enough for being easy, delightful guests.
See you all again for more blogging adventures in about four days!
L & B
P.S. Bob sent this photo from around Orly airport where they sat for almost 30 minutes due to a protest of some sort. Those who weren't smart to go plenty early had to jump out of their cabs and pull luggage!
Sent from my iPhone