Bonjour,
Probably ten years ago, we visited Chateau Vaux-le-Vicomte with Jim and Peggy Bilbro. Jim was "in charge" of directions that day, and what I remember was a beautiful, lush garden and interesting interior. Yesterday, it was so hot that it took your breath away especially in the sun. We first had a train ride out of Gare de Lyon followed by a supposed bus ride on bus T which after quite a search turned out to be non-existent except "maybe" on Sundays! So, we got an expensive taxi both ways (40 euros in total). The weeks and weeks of little rain had all but parched the gardens, and there were hardly any visitors. The entire estate captured how I felt…wilted, dusty and a bit tired. But we persisted, and Johnny really enjoyed the outing as it was one of the things he most wanted to do. Our lunch was interesting as we ate "cafeteria-style" at the only spot open on the grounds. Johnny insisted that his sausage was raw! Bernie says not, and I'll let them figure that one out.
What's extremely interesting to me is the history associated with the owner of the Chateau, Nicolas Fouquet. He eventually became the Superintendent of Finances under King Louis XIV and amassed great wealth and political influence. At only age 26, he purchased Vaux-le-Vicomte in 1641. Fouquet became a threat to the king who visited the chateau in August of 1661. Fouquet hosted a "sumptuous fête" including a lavish meal served on gold and silver plates, accompanied by fireworks, ballet and light show. The King (only 22 himself) was astounded by the display of luxury, especially when the crown was in poor condition.
The King had Fouquet arrested, imprisoned, and tried before the court. He remained incarcerated until his death in 1680. Fouquet's story is intertwined with the Man in the Iron Mask who is often identified as the true king or even as the identical twin brother of King Louis. There are too many fictional references to mention. Google Fouquet and Fiction if you're interested in learning more.
First the gardens and then some of the interior. Enjoy!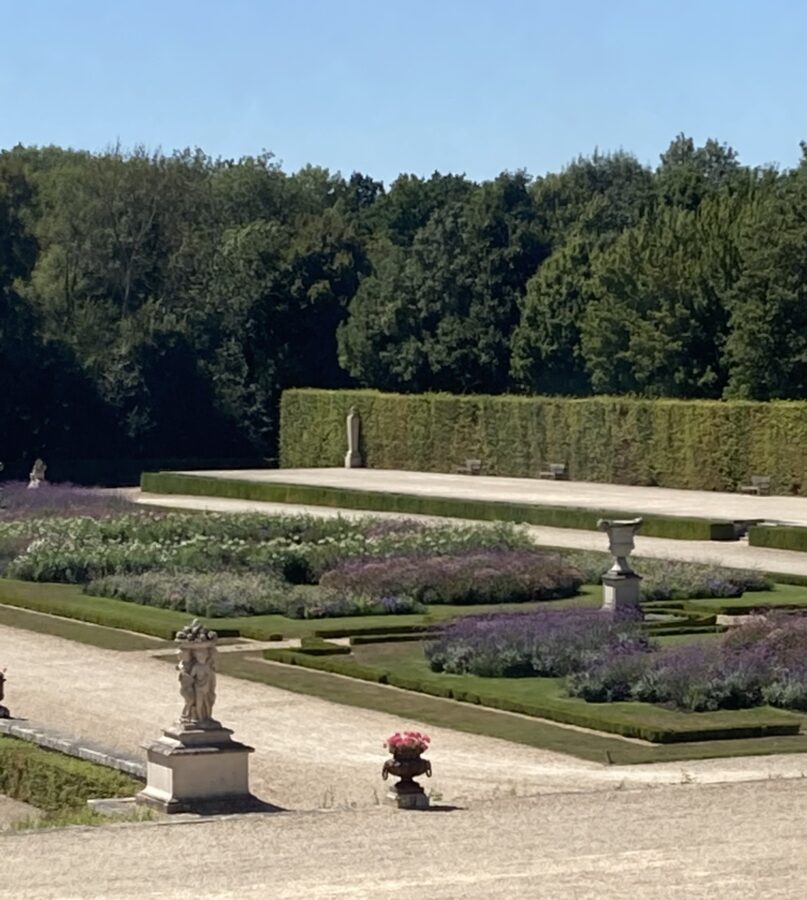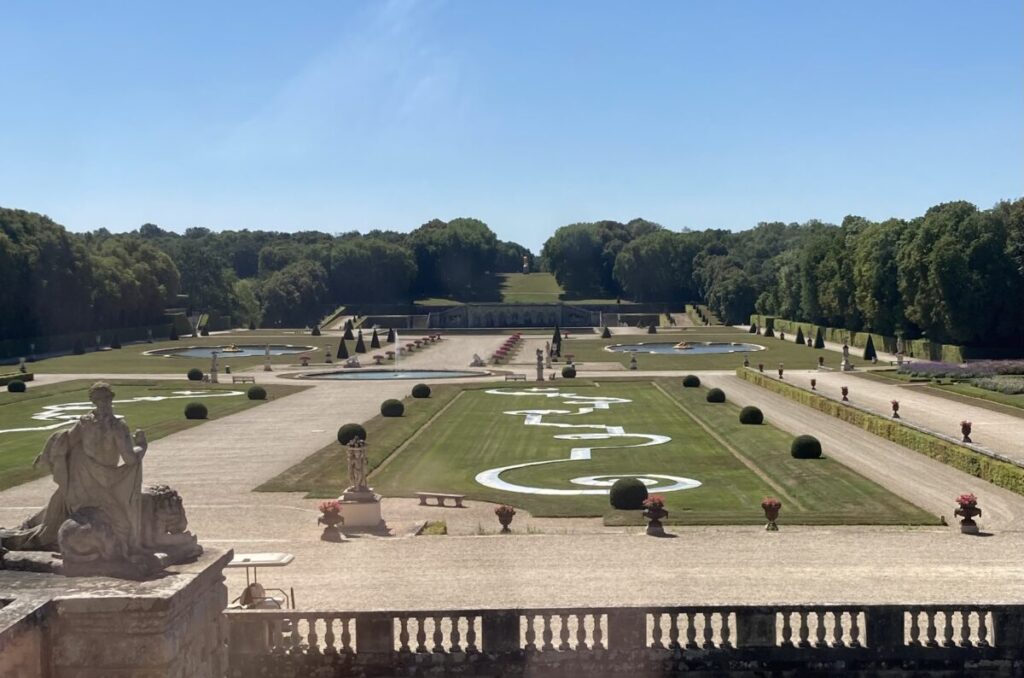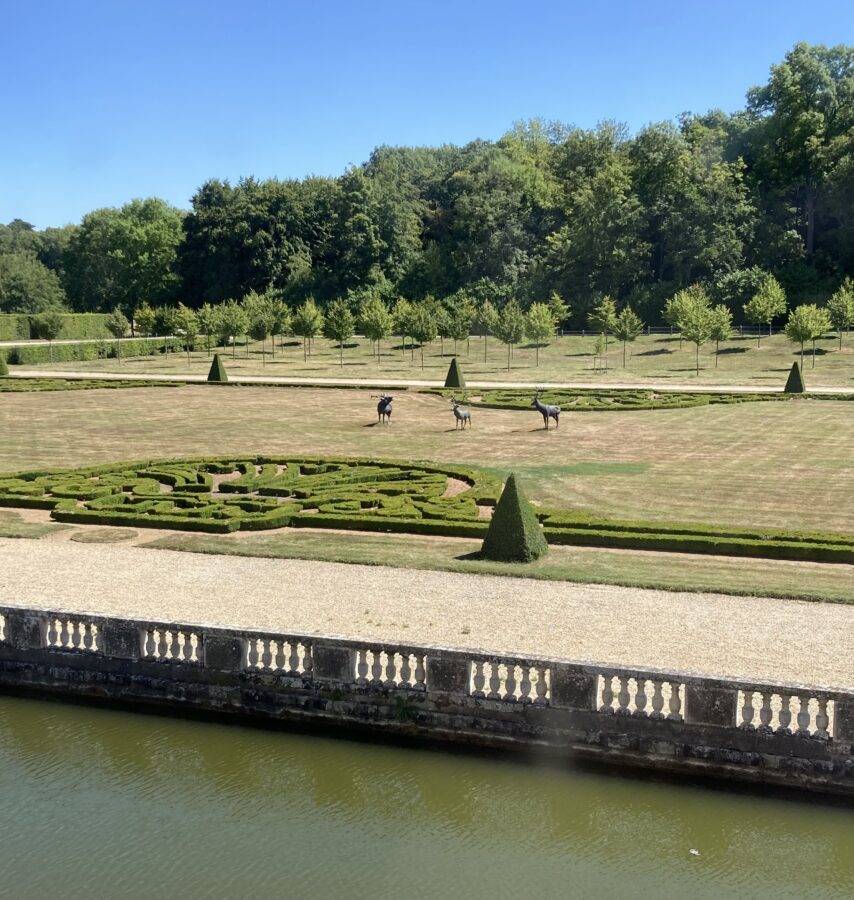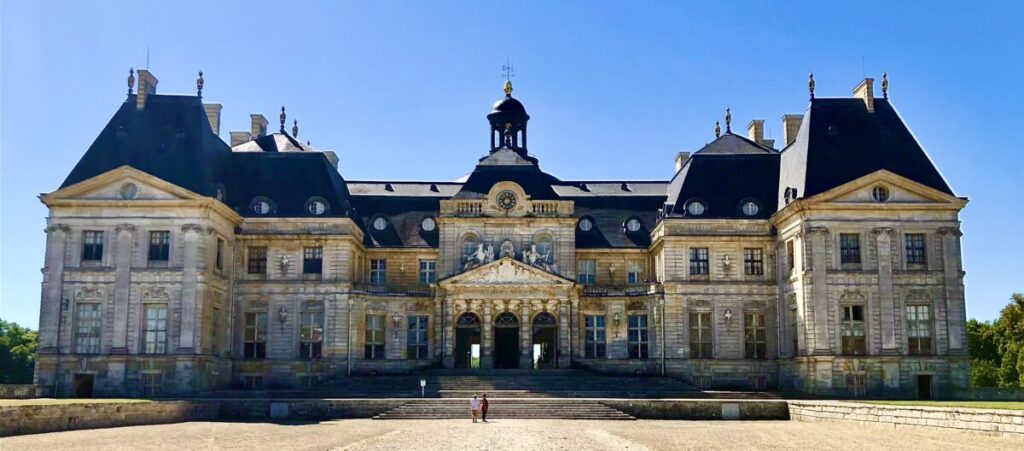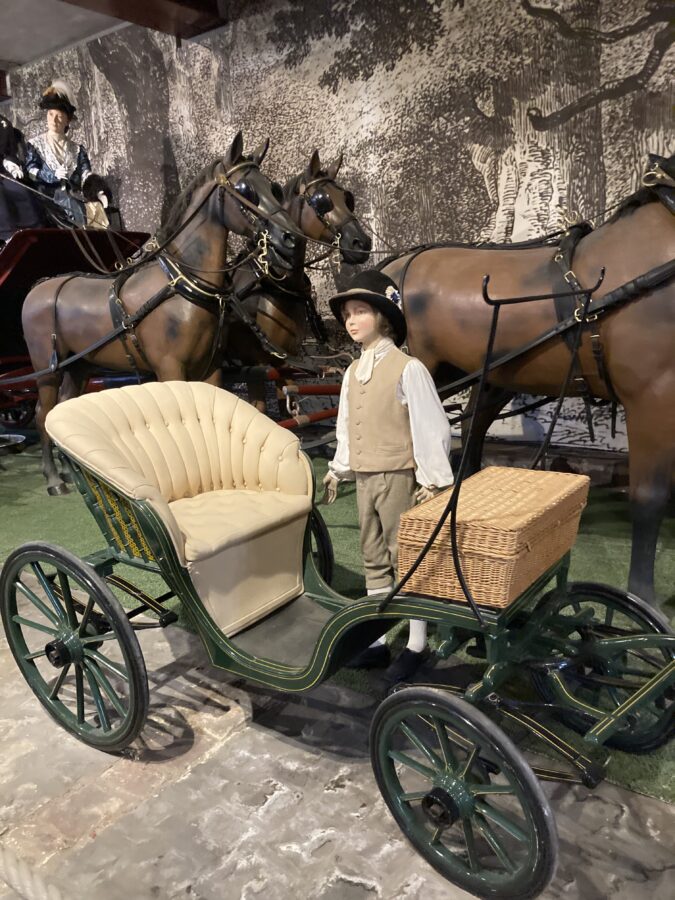 After a respite, we enjoyed a dinner at Café Francais because it is air-conditioned!! Sharon relished in her Kir Royales and a giggle fit from which she almost didn't recover! Fun times!
Today we are splitting up for a Boys Day Out (Les Invalides and the Army Museum) and a Girls Day Out (shopping and lunch). They are making an attempt by themselves to get to our apartment this morning for breakfast on the subway. We'll let you know how that turns out or if we never see them again!!
À bientôt
L & B