Bonjour,
The last few days of the Tysons visit have been fast and furious with four late nights in a row as our grand finale. Two down and two to go. Guess who's showing their ages?  I'm afraid Bernie and I opted for a bit of rest yesterday and left Sharon and Johnny to navigate by themselves in the morning which they did beautifully along the river.
On Wednesday evening, we took a taxi out to La Defense in the suburbs of Paris to visit Johnny's cousin, Lela, who has lived in Paris for many, many years. She was delightful and though American, speaks impeccable French. She prepared a lovely French meal served at 9pm in typical French custom. Here's a view of her terrace overlooking the Eiffel Tower.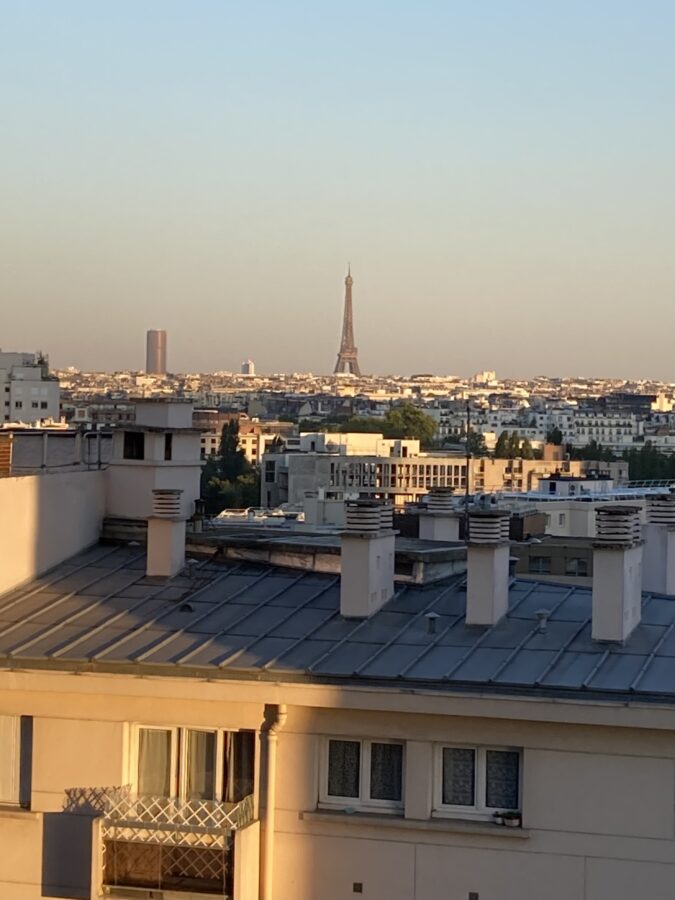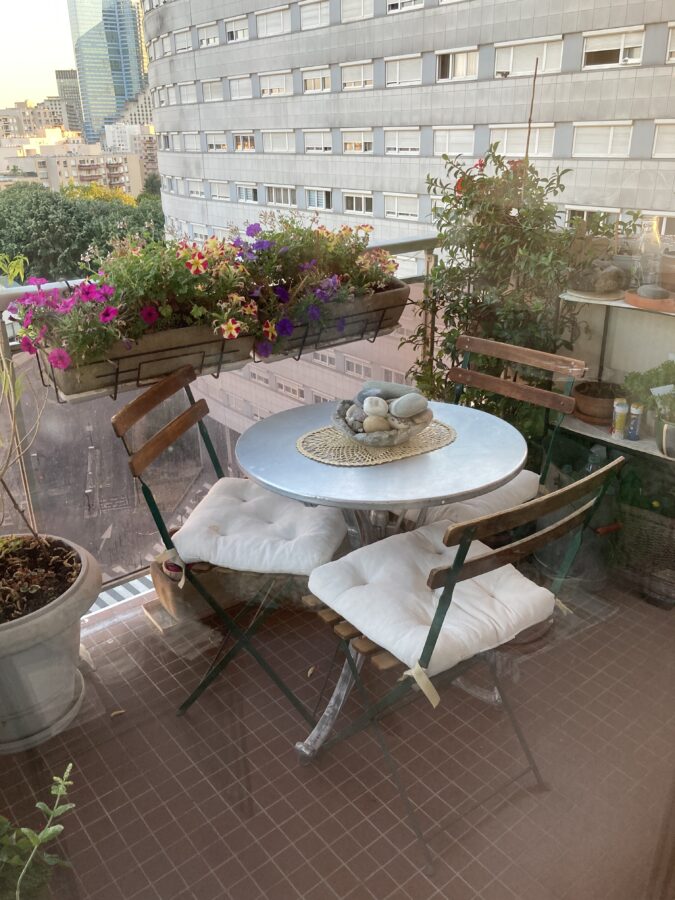 Yesterday, I slept until 8:35 which is unheard of for me, and we negotiated an easy morning for us. We remembered an adorable little spot for a quiet lunch inside the recently renovated Victor Hugo Museum: Café Mulot. Our friend Richard Nahem first took us there! We had a delightful lunch of quiche, salad and a chocolate torte along with a plethora of bees which are a challenge with outside dining now everywhere in Paris. We're all for the bees (!) but I don't want one to get in my mouth. They helped Sharon drink her wine.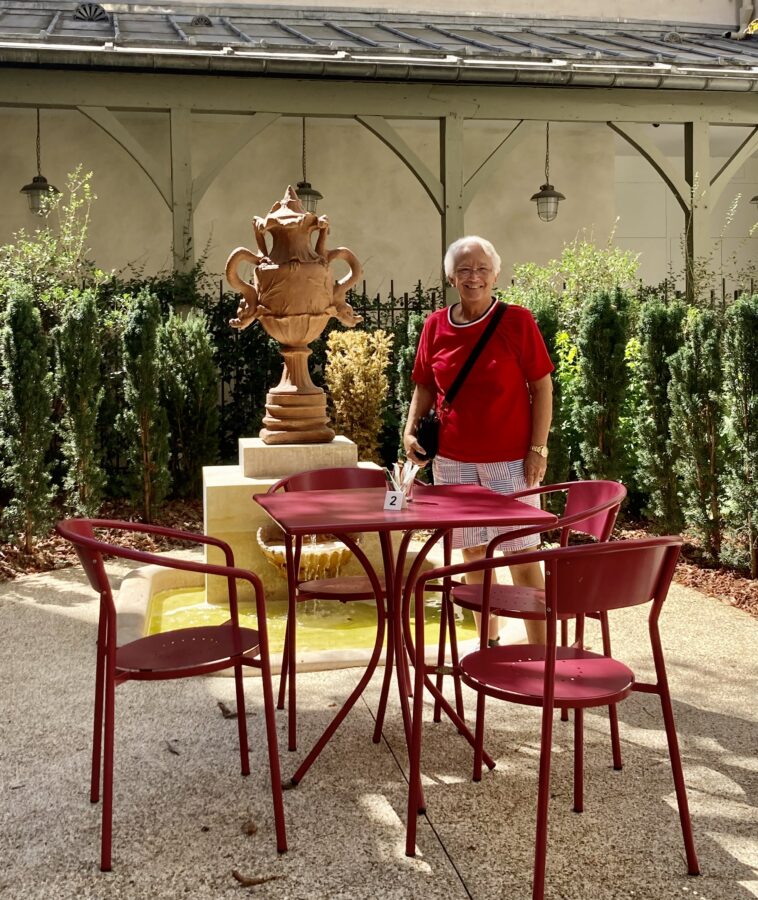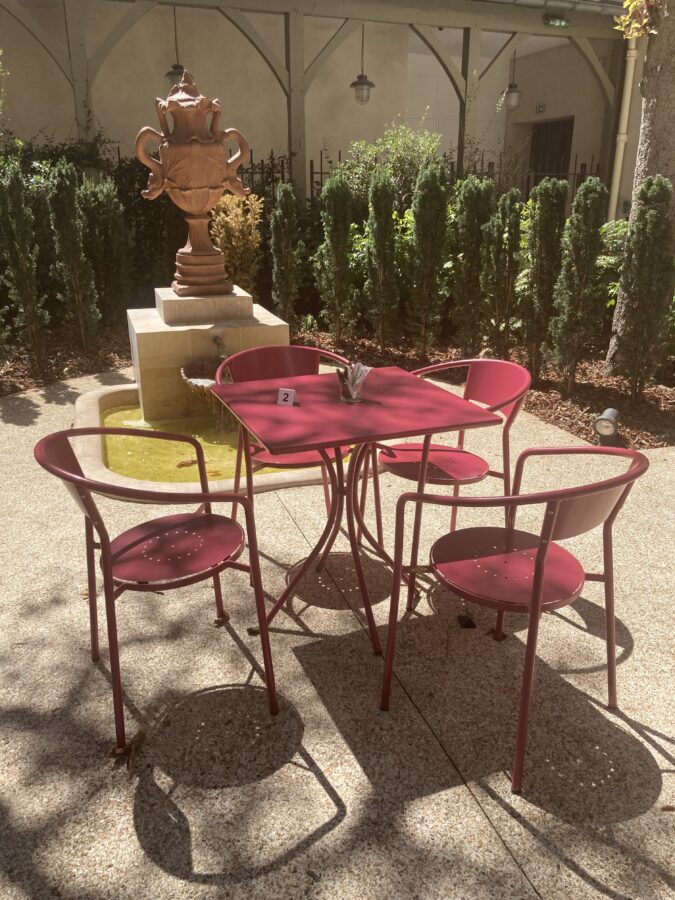 A little more rest in the afternoon, and we were off to the Moulin Rouge which sits directly in the red light district of Pigalle at the bottom of Montmartre. It was founded in 1889 and went through several transformations, from Cabaret to theatre, from cinema to music-hall with dancers popping out of cakes. It welcomes nearly 600,000 visitors each year. It inspired artists like Toulouse-Lautrec and Renoir. Please, please go to the Montmartre Museum located next to the vineyard at Montmartre to capture all the history!
The goal of the Moulin Rouge has always been to attract clients who simply wanted to have fun. We certainly did last night. Our seats were literally inches from the stage so much so that it felt as though we were going to get a kick in the face at times. The costumes are artistic masterpieces, the dancers unbelievable and of course, the women are topless but in good taste. The act that stole the show was when a giant pool emerged as part of the stage, full of snakes. One of the female dancers jumped right in and we were so close, the water splashed on my face. Ugh!!! We had dinner which was adequate, but not great; however, you don't go for the food…ha!  All in all, it was a fabulous memory. And of course no photos during the show.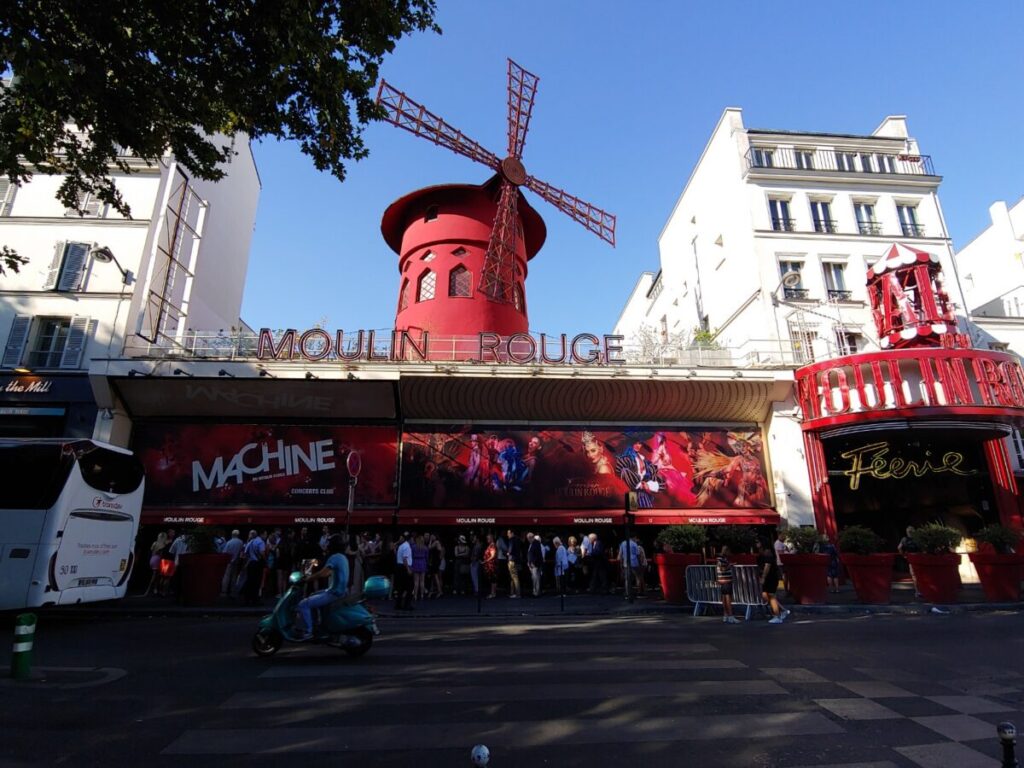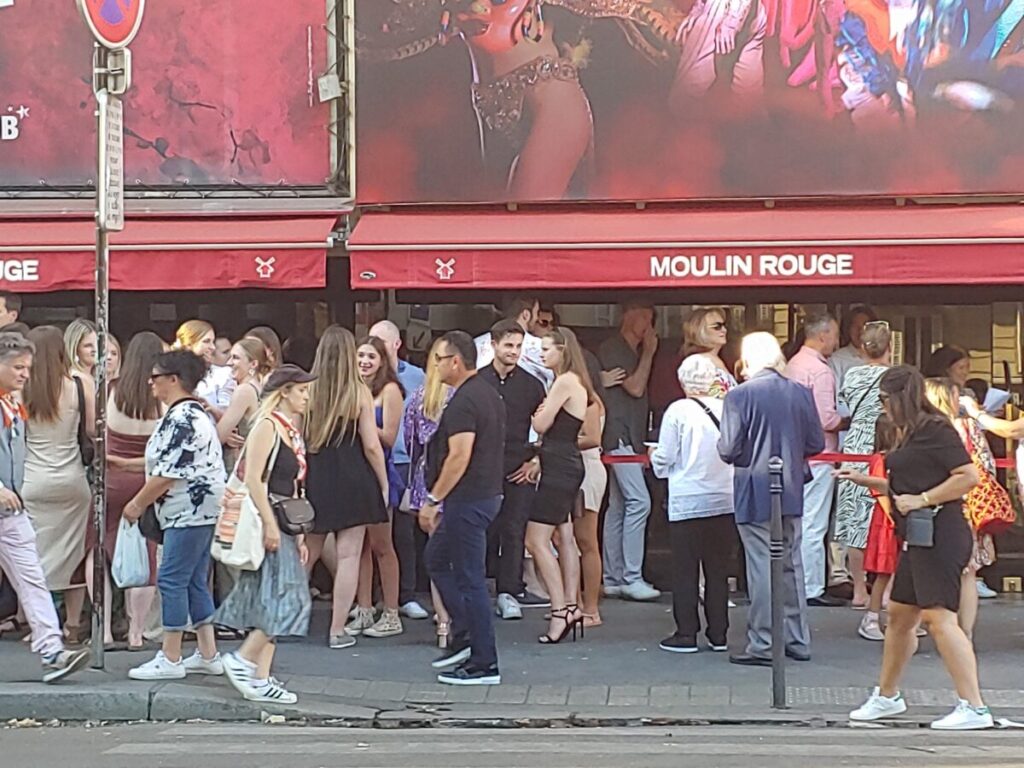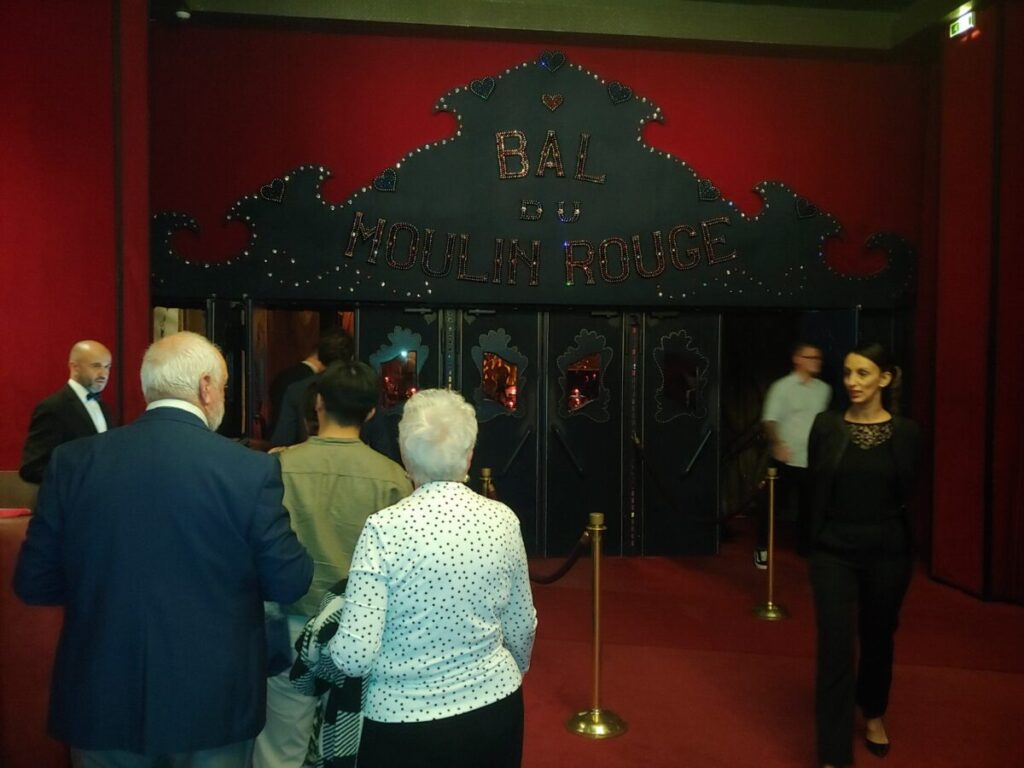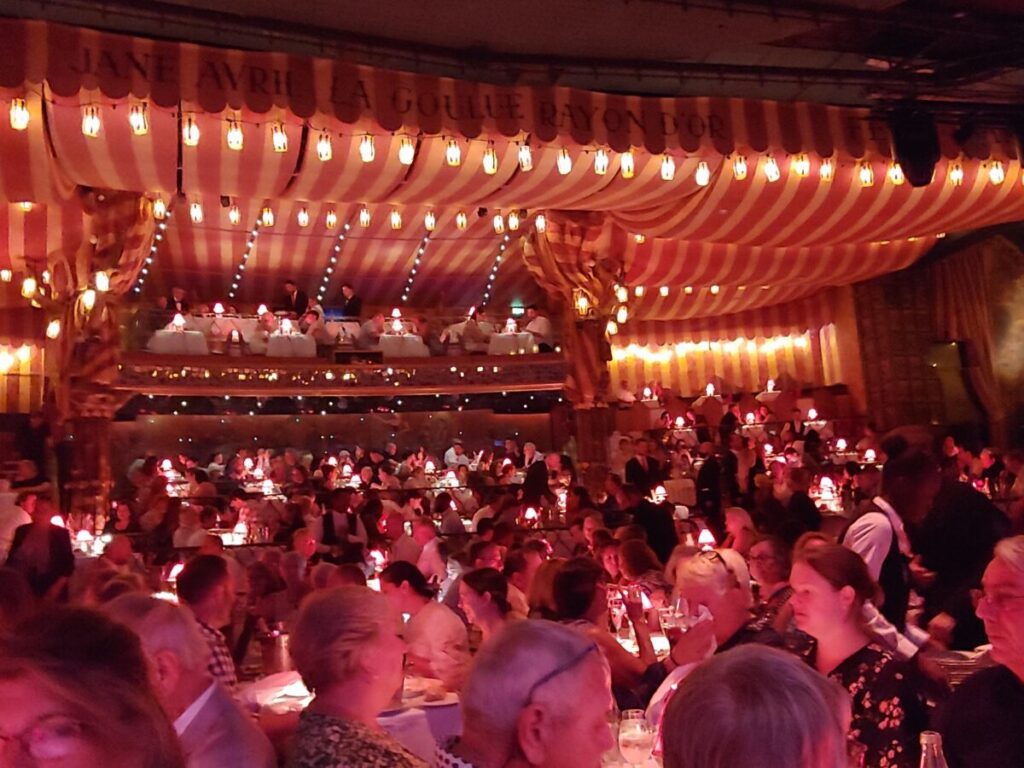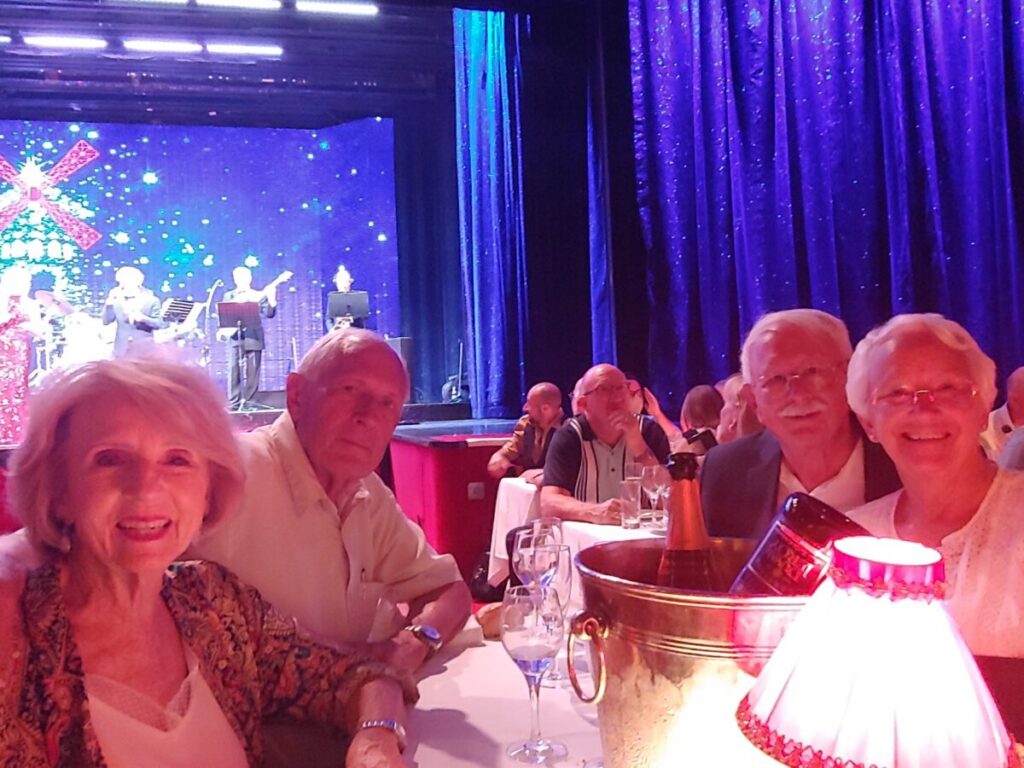 Today, we will visit the Musée d'Orsay and tonight is Sharon's request for dinner at Le Grand Colbert. Stay tuned!
À bientôt
L & B