Bonjour mes amis,
Finding the time to post has been a challenge for me so this will be a few days' worth. We've pushed hard, and all of us are tired. The heat has not been our friend. Sharon & Johnny have an air-conditioned hotel room but L & B have nothing but hot all the time. It's really taken a toll on me this go around. Could it be age??  Surely not.
Friday, we explored the Musée d'Orsay on the left bank. And how can one possibly "represent it" in pictures? The most interesting fact about this museum of the impressionists is that it was once a train station until the trains became so long that they would no longer fit inside! The artwork that is so cherished from the masters like Monet, Manet, Van Gogh, Cézanne, Degas Renoir, etc. were rejected by Le Louvre because they were considered scandalous and unworthy. Can we all say BIG MISTAKE. The impressionists faced harsh opposition from the conventional art community in France. The name of the style derives from the title of a Monet work, Impression, Sunrise. It began with a group of Paris-based artists during the 1870s and 1880s and is "characterized by small, thin, yet visible brush strokes, open composition, emphasis on light and its changing qualities, ordinary subject matter, unusual visual angles, and the inclusion of movement as a crucial element of human perception and experience." (Wikipedia). The connection of these artists to Montmartre is so very special and why a stop at the little museum there is so very important!
Here's some samples of our tour and I hope I haven't misidentified anything. Forgive me if so as I am no art connoisseur. Feel free to correct any mistakes in your comments.  First Van Gogh.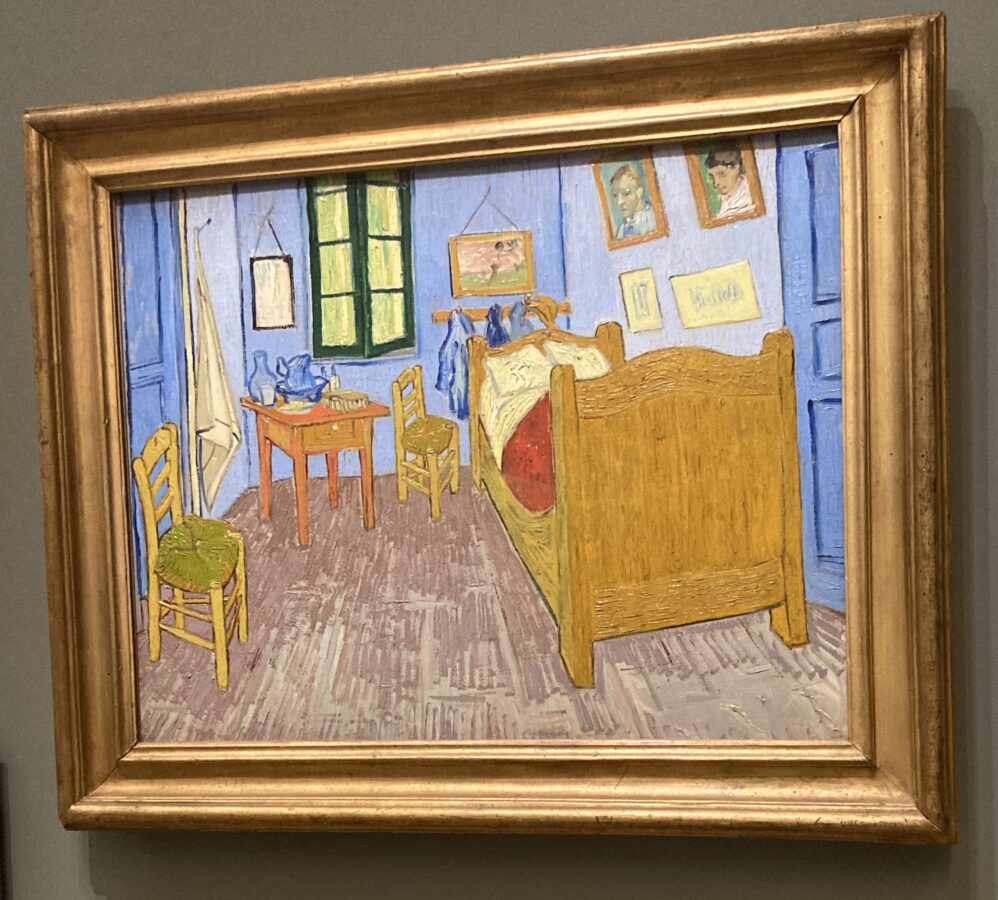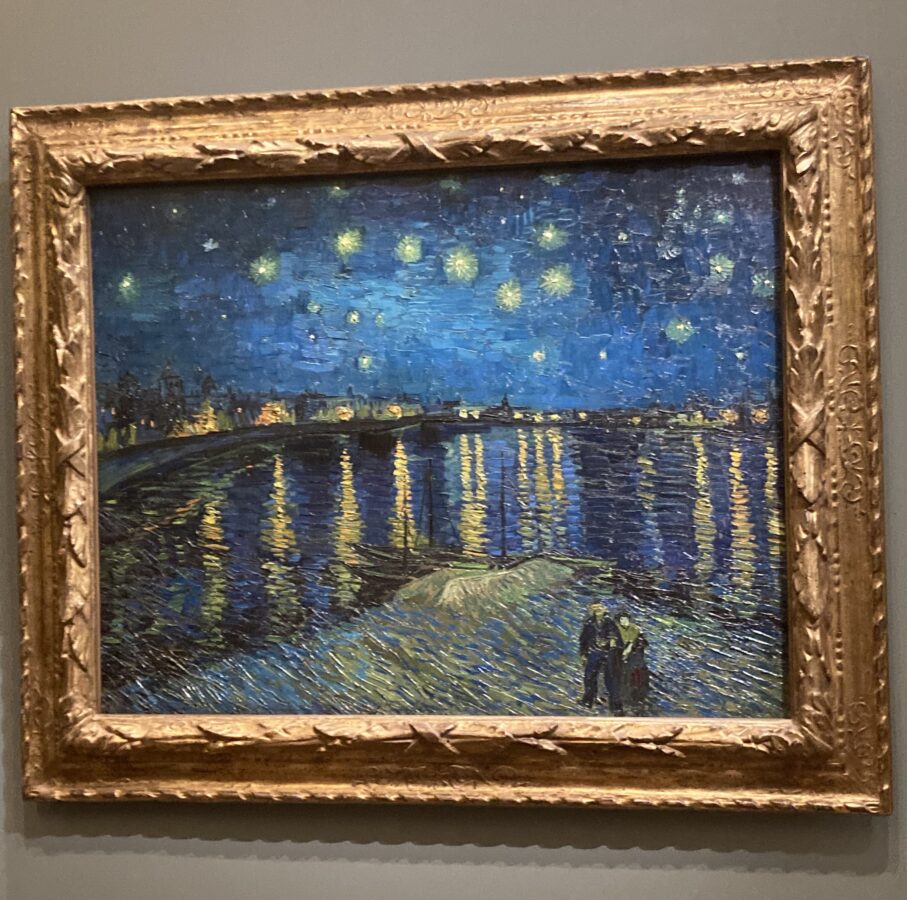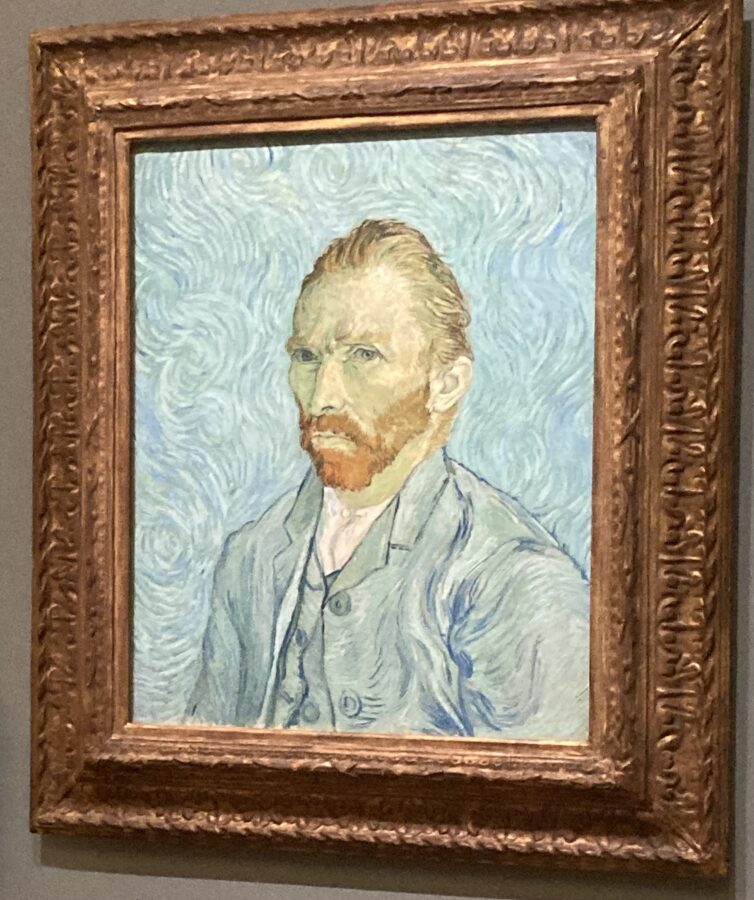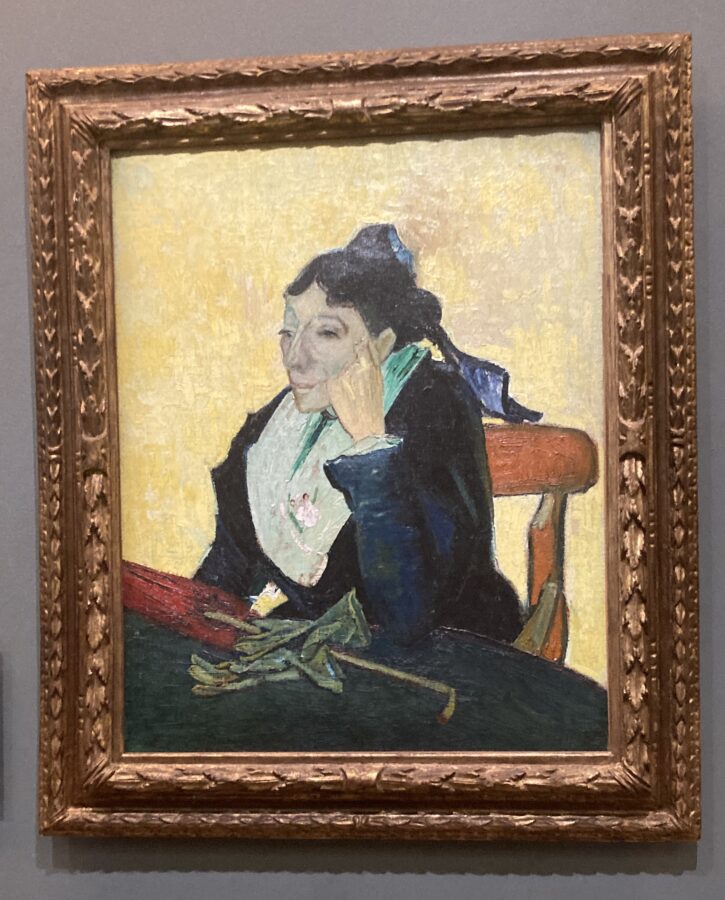 Now for a tour downstairs which includes the very famous clock. Think train station!  The statue of liberty is the first image that greets you.
The last series of photos were scenes and replicas of the Opera House, Le Palais Garnier. And as we were leaving, we said good-bye to Thomas Jefferson back out on the street.
That evening was our dinner at Le Grand Colbert which was something Sharon really wanted to do. It was their treat to us (Meci!!!!) Very nice but loud, busy, and I think a bit disappointing.
We had a fun brunch at our apartment on Saturday, but Sharon did not feel well the rest of the day so we cancelled our meal at Georges on top of the Pompidou museum that evening and opted for a street café we like, Le Royal Turenne. Johnny rated it one of the best: duck followed by a banana split!
This morning (Sunday) we took them to the market at the Bastille, but it was a slight representation of its usual vibrant self because of "vacance."
We had a final lunch at Carette followed by some teary farewells. It's been a memorable two weeks, and we wish the Tysons a safe and uneventful trip home. They depart in the morning at 6:30!! Au revoir, and bon voyage, dear friends!
As for us, we're doing laundry, changing beds, and waiting for it to rain and cool down.
L & B