Bonsoir mes amis,
It's Sunday evening in Paris after a day devoted totally to Le Tour de France.  The Bilbros had never experienced the Tour so we were pleased to accompany them to Les Champs Elysées.  We left about 1pm and found a spot for lunch and a very nice waiter who allowed us to sit at our table for three and 1/2 hours!  One of the issues on this day for us gals is a restroom!  So this was a good plan if the weather had cooperated.  It rained most of the time and was very cool.  We were outside dodging the dripping awnings. Perhaps because of the rain, everything ran late this year. The really fun piece of the entire day is the pre-race parade which did not arrive until 4:30. Bernie got some great pictures. This is a loud, music-blaring, horn-tooting affair, but the rain did put a slight damper on the crowd and the festivities.  These pics give you an idea of how involved the parade and its sponsors are in supporting the spirit of the tour.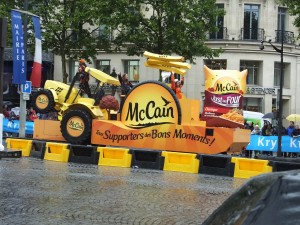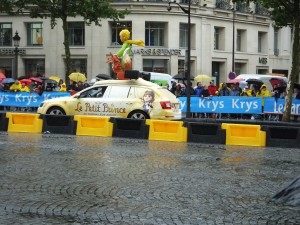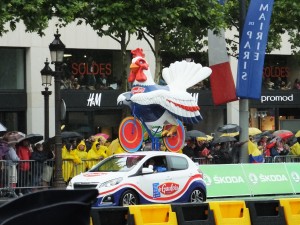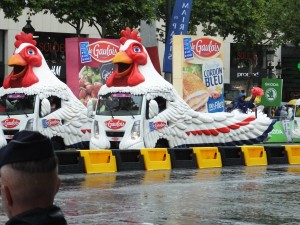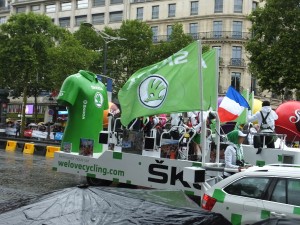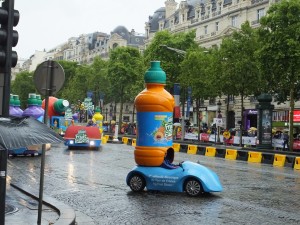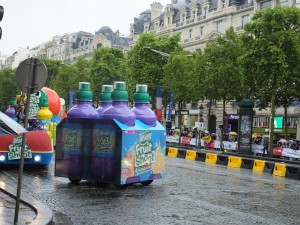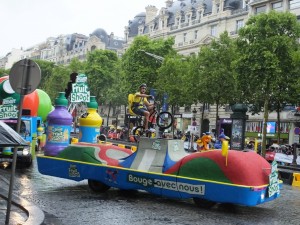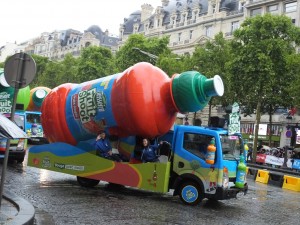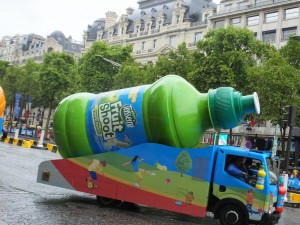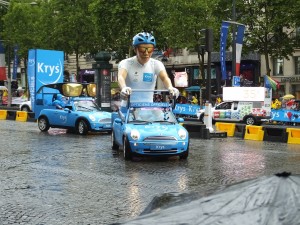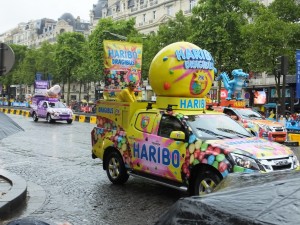 The race itself zooms by quickly and didn't arrive until almost 5:45pm this year and not over until 7:30.  We watched only two laps and made our way back home on the subway to beat the crowd.  
We watched the finish on television!  And to our surprise this year, there was something new: a fly-by again with the bleu, blanc et rouge (Blue, white and red).  The planes came right over our apartment and we caught sight of the colored trails of smoke.
Hope you have enjoyed the photos. The tour has lost some of its charm for us since the Lance Armstrong situation. You may have seen where he showed up to participate in a charity event and rode a small portion of the race. He was met with a very luke-warm reception.
Our time is drawing shorter as we have just a little over two weeks remaining. Time goes by so fast. The rain though aggravating was SO needed and the high temp tomorrow is forecast to be only 68!
Happy Sunday,
Linda & Bernie