Bonjour,
I make a deliberate effort to post positive thoughts and images from Paris during our two-month summer stay each year. However, today I must call out the recent changes happening at the Eiffel Tower as incredibly unfortunate. The need for high security in one of the most frequently visited outside monuments in the world is understandable, given the grief and trauma that Paris has endured from terrorist attacks. But what we saw yesterday broke my heart.
Visiting the Eiffel Tower and taking guests there has always been one of my favorite outings. Now, the situation is totally different. Gone are the breathtaking, leisurely strolls up to the tower from any angle, sometimes walking through beautiful parks. Gone is the magic of leaving the tower and walking straight across to Le Tracadero. I remember last year with my son and his family and how delightful our time was there. We lounged around for two or three hours, and it was a favorite day with my grandchildren, Andrew and Avery. They even convinced me to walk out on the glass floor!
Now, long, long lines greet you at security barriers as you traverse dusty paths and ugly barriers. Everything is about controlled access. I knew they were erecting a plexiglass fence around the perimeter of the tower; I didn't realize it was only about one-third finished. The temporary eyesore there is an unattractive solid gray metal fence. I didn't realize how much this new barrier would change the ambiance.
To add insult to injury, after standing in one security line for 30 minutes and a second line for another 30 minutes, we bought tickets that could only go to the second floor. They had closed access to the top because of too many people UNLESS you had pre-bought on a website where the tickets were as much as 60 euros!! I think this is deplorable. The general tariff is 16 euros.
The bright spot to this story is that our guests loved their visit because they had no reference point to what they had missed by not seeing it the usual way.  Oh well, I suppose that's what mattered. People were like ants and we didn't stay nearly as long as we had planned.  By the time we were leaving, they had reopened access to the top, but we were told that we would have to go back to the bottom, stand in line again, and buy a new ticket to get all the way up.
It was hot, frustrating, disappointing, and made me want to either scream or cry. For us a total fiasco, but for the Tysons and Clements, a fun outing. When my daughter arrives in 3 weeks, perhaps we will have had some rain and decreased the dust. Perhaps they will have more of the permanent see-through wall erected, and for sure we will go about five o'clock in the afternoon for shorter lines!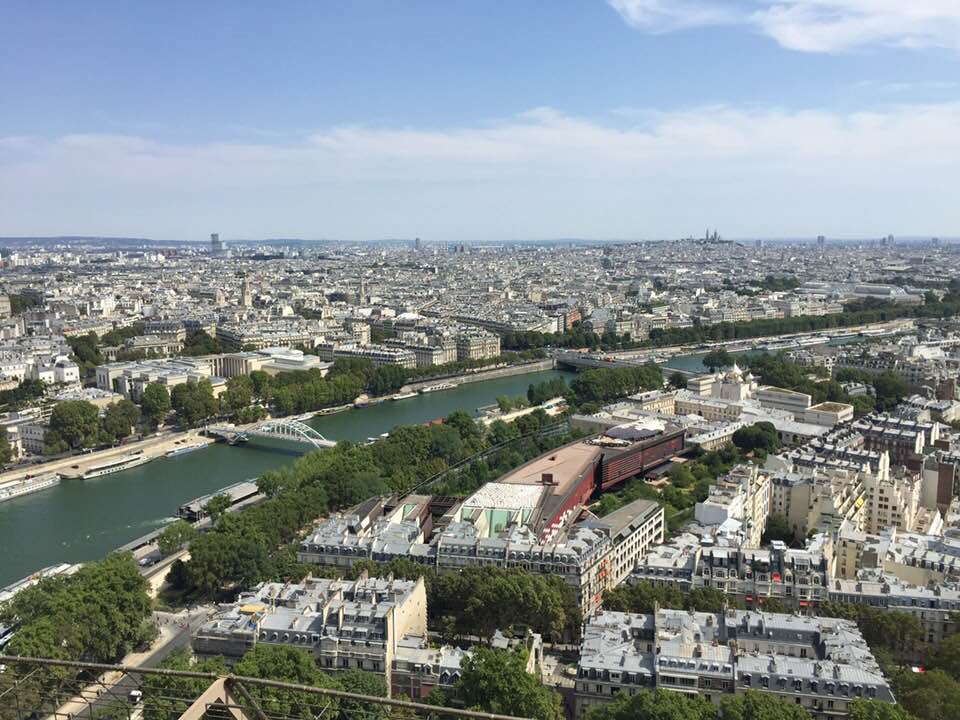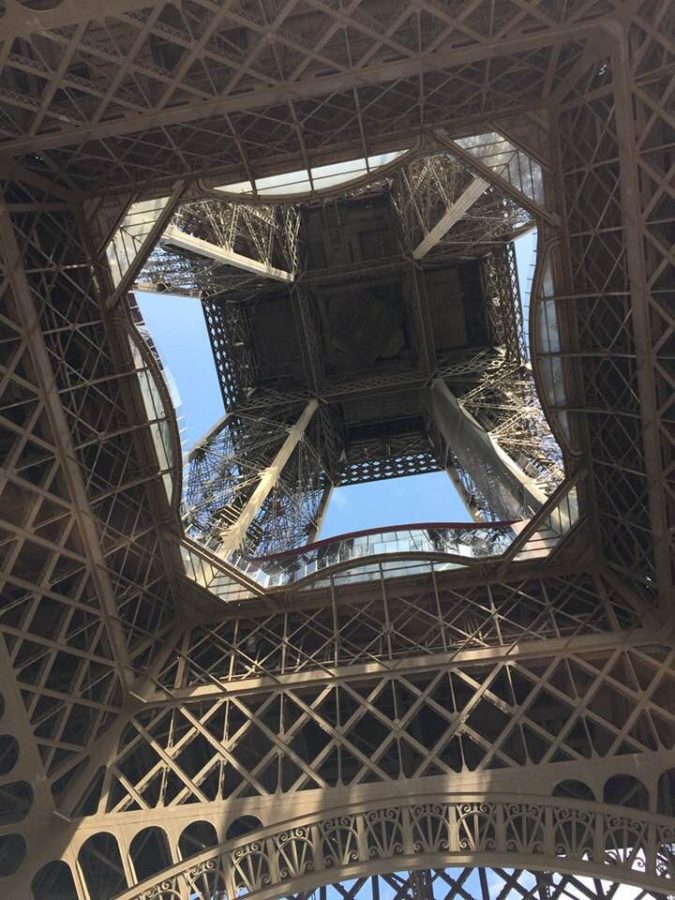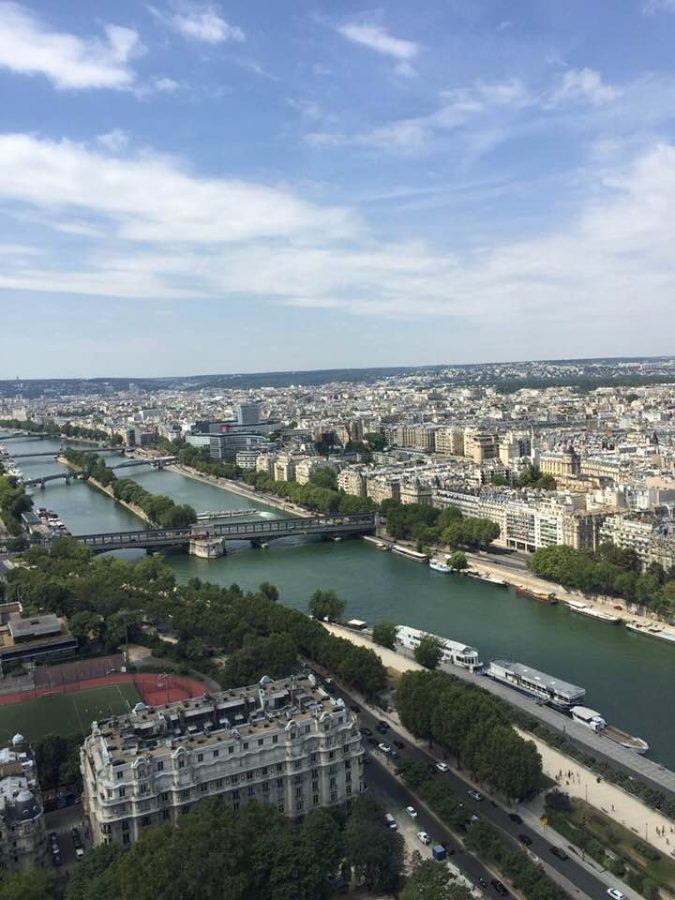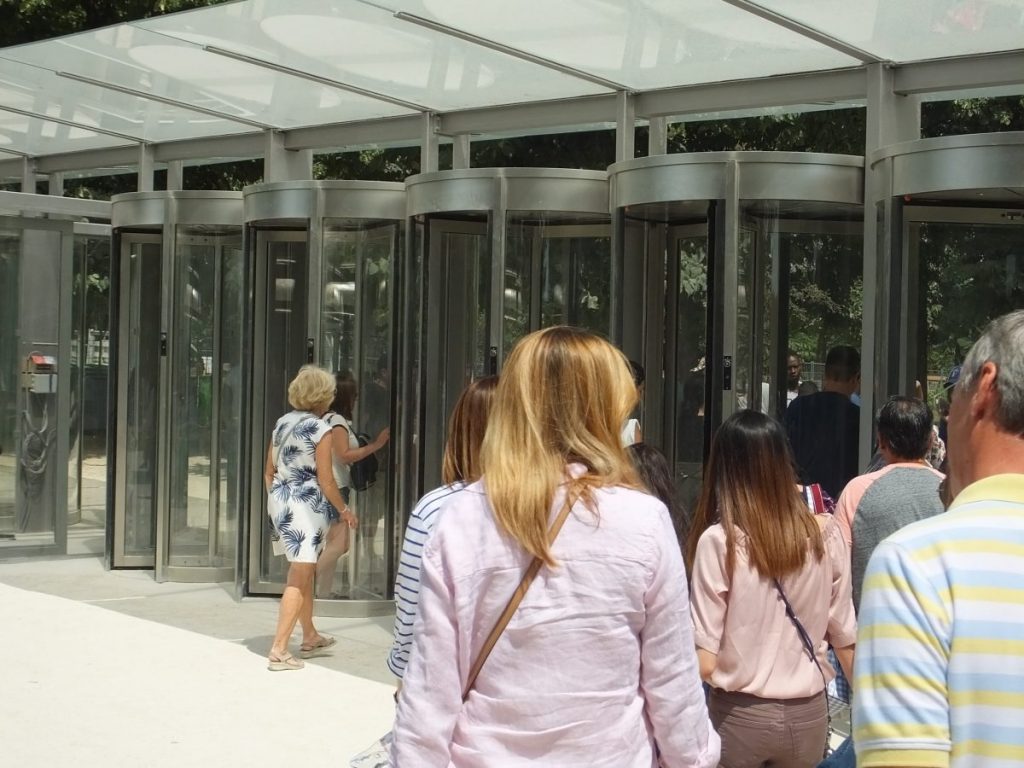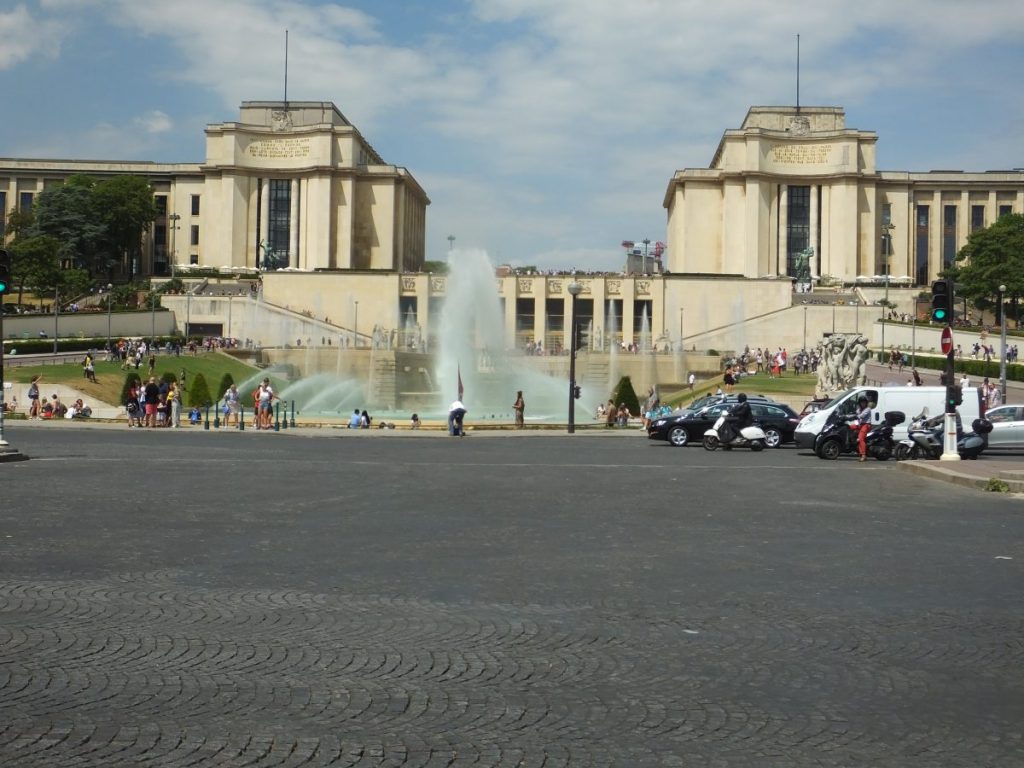 After a late lunch and a brief rest, we headed for our concert at La Sainte Chapelle. Though it was extremely hot inside the chapel, there was no disappointment with this outing—incredibly beautiful chamber music with perfect ecoustics. Dennis is the music minister at Aldersgate United Methodist Church in Huntsville so he was absolutely thrilled with the performance of Vivaldi's Four Seasons. Earlier in the day he broke his glasses but all he needed were his finely-tuned ears. We were on the second row! This is an exquisite experience which we highly recommend.
We finished off the evening with a late dinner around 9pm at Sorza's, a quaint restaurant on Ile St. Louis which is air-conditioned. Lovely meal, good fun, and then a stroll across the river to end our day.
Today and tomorrow we will finish off the grand tour of Paris with two days on the Left Bank. But first a trip to an optician's office to try to get new glasses for Dennis.
The cute street shot of the day was this little gal standing in line at the Tour Eiffel. I sneaked it since it's illegal to take pics of children in Paris. 
Have a great start to your summer weekend,
L & B