Bonjour mes amis,
Today has been a very productive day which started with a trip to the internet cafe.  I received an email response from an agent yesterday who wants to see the BERNIE AND ME manuscript!  We brought the entire manuscript with and without pictures on a USB stick, just in case this might happen.  Remarkably, everything worked well, converted the WORD doc to a PDF and emailed it.  I sound like I know what I'm talking about…just barely.  Keep your fingers crossed.
Then after a trip to the Monoprix, Bernie designed a fix for our shower.  Update later as to how effective it is in preventing a flood on the bathroom floor.  We also thought you might enjoy seeing the courtyard to our building.  It's lovely and a step up for us!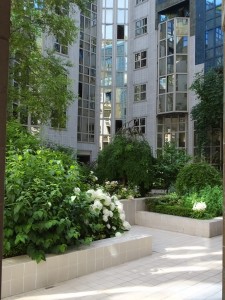 It was not nearly as hot today as predicted and so we planned our afternoon outing to reconstruct some memories from the Left Bank.  We found the very first hotel we ever stayed in on rue des Ecoles and then the first restaurant I ever ate in, Le Coupe Chou.  As I say in the book, I had the worst piece of fried chicken I've ever had in my life and wondered then what I had gotten myself into!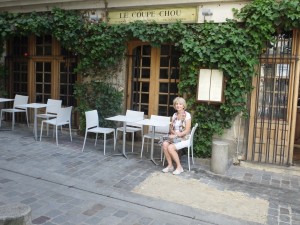 Next we went in pursuit of an area around Le Pantheon called Place Ste. Genevieve where Eglise Ste. Etienne du Mont is located.  It is here on these steps you see in the picture where the frequent shots from "Midnight in Paris" were taken.  Of course, this scene was filmed at night so there was no recognition of the Pantheon in the background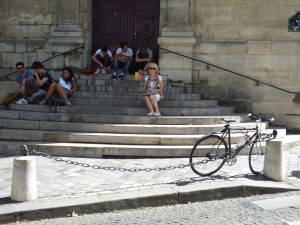 Remember, the old car came around the corner and Owen Wilson, the lead character, would hop into the car and into his fantasy with Hemingway, Stein, Picasso, Degas, Dali and the Fitzgeralds.  I  saw this fact on Twitter not long ago and was shocked as we were so sure that the location was in Montmartre.  I can't tell you how many times we have walked around and around the tiny rues (streets) of Montmartre looking for this!  If you haven't seen the movie and love Paris, do so tonight.
The rest of our pictures are just shots around Paris as we were walking except for the slim and trim Bernie in his new black jeans.  Waist size the same as when he left for Viet Nam.  Not bad for a 75-year 0ld!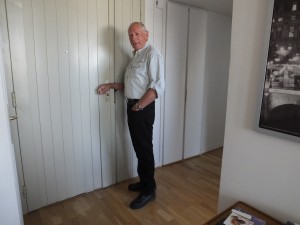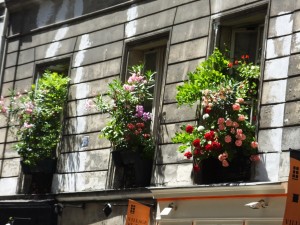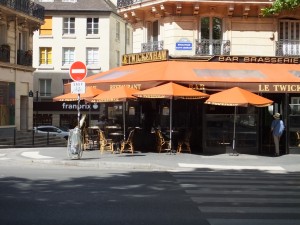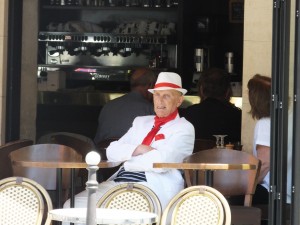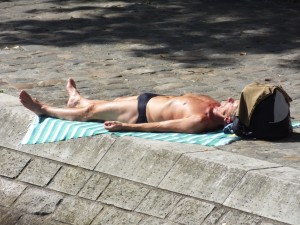 Hope you enjoy all of the pics and remember to enlarge them, just click on each, then click again and you'll see the x at the bottom to close. You can also scroll through all of the pictures once the first one is enlarged.
Love your comments!
Linda & Bernie