Bonjour mes amis,
Alors…as the French would say…so, our eighth Normandy trip was anything but typical! I'm a big believer in signs and omens. This may not be the post you were expecting, but it was our day from start to finish. I'm guessing it will make you chuckle.
We had mapped out the perfect route to the Normandy train station, Gare St. Lazare, taking the very modern and interesting Metro Line 14 which goes directly into the station without going outside. Natalie and Carson were precisely on time at 7:45 with breakfast in hand from Miss Manon, our local patisserie. We needed to change to Line 14, and I unsuspectingly commented that there weren't many folks around and how nice that was. The reason, of course, was because Line 14 was closed! This was Omen # 1. We "recalculated" just like Google does and found a different way to get into St. Lazare with about five minutes to spare. Phew! The ride out was going well until about thirty minutes in when the train came to an abrupt stop. I looked at Natalie and said, "Well, this isn't good." Omen # 2.
Finally we received the message that we would be delayed about an hour due to an accident on the track. We never knew what happened, but I did see three ambulances as we passed through the next station along the way. So, okay, we're going to be an hour late picking up the car, hoping that wouldn't be a problem. Natalie attempted to contact them with no luck.
We got in about 12:15, rushed through the Gare (train station), across the street to Enterprise where we had rented the car. The sign on the door said, "Closed for lunch."  Omen # 3. Natalie said, "Oh, no, I think I remember reading they are closed from 12 to 2pm!" Yikes! We needed lunch, and the choices were few and not very appealing. Carson spotted a little joint that said "Tacos" on the front signage. I warned him that a taco in France might not be like a taco at home. We gave into his wishes and had some of the worst food I've ever eaten in France. AND most importantly, there was no wine for Bernie, not even a beer in a can. But we were hungry and did our best with it. Natalie ran next door to Enterprise to discover they would reopen at 1pm.  Great news! So we got the car with Natalie as the driver, and she was SO excited to be driving a stick shift again. (That was her first little Honda when she turned 16.) She used Google Maps to get us first to Omaha Beach.
Thank goodness that Bernie had checked the weather forecast for the area before we left. The temps were to be in the upper 50's with a wind speed of 25 mph. We had bundled up. I had on my hat, etc. but we had little idea of what a 25mph wind would feel like along the coast with sand blowing in our eyes, our hair, literally almost knocking me over. With my vertigo, well, you can imagine. I had to keep my hand on my hat to keep it from blowing away, hold my purse, try to hold the phone to take photos…it was impossible! Photos are few from me but Natalie managed to get some. Regardless, of all of this, they found Omaha Beach to be awesome and had a great time experiencing the ambiance. What a great history lesson for Carson.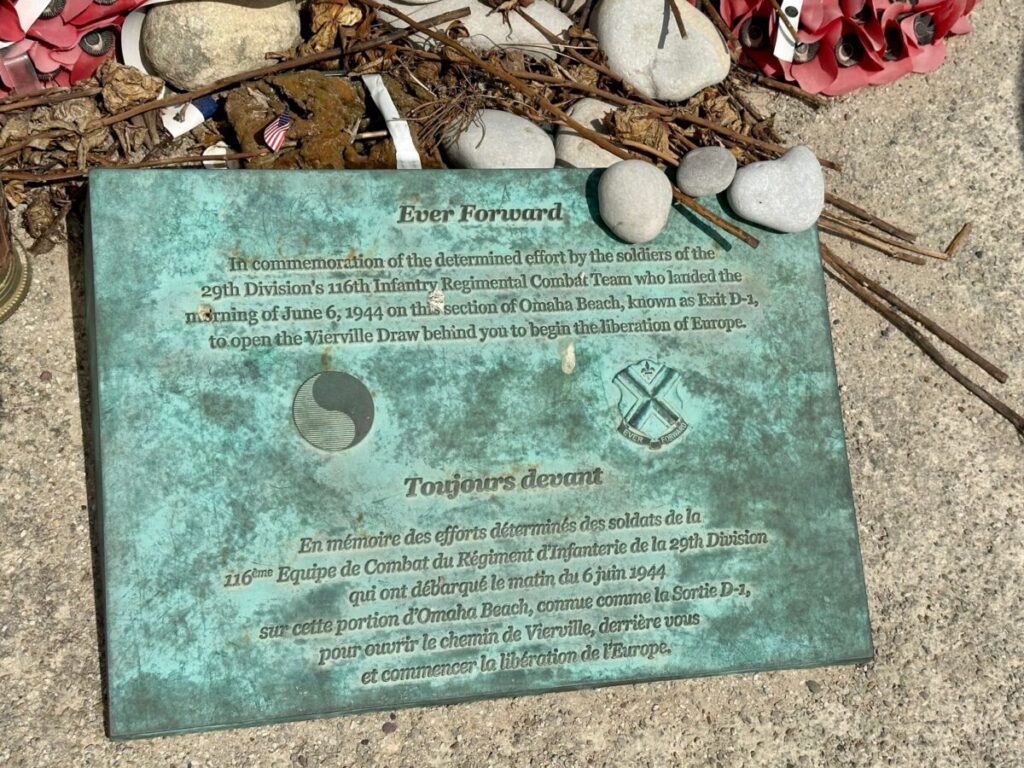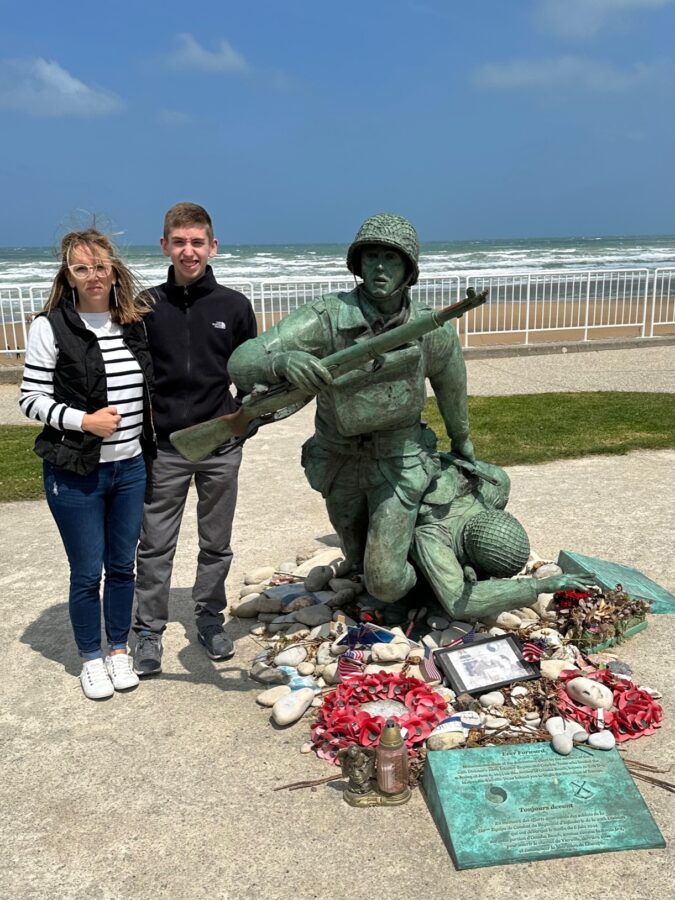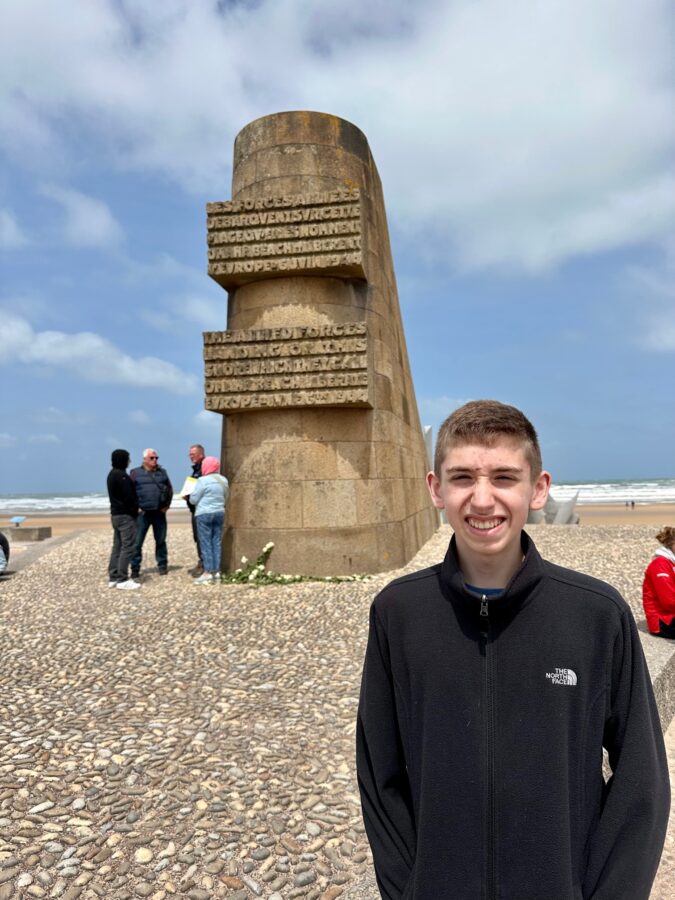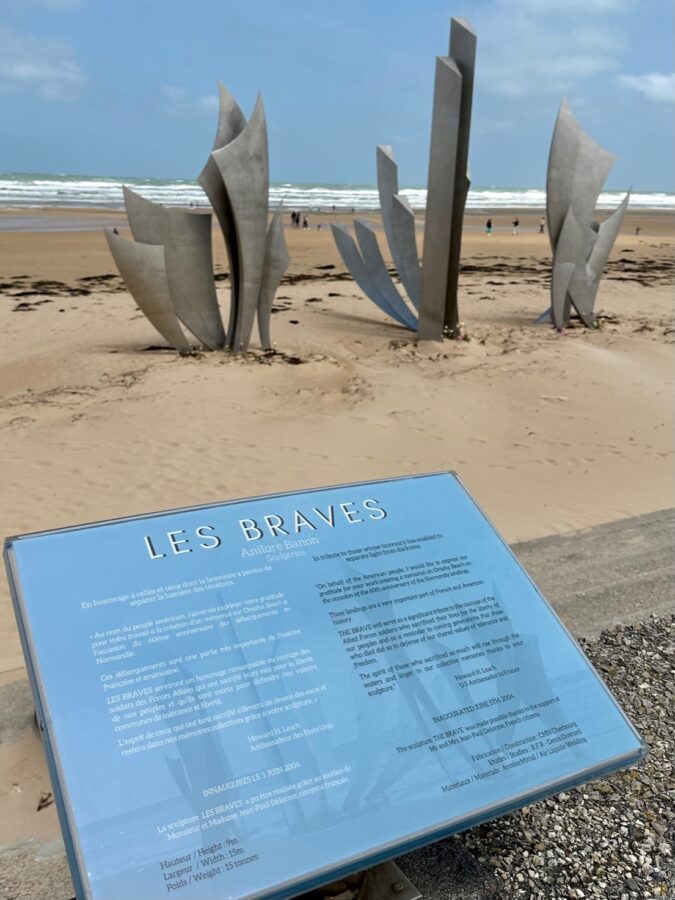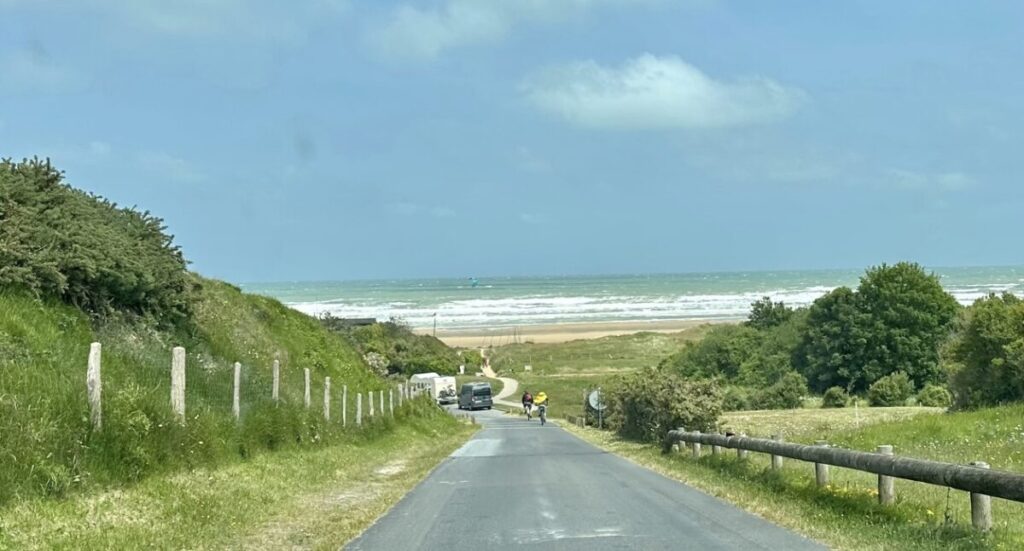 Next stop was Pointe du Hoc with the German bunkers and still-remaining, massive indentures in the earth from the bombardments. The wind was worse!!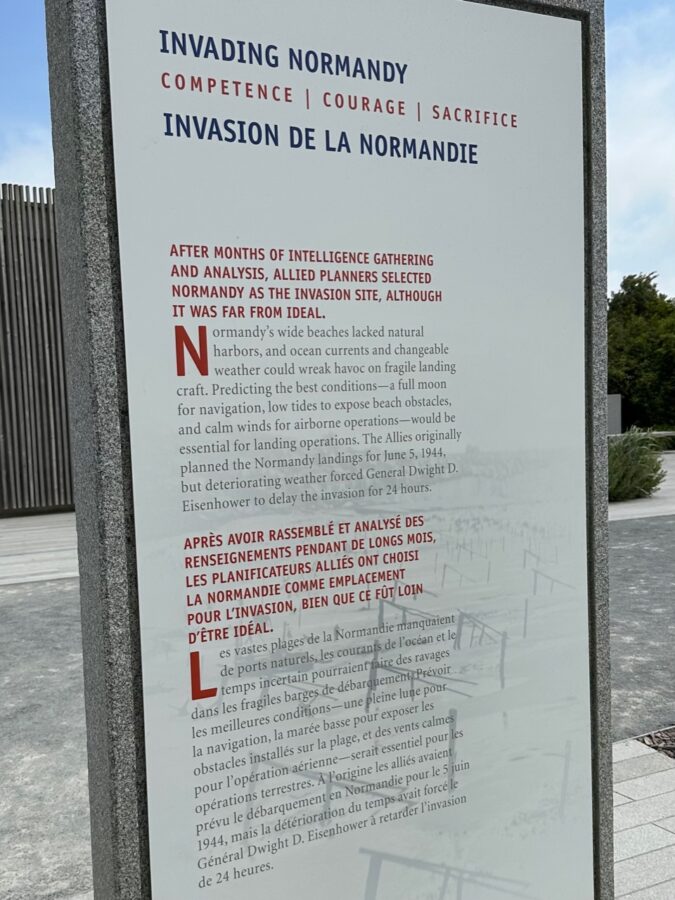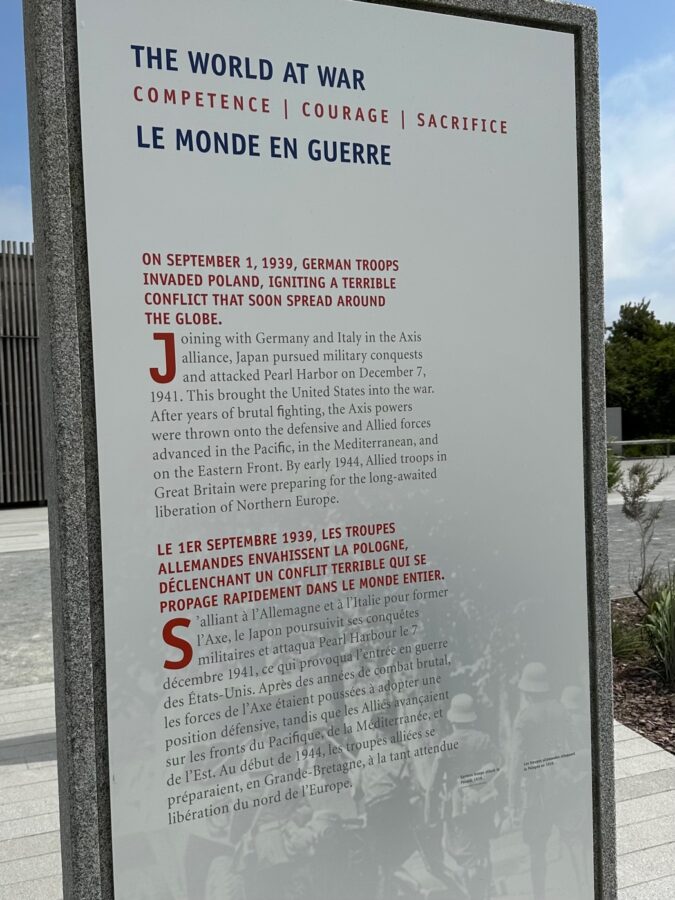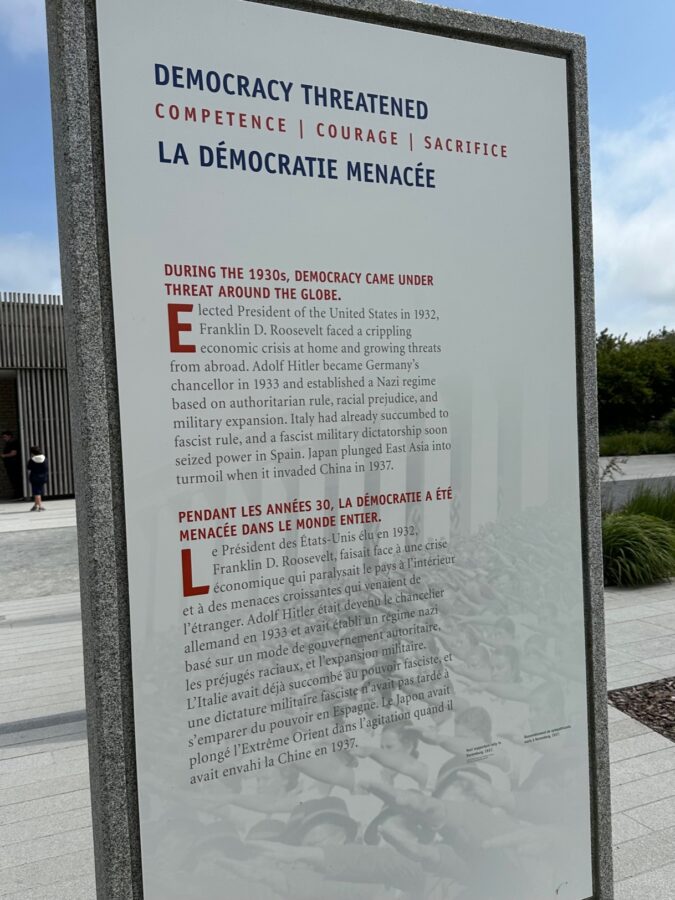 We got to the cemetery about 4pm, toured around it until 5:30 (they close at 6pm) and were able to catch the closing ceremony lowering the flag. Hearing Taps played there truly brings tears to your eyes. (Sharon Tyson, we commemorated the exact spot where you fell!!) There was no time to go inside the museum unfortunately because we had to find our way back, stop to get gas, eat something for dinner and be on the train by 7:59. The hour lost earlier really bit into our time.
I have to give many accolades to Natalie who is a master at Google Maps. She twisted and turned and enlarged and whatever else required to find us a gas station and then got us directly into the Gare with less than 2% battery remaining. The phone died just as we arrived at the train platform. So I insisted that we needed to find the schematic of how the train cars were arranged, and everyone just looked at me as though I was crazy. Pierre, Bernie's cousin, has taught us about that. Natalie said, "Oh, Mom, you worry too much." And I replied, "But you don't understand! This train will be very long, and we need to position ourselves along the platform so we can go right in." Again, just blank stares from everyone. The time is short (actually only 2 minutes!) Needless to say, we didn't find the train schematic anywhere, the train came, we hopped on thinking, "Okay, we're on the train and can walk to the appropriate car and find our seats." AU CONTRAIRE! Omen #4.
(It's important here to interject that days ago, Bernie and I went to St. Lazare to change our return tickets to First Class seats for which Bernie paid 100 additional euros!)
Frantically looking around, we asked a conductor who said, "You have first class tickets and have to step off this part of the train and run quickly to an attached set of cars which are all first class." Who knew it would be two trains latched together!! I looked around and had Natalie and Carson but no Bernie. He was upstairs looking for our seats. The conductor was screaming at me to hurry off and then back onto the other set of train cars. I said very firmly that I could not leave the fourth person in our party. I was screaming that he is 83 and can't hear very well. He held the train for maybe 5-8 seconds and then said, "No, we have to go" and the doors closed. He informed us that the train was completely full and he would TRY to find us some seats. There was one seat upstairs which the group allowed me to have. The three of them sat in what was a "jump seat" in the space between two cars right next to the smelly bathroom. It was just awful. When Bernie finally appeared and the conductor told him we could not have our first class seats, Bernie got as upset as I've ever seen him, screaming, "Non, Non!" He explained in French about the situation with paying an extra 100 euros, etc. etc. etc. It was all to no avail. They rode in "steerage" for two hours bumping and thumping along. It was a journey from hell for them and one Carson will never forget. I asked about how to issue a complaint and was told that I would have to do it on line. Holy heck!
Okay, if anything else could happen, someone went into the bathroom, locked the door from the inside and never came out.  Lines of people with small children were huddled on top of my three, needing to use the facilities. Just unbelievable. Natalie feared that maybe the person had died inside the toilet. We truly did look around on the news, but could not find any mention about it.
So, yes, a very different kind of day. We laughed and hugged and all fell into our respective beds about 11:30!!
Today will hopefully be better, and the memory will get funnier and funnier as we retell this tale over the years to come. The real irony here is how many times I've heard Bernie boast with pride about how the trains in France are always on time. "They don't hold the train for anyone! When the doors close, they close." Ha!!
Bless those people who gave their lives at Normandy…29,000 were killed and 106,000 were wounded. In this gorgeous cemetery covering 172 acres, 9400 are buried with the latest being in 2018. With the help of DNA, they are still identifying some of the casualties. Because it was Memorial Day, EVERY marker had both an American flag and a French flag twisting in the blistering wind. What a sight!
I certainly don't mean to make light of what really happened here, but our tale of Murphy's Law just had to be shared.
L & B