Bonjour mes amis,
This morning it was 52 degrees and rainy, not my favorite Parisian day.  To say we've had a slow pace is an understatement but we do have a few proven ways to enjoy ourselves when the weather is this uncooperative.  We rode the Métro out to La Defense and walked around the huge shopping mall called Quartre Temps, Four Seasons. It was the quietest and least busy we've ever seen it.  We ate lunch up on the top floor at the Hippopotamus and did some shopping for friends and family.  The weather was so bad that we didn't step one toe outside to admire the array of skyscrapers and the huge Grand Arch that are so picturesque.  Another day perhaps.
On the return ride, we stopped at the Louvre/Rivoli station to take some pictures of its recent renovation.  For the past three years, it's been totally torn up.  Some of the photos did not come out because of the lighting, but here's one that did. We'll try again.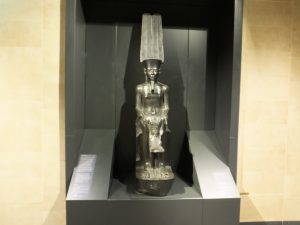 Last evening, we took a nice stroll through La Place des Vosges and along the way found some more interesting café chairs.  Hope you enjoy.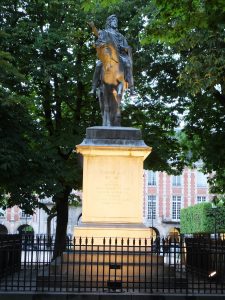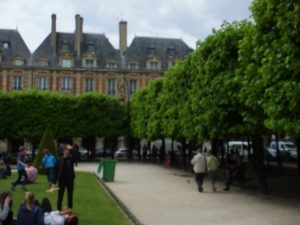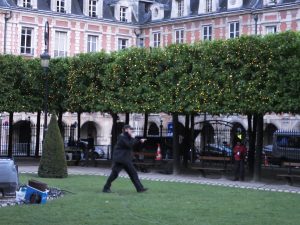 Tonight, we have been invited for an aperitif with our neighbors which will be great fun! We'll take pictures so these folks will have a face.  I've written about them so much before…Frank, Vinciane, and Chantal.
Hoping for better weather soon!
L & B