Bonjour,
It's 98 degrees today in Paris, and oh, how we dread the late afternoon. It certainly saps all the enjoyment out of our day. Supposedly, we will have a huge rain storm on Friday evening to clear the stagnant air and cool down the temps. We're praying for it as my sinuses are about to explode from the dust.The French call this heat wave a canicule. It doesn't seem to bother them as much as us. They simply persist as they always do with whatever comes along. I believe it's in their genes.
This time of year, life is slowing down for the locals who are leaving on "vacance," some businesses are closing, and others are being gutted for a complete redo. For example, the wonderful boucherie or butcher shop where we buy our roasted chickens is undergoing a total renovation. It's nothing but a shell as of yesterday.
Not as many things close as years ago, and the city is still PACKED with tourists. Hopefully, that will settle as we approach August. The seafood market at the Monoprix has also shut down much to my dismay as well as the closest verger or fruit stand.
My best news of the day is I believe we have found a new apartment for next year right here in our beloved area of the Marais, just across from the St. Paul subway station. After hours and hours of searching, I saw one this morning on line at Paristay.com. It is in a much newer building, has a lift, is air-conditioned, no steps inside, and is less expensive. It's also a 1000 square feet! Oddly enough, they won't allow a booking until 6 months out but be sure that I will keep a watchful eye when the first opportunity arises. It will sleep 6 but only has 1 bathroom. We'll definitely make do with that. Hopefully, much quieter. We've loved our spot here at 42 rue St. Paul, but it's very noisy and busy and showing its age. Bernie wants to celebrate his 80th birthday here in Paris so our travel dates will likely be well into the fall of 2019. Seeing the Christmas decorations at Les Galeries Lafayette and along the Champs as well as shopping the Christmas markets would be fantastic. Who knows what the future holds, but we will stay hopeful that good health will prevail.
Our lunch out today was at Mariage Frères, a famous tea room with locations around the world. It's located on rue Bourg du Tibourg.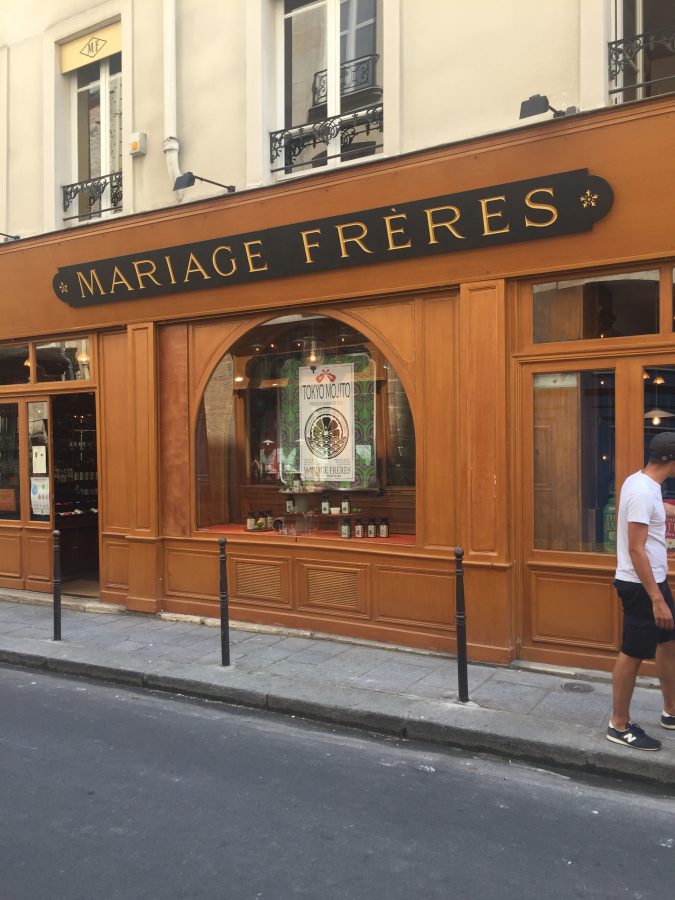 It's always a treat and reminiscent of a time when the British ruled in Indo China. AND it is air-conditioned! The waiters are dressed in white linen, the tea offerings are voluminous, and the food quite eclectic and delicious. This year they were offering iced tea. Ours was green tea with mint.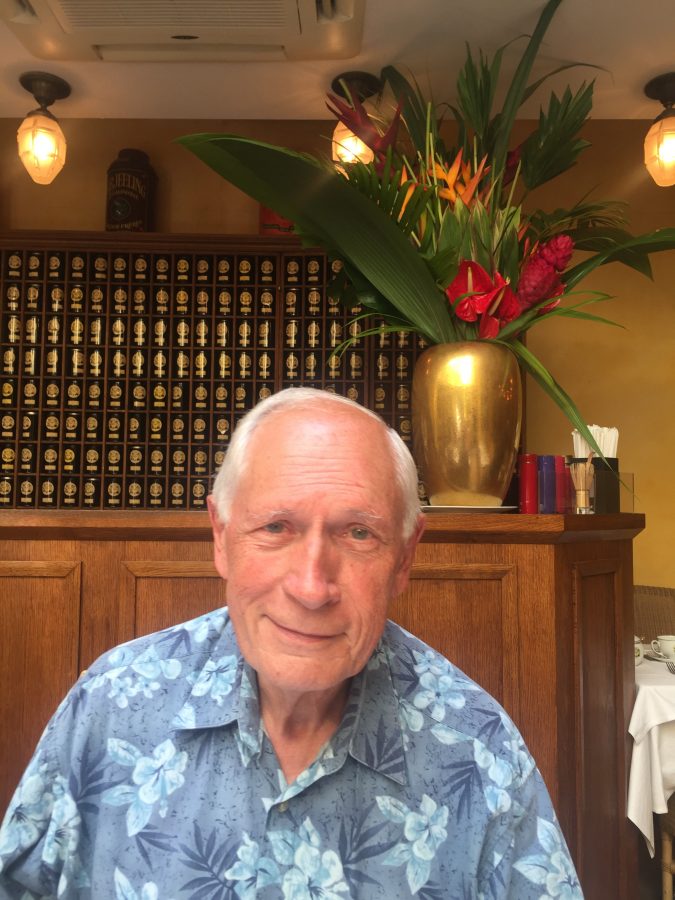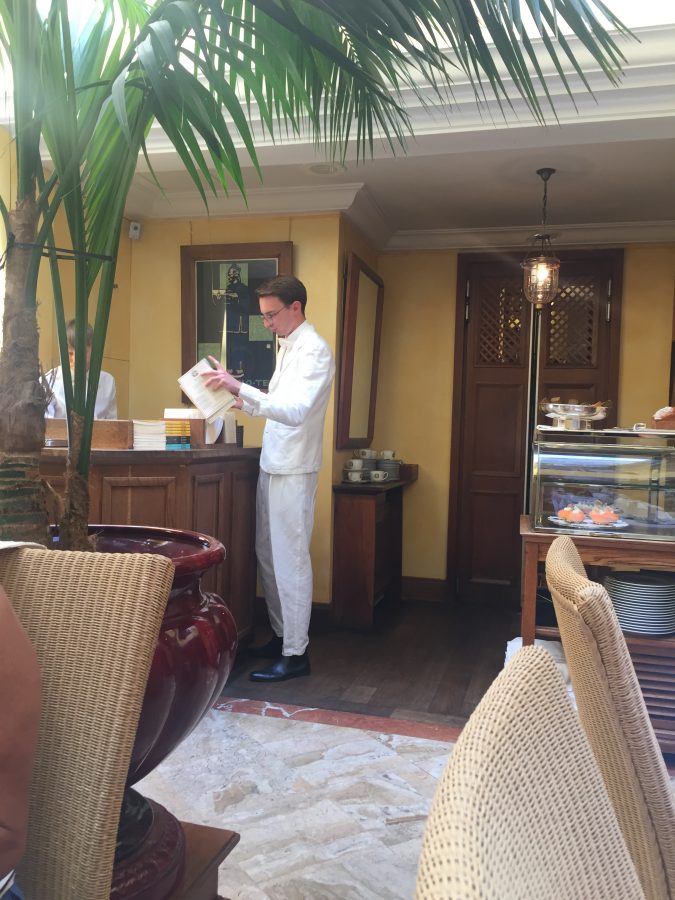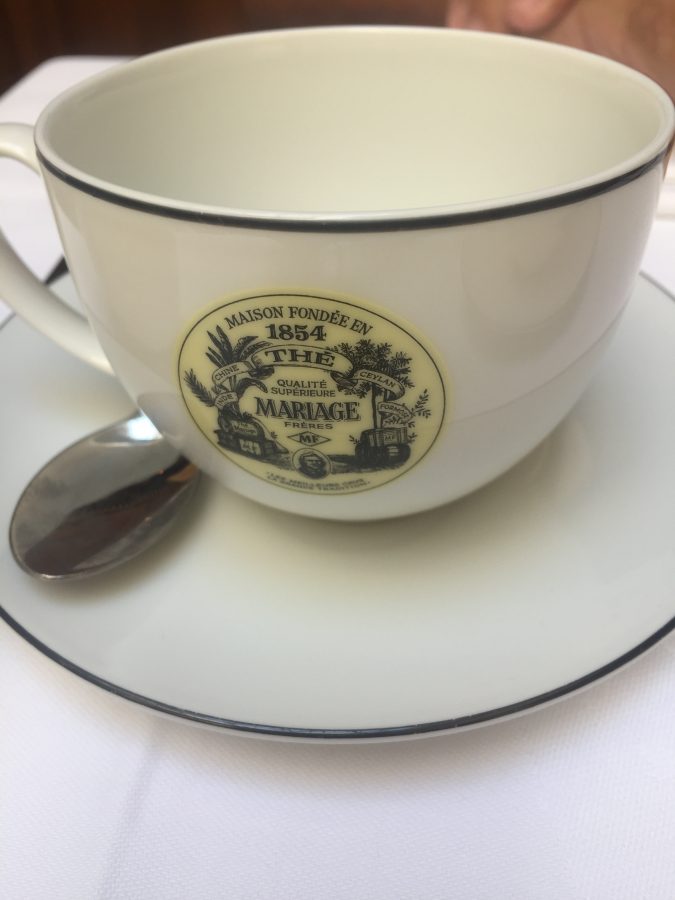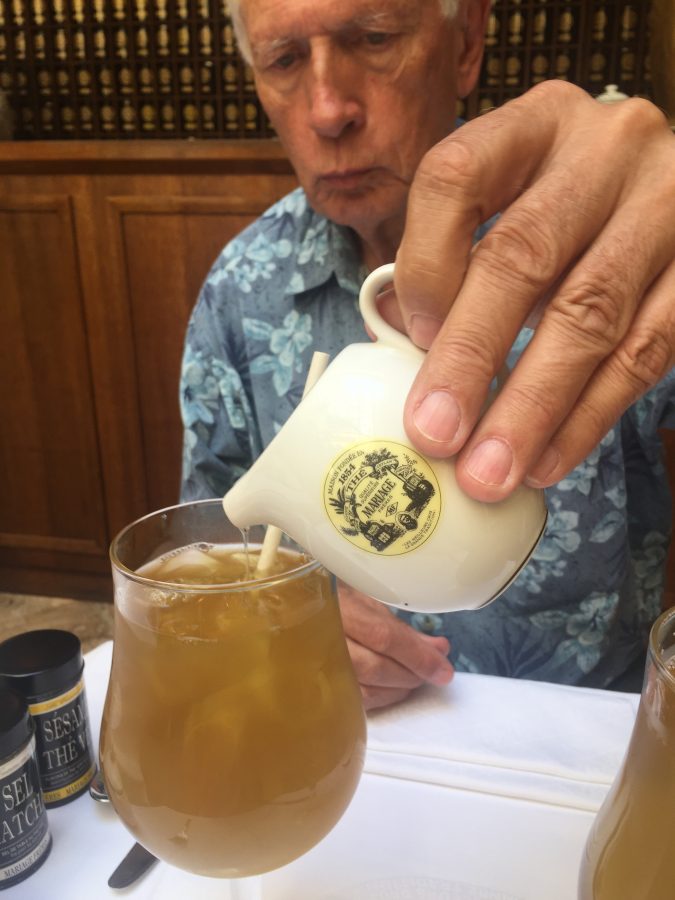 I ordered a form of Croque Madame which arrived in a big black box. When the waiter dramatically removed the top, here's what I saw to my delight.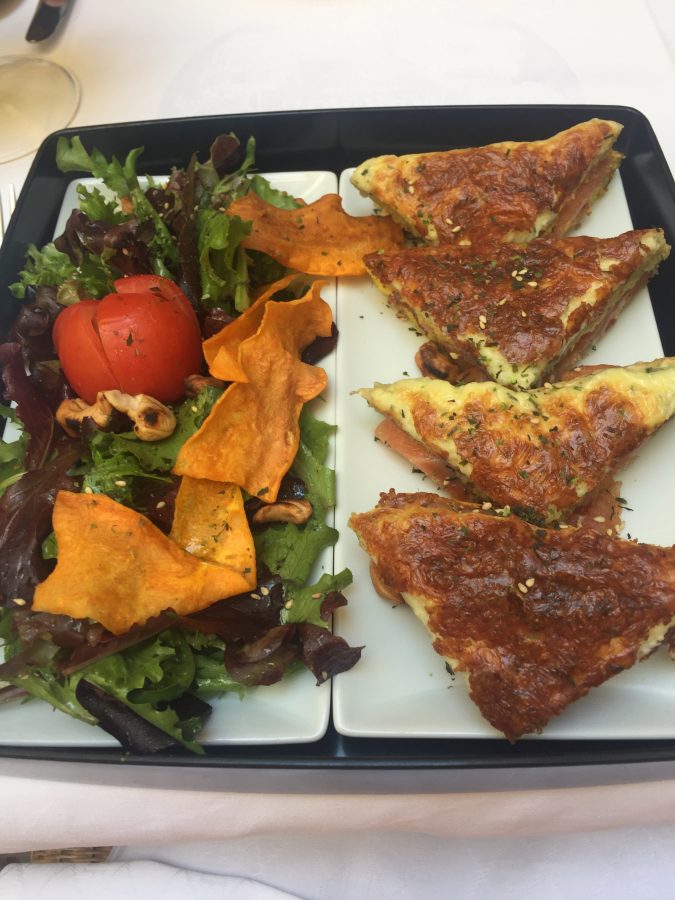 Bernie ordered a form of beef tartare with dill, parsley, green beans, sesame seeds, and cashew nuts all in a sweet red sauce infused with exotic tea . The beef was hidden on the bottom. He ate every bite!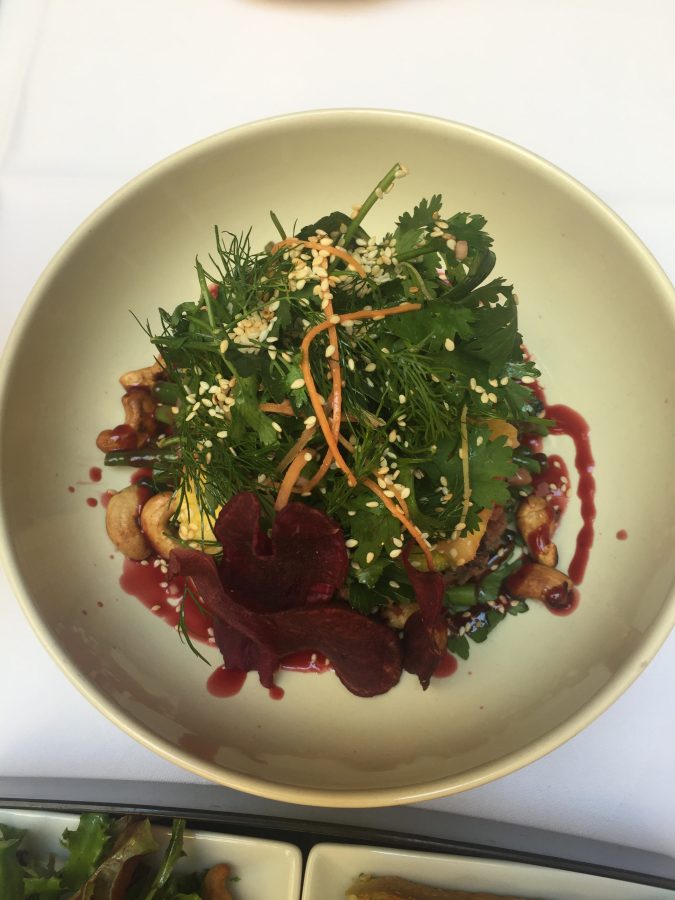 My meal included a dessert from the pastry cart. It was so light it tasted like air and rested on a bed of almonds with cherry filling in the middle. Of course, it included infusion of tea. Never got the name…sorry.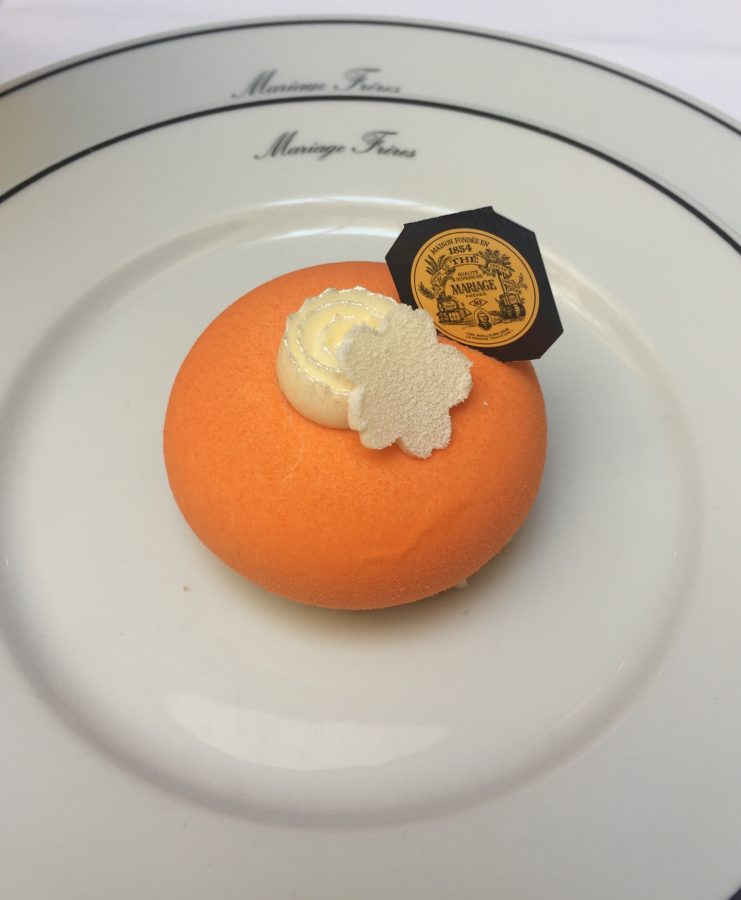 The street shot of the day was taken afterward in the BHV (our big department store) while we were looking for some electronics. Such a beautiful hairdo!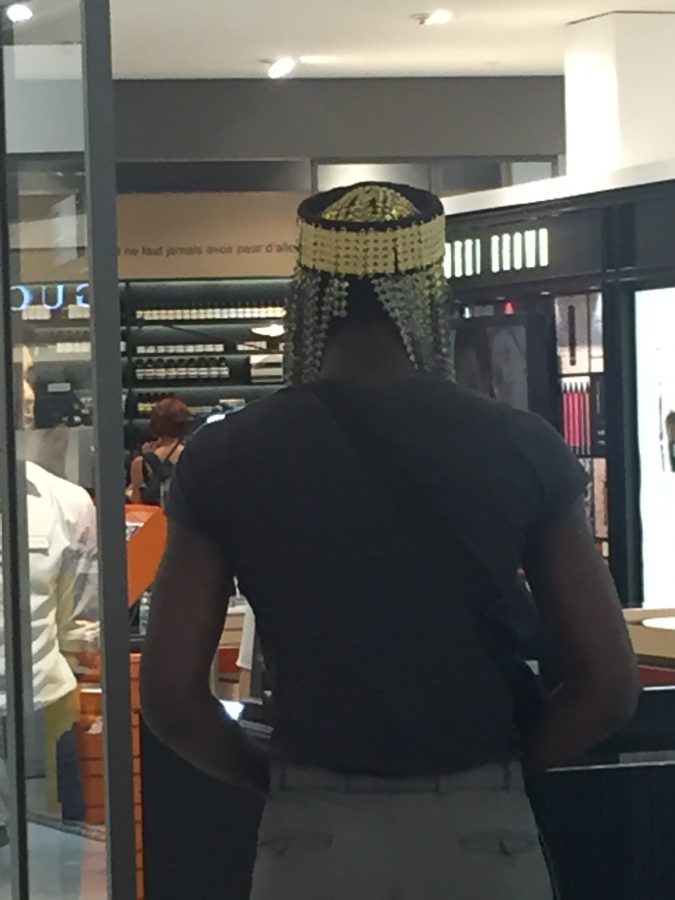 This afternoon and tonight we hunker down for dinner in the apartment and try to stay cool! No walking around in 98 degrees for these two old folks!!
Vive Le Tour,
L & B