Bonjour mes amis,
For our twelfth summer fling to Paris, we were blessed with a perfect travel experience … no delays or hiccups, even a 30-minute-early touch-down at Charles de Gaulle.  Today is a holiday in Paris for Pentecost so there was almost no traffic as we drove in. We couldn't believe it! We also can't believe that it's 50 degrees! "C'est hiver encore," said our waiter this morning. It's winter again.
Our little apartment is just that…LITTLE, but we will make it work. Our expectations were accurate so that definitely helps with the mindset.  Here's a view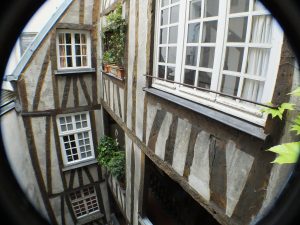 from our window and a few interior shots.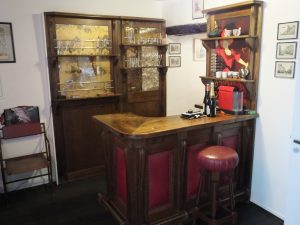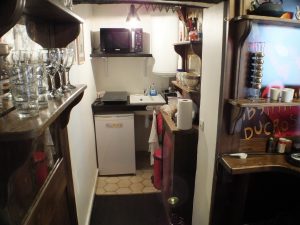 We've unpacked such as it is (!) and gone to the grocery store.  The kitchen is probably not functional enough to do much cooking; how sad and heartbroken I am over that!  Where are the Bilbro's when we need them?
What's new in the hood after just a few hours?  We notice new bright neon chairs downstairs at Le Bouquet St. Paul as well as some different staff so we'll make a new set of summer friends.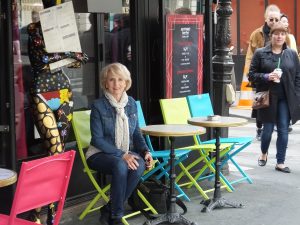 Also the plastic bags for fruit and vegetables are gone at the Monoprix, replaced with small brown paper bags!
It looks like the middle of winter on the streets.  Everyone is in black with heavy winter coats, except of course for moi, sporting my beige slacks and sparkly top with a while linen blazer and white purse when I first arrived.  I stood out worse than a sore thumb.  Oh well.
We're so excited to have all of you along for the ride, or should I say stroll, as we walk the streets of Paris for the 12th year. Can't wait to share our good times and love, love, love to hear from you!
A bientôt,
L & B