Bonsoir,
This year I'm wearing a Garmin Vivofit, compliments of my son. So for the first time, we will be able to accurately count our steps each day in Paris and the number of miles they represent.  It's only 3:30pm at the moment, and we've already hit 12,000 steps or 4.5 miles. Wow!
We began our day by going to a restaurant on the 28th floor of the Montparnasse Tower called Le Ciel de Paris.  It is one of the venues which can be reserved for watching the fireworks on July 14th, Bastille Day.  We have been unable to book reservations from home for us and the Bilbros and thought surely we would have success in person. Au contraire. We were told that that the reservations would only be available on-line towards the end of this month. So, we left disappointed but determined.
We stopped along Boulevard Montparnasse for a bite of lunch at a random restaurant called Sud-Ouest for a very disappointing meal.  One can have bad food occasionally in Paris, but not very often.
The forecast was for rain in the afternoon so we decided to Métro over to the new Forum des Halles shopping Center near Chatelat.  (Along the way, we caught a paper hanger in the Métro …yes, the old fashioned way! and an adorable billboard of a pink cat.)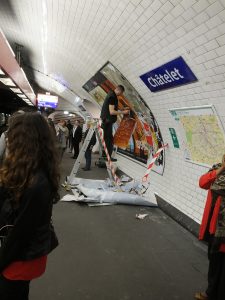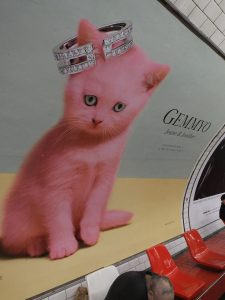 For the past 3 years, we've watched the new Les Halles gradually take shape.  The architectural focus is a huge canopy over this gigantic shopping center. As I've related before, this space was the former large market for the city, revered as the heart of old Paris, but it was closed in the mid-50's due to hygienic issues and lack of space.  It has sadly never found its identity again.  I'm personally not sure this new monstrosity will be the answer, but it's well on the way to completion in 2019.  We walked around some of the new shops but the massive new subway station is not yet complete, nor is the garden in front of  St. Eustache church.  Bernie's pictures will tell the story.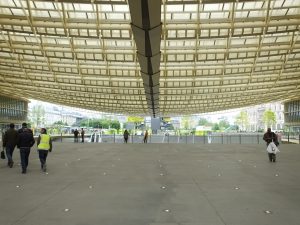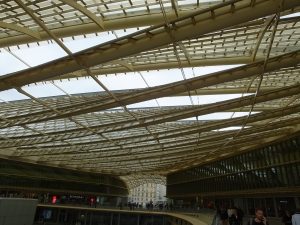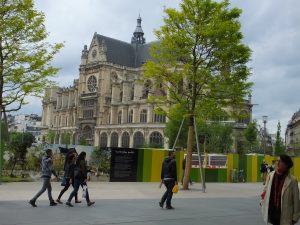 We've decided to do a series while here called "The Café Chairs of Paris."  Today's two distinctive choices are from around Les Forum des Halles.  We'll build on this throughout our two months here which should be fun.  We've already shown you the bright neon chairs, new to Le Bouquet St. Paul.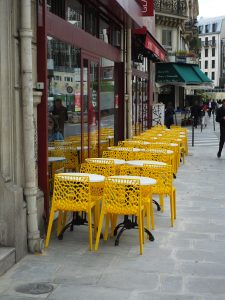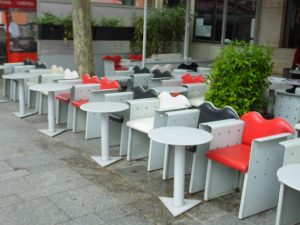 One more observation:  Paris is subdued, with fewer people, less sizzle, less excitement and everyone is dressed in black.  Perhaps this has something to do with the terrorist attack in November; perhaps, it has something to do with the strikes and demonstrations taking place around the city, or maybe it's just the cool, cloudy weather. Whatever it is, we don't like it!  We will hope for warmer, happier days for this glorious city that we love.
Fondly,
L & B