Bonjour,
It's amazing what nine hours of sleep can do for your body and mind. With a comfortable bed, total peace and quiet, a good coffee pot, and we are happy campers this morning.  We have absolutely no street noise since our apartment faces the courtyard, but I can thankfully still faintly hear the church bells from Eglise St. Paul, St. Louis.
And, it appears that we're going to be blessed with another perfect weather day.
It was great fun to hear from so many of you on the comments section of the first blog. Check it out if you haven't already.
We met our friend Hannah at Le Trocadéro yesterday for lunch and then a tour of a new exhibition about Notre Dame. It explained in intricate detail the meticulous efforts to clean up after the fire. The opening tableau upon entering made a drastic statement of what the nave looked like after the spire fell.  The gaping hole at the top took my breath away.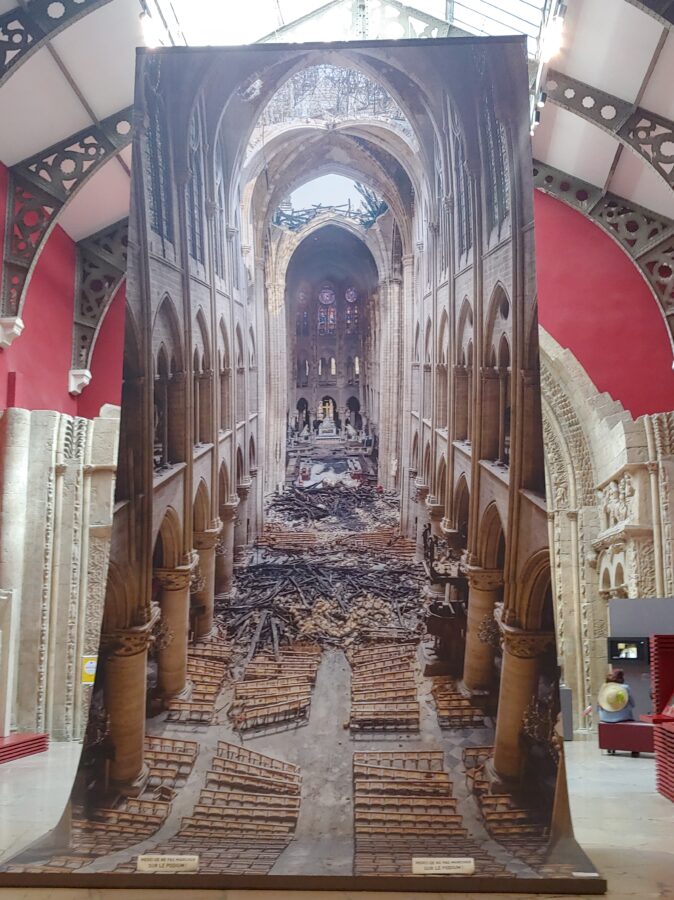 The museum on architecture and patrimony housed the exhibition and offered some great views of the Eiffel Tower.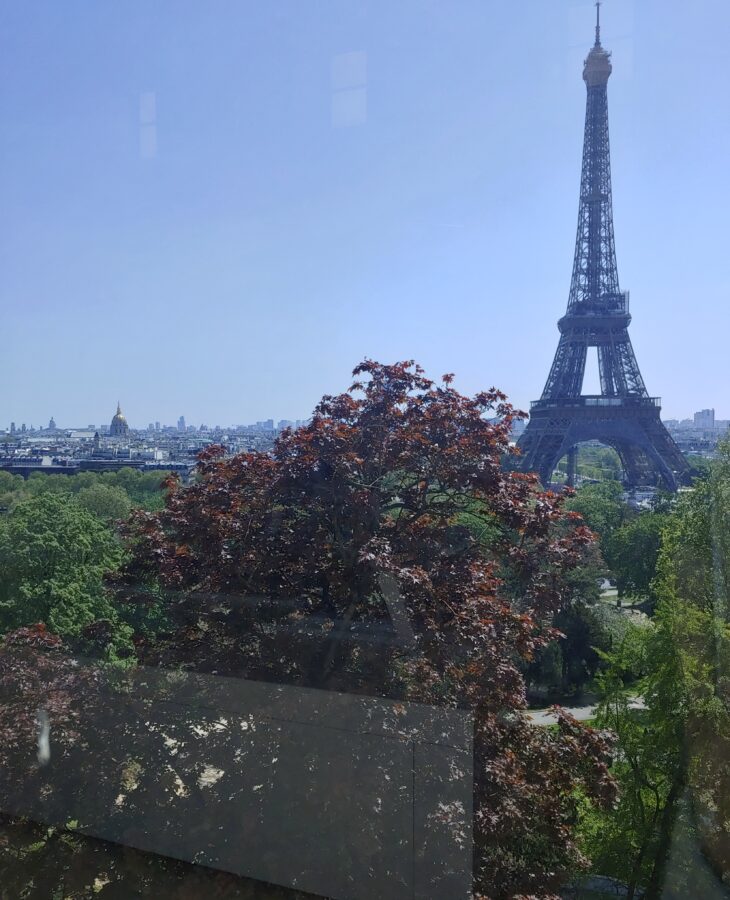 Hello, I forgot my phone so Bernie took all the photos yesterday. Here's the traditional view of the Tower without any construction. Yay, it's been years since we've gotten this unobstructed view!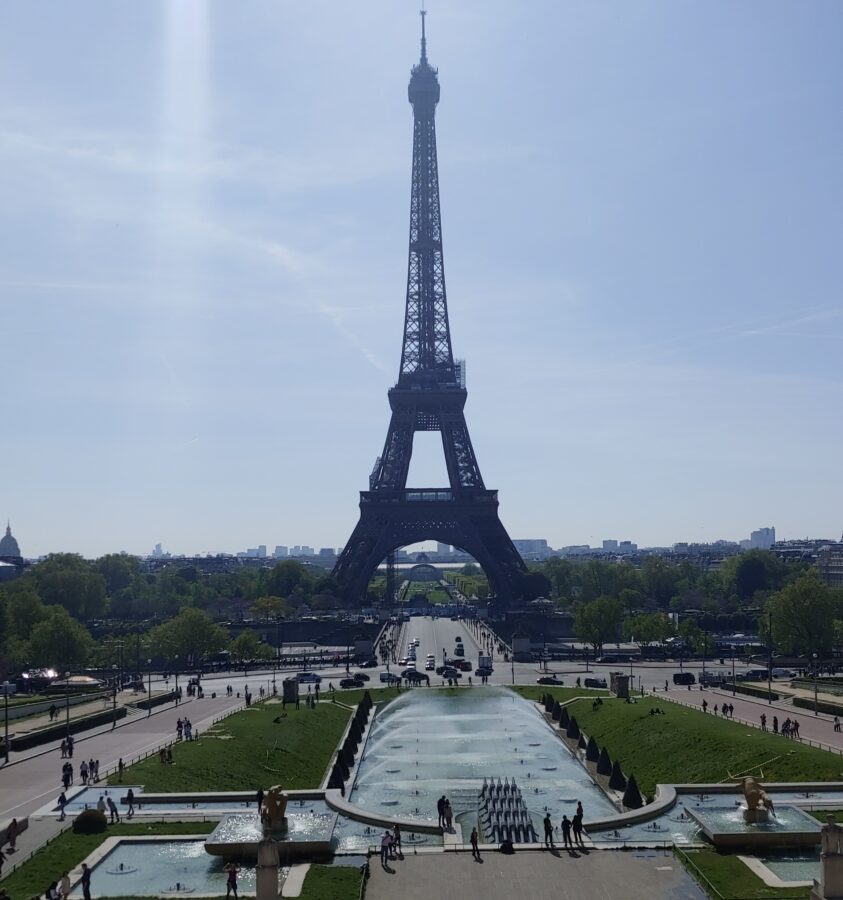 We both took little naps yesterday after our outing, sure signs of age, I believe! No dinner for us, just a slight snack in the apartment followed by our favorite pastime of people-watching at Le Bouquet St. Paul. It has to be the best corner in Paris. We saw dear friends for a visit and then home to an early-to-bed.
My foot is definitely there but holding up okay. And here is our fun joie de vivre photo taken in front of the church. These cute doggies created quite a stir!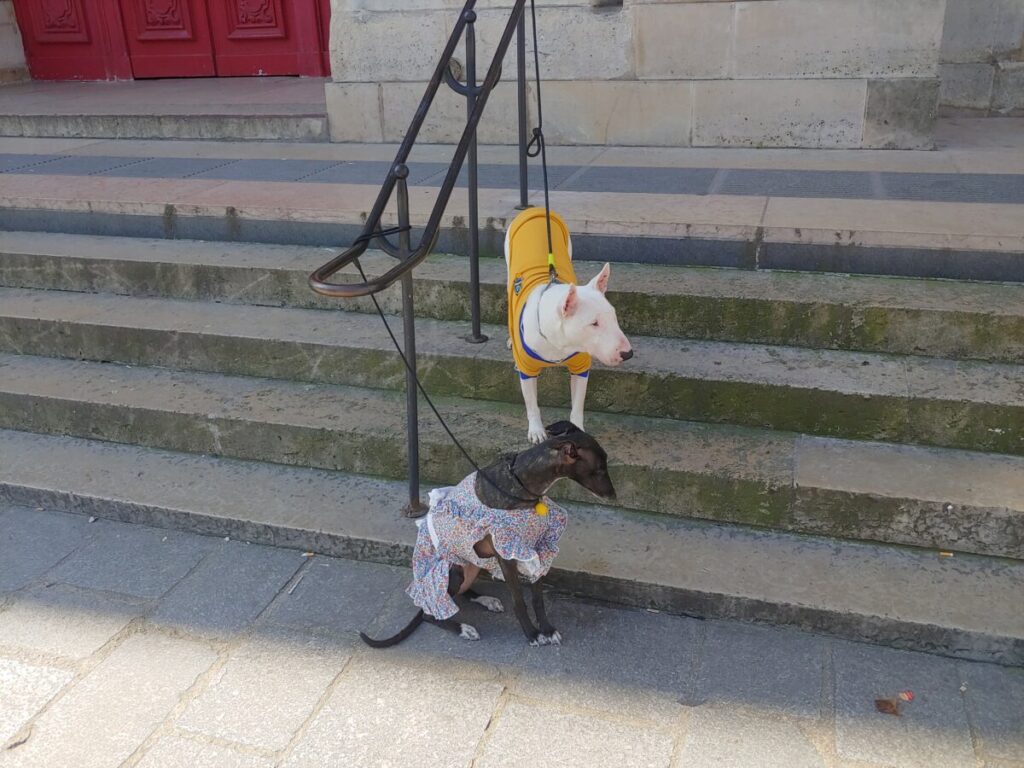 We learned some disturbing news last night from our friends. The May 1 protest did cause damage in our area since much of it originated at La Bastille. The Monoprix windows were smashed in as well as storefronts on Beaumarchais at the motorcycle stores. Also some small fires were started in the streets. The next round of protests are not scheduled until June 6, thank goodness, and will originate from Montparnassee which is a long way from where we are. No worries about garbage pick-up in our arrondissement because it is contracted out with a private company. These are strange times in Paris!!
Hope you have a great day!
L & B