Bonjour,
After almost a week in Paris, Jan & Tony left early this morning (Friday).  It was a good week but certainly less than hoped for with Jan's being under the weather.  She was able to make all of our dinners, but none of the daily activities. They stayed at the Hotel Caron  (http://www.hotelcaron.com) It's a delightful 3-star right across the street from us for $227 a night.  However, according to Tony, the showers are trés, trés small!
Yesterday was another perfect weather day and what better place to spend it than at Montmartre. Tony walked up all the steps which is our favorite way to go, but Bernie and I took the Funicular because of my knee which has had some tendinitis. The good news is that it's much, much better now, but I didn't want to push my luck with all of those steps. We ate lunch at our favorite spot under the wisteria vines with Pierre on the bass, a restaurant called Chez Plumeau.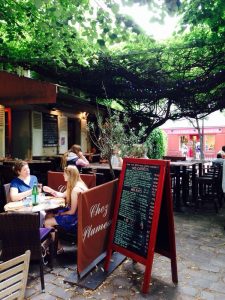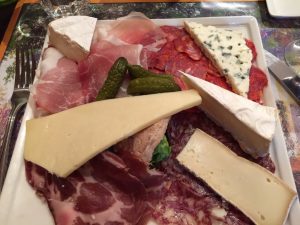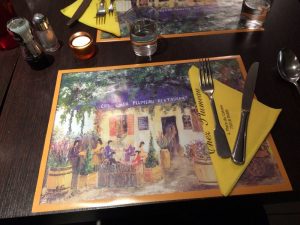 After our lunch, we walked through some of the better shops and showed Tony the man walking through the wall. According to TravelFranceOnline: "The French actor and sculptor Jean Marais (1913-1998) created this unusual bronze patina sculpture in 1989 to pay tribute to Marcel Aymé (1902-1967), a popular French novelist, screenwriter and playwright.
The Walker through Walls, the hero of one of Marcel Aymé's novels, is Mr Dutilleul, a modest clerk who works in an obscure ministry department and one day discovers that he has the gift of walking through solid walls.
Dutilleul uses his newly discovered talent to avenge the humiliation that his colleagues and superiors subjected him to at work.
Nothing stops him and he keeps using… and abusing his powers until the day they abandon him just as he walks through a wall, leaving half of his body trapped in the stone."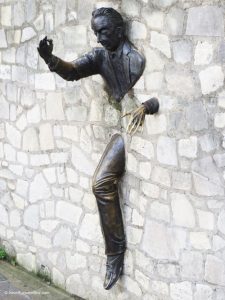 Then we went in pursuit of the house where Van Gogh lived with his brother Theo at 56 rue Lepic. Along the way, we passed a fascinating shop and grabbed some window photos of bizarre pictures. Click on them to enlarge and then zoom in. Really interesting!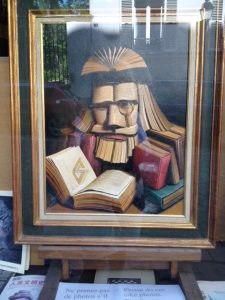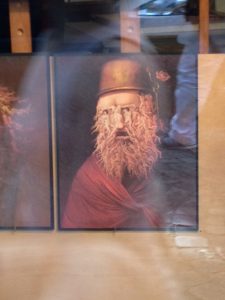 It was a nice, easy stroll down to Le Moulin Rouge and then back home. We did find some interesting café chairs and decorative tables during our stroll as well as a WWII Army jeep, but made for the Brits with a right-handed steering wheel.  Bernie was excited.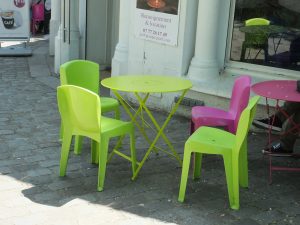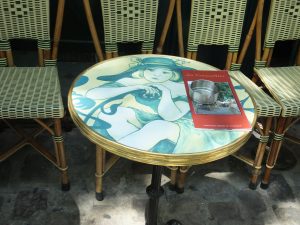 Our week concluded with a lovely dinner near Avenue George V  at La Fermette Marbeuf (http://uk.fermettemarbeuf.com) and a quick walk along the Champs at sunset at 10 o'clock!
We send good travel vibes to Jan and Tony and thank them for another year of fun memories.
Au revoir,
L & B