Bonjour,
Well, a day of rain turned into mostly a cool day of sunshine which was great. We did go out to La Defense and found the massive shopping center called 4 Temps, the Four Seasons, to be very much alive and with only a few changes since the pandemic. It has 230 boutiques and is the most visited shopping center in France! One change that was unexpected was a 30-cent charge for using their public restrooms! I had nothing but a 50 euro bill so the attendant let me pass without paying.
The area is under a great deal of construction but we did sneak a few views of the Grande Arche de la Défense and the skyscrapers.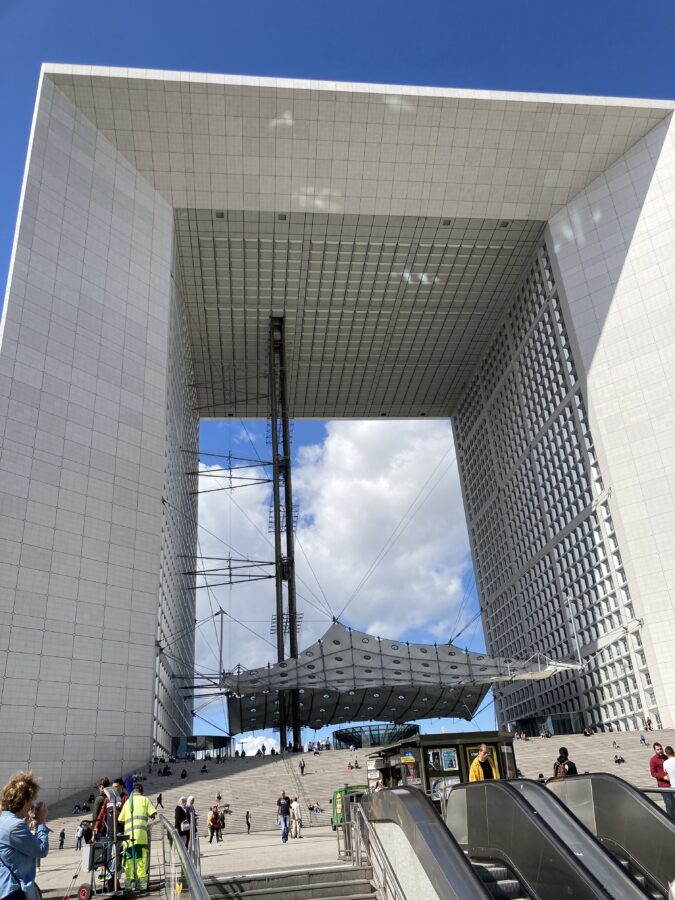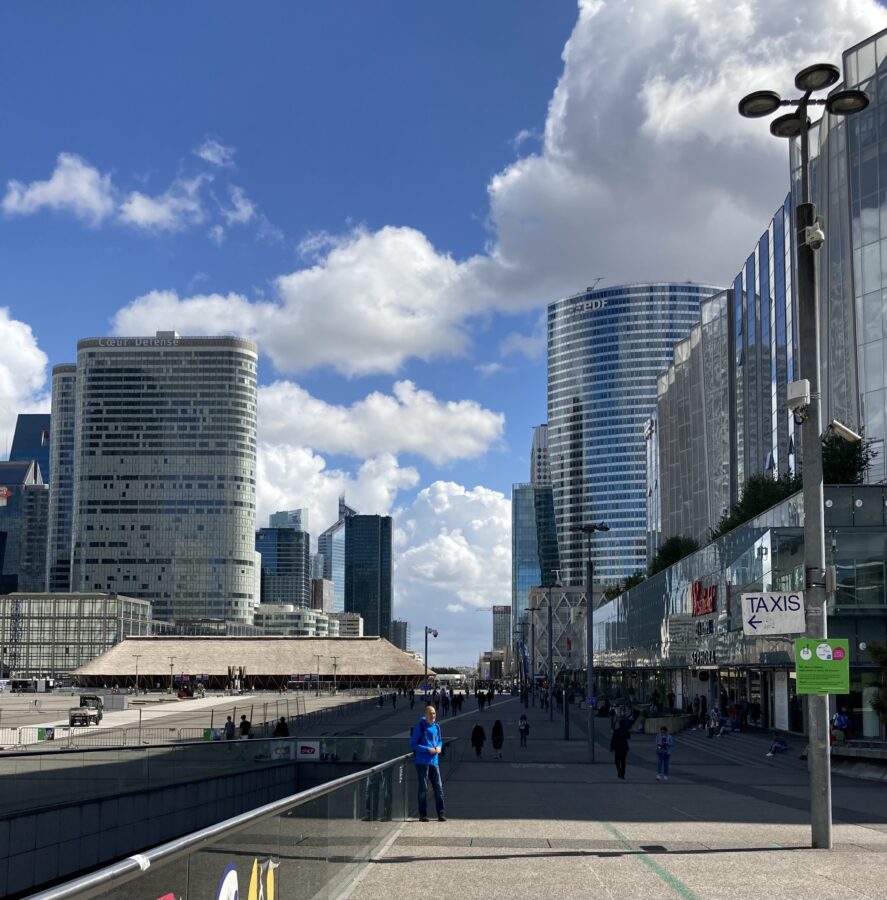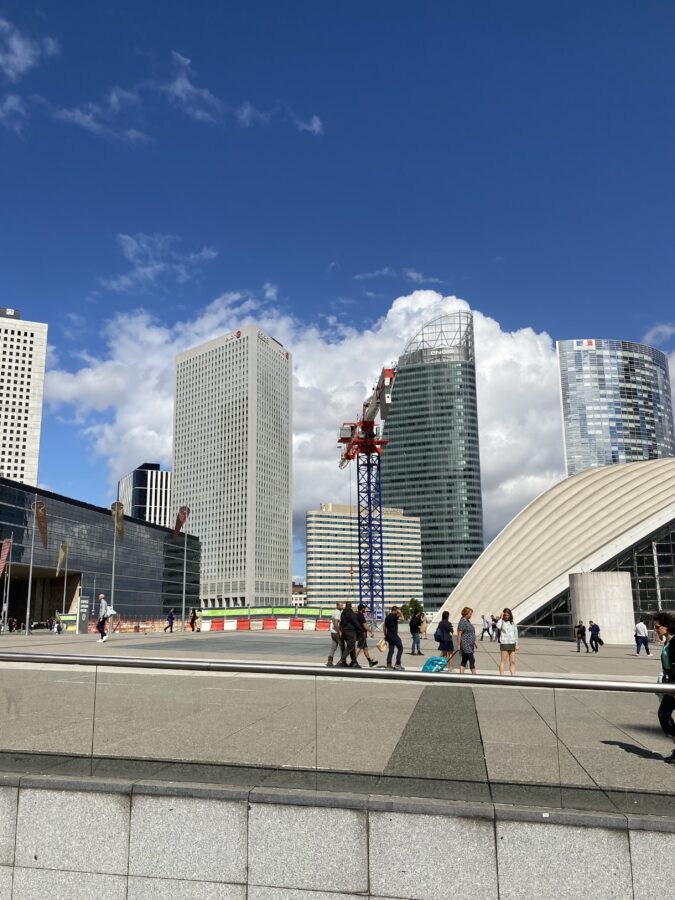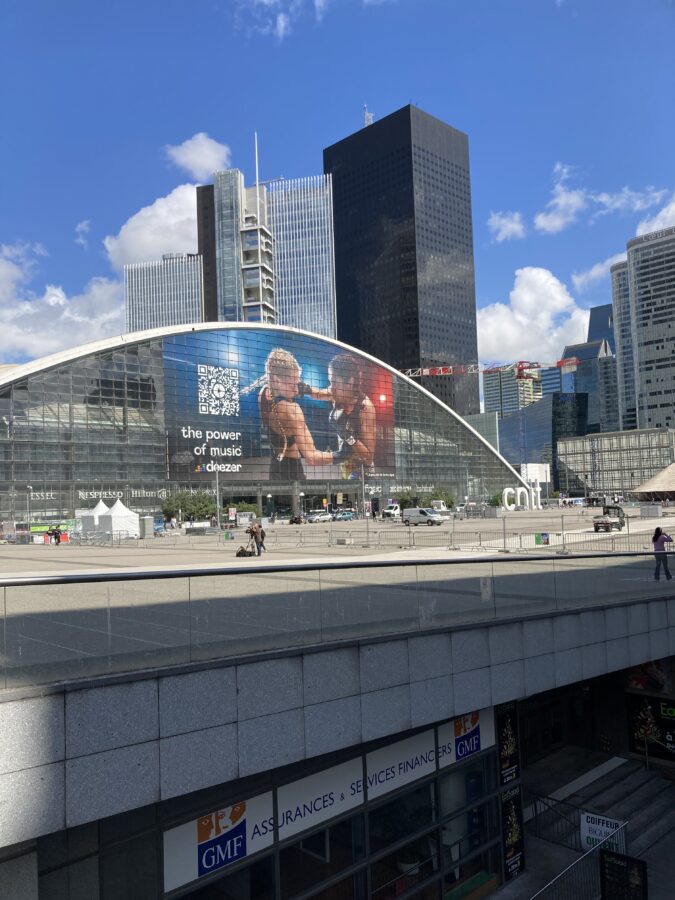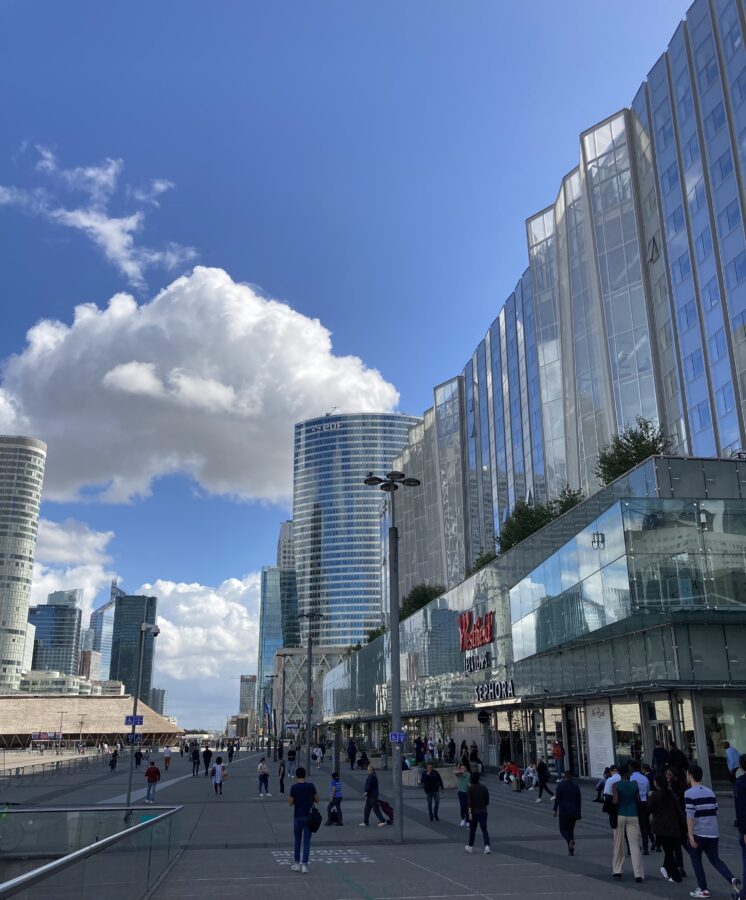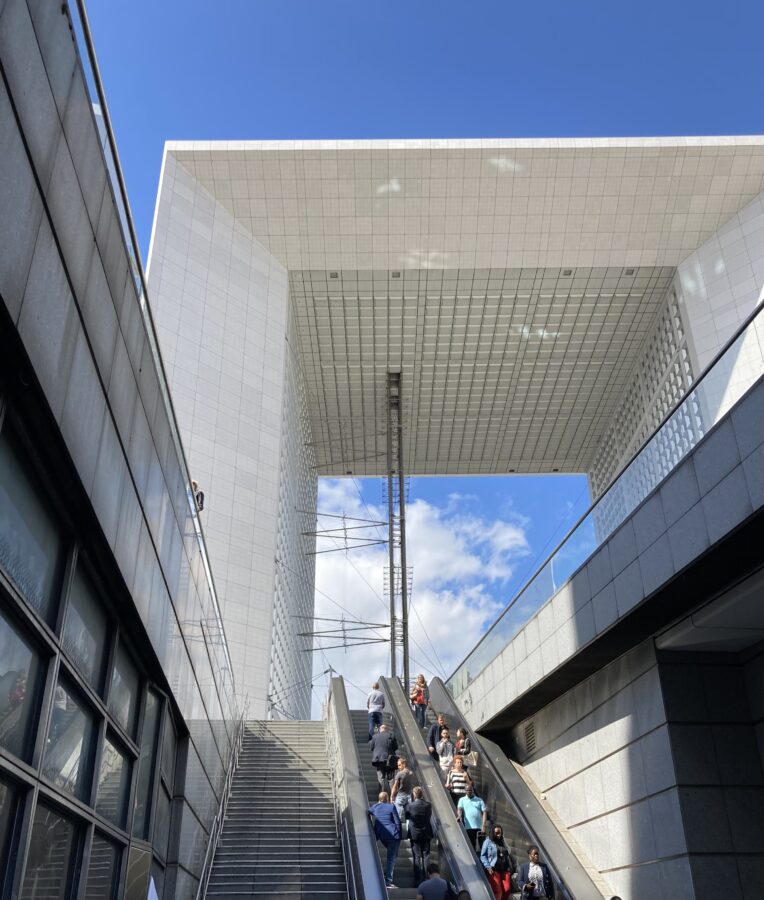 As our days wind down, I thought it might be interesting to give you a shopping primer for Paris through my eyes which is by no means meant to be an expert opinion!
The hardest thing to write is that the Champs Elysées is no longer perceived as the grand shopping avenue of Paris. The locals shun it because it is mainly "tourists and immigrants," expensive cafés, and a likely place to run into a pick pocket. The delightful, off-shoot passages with interesting local shops have all closed and what remains are mostly chain stores like the Monoprix and Zara. There are a few exceptions like the Apple Store in the beautifully redesigned apartment building and of course, Louis Vuitton where there are always long queues. It remains to be seen if Les Galeries Lafayette makes it there permanently.  Despite the negatives, Les Champs is still a must-see icon because of the Arc de Triomphe and its history.
The haute couture areas of Paris for both men and women are Avenue Montaigne, Rue du Faubourg St. Honoré near Place Vendome, George Cinq, Avenue de l'Opéra, Rue Royale leading up to and around La Madeleine, and St. Germain on the Left Bank. They are all fun to stroll but terribly expensive. My body reacts negatively to all the stimuli, and I am just overwhelmed!
In the Marais, the family-owned shops that were so plentiful and quaint are sadly fewer and fewer. We can count at least eight or nine that have closed in our memory bank. Mostly the children and grandchildren of the owners have no passion for being a shopkeeper with all the headaches, long hours, etc. But the Marais is still a lively area with rue Franc-Bourgeois claiming the top spot. It's nuts on the weekend and basically becomes a pedestrian street. Also the rue des Rosiers has wonderful but expensive shops along with the famous walk-up kiosks for falafel when you need a break. There are dozens of little off-shoots worth strolling with surprises around every corner.
For regular folk not looking to spend thousands, there are the shopping malls located mostly below ground such as Les Halles or Le Carousel de Louvre. Also major thoroughfares like rue St. Antoine, rue de Rivoli and rue de Rennes have dozens of nice shops that are affordable. The major department stores have a bit of everything from medium price to high dollar: the BHV in the Marais, Les Galeries Lafayette, Au Printemps, Le Bon Marche and now the reopened Samaritaine. It's amazing to me how well these stores continue to do in Paris as we watch more and more of them close in the USA.
Every section of Paris has a weekly street market. Thanks to Jim Bilbro for this handy reference. https://www.paris.fr/pages/les-marches-parisiens-2428. This is where I do the best because I'm pretty frugal and don't do much with designer brands. My money goes other places like 3 months in Paris! There are a few good bargains, and then there's also just a bunch of junk. It's fun to discern which is which. The biggest markets are the Bastille on Sunday mornings and the Marche Aux Puces or huge flea market at the end of Metro Clignoncourt. It's only open on the weekends. Mondays are for dealers or so I understand. It's a hoot and you must go at least once.
The other thing to remember when planning a trip are the twice-yearly sales or Les Soldes happening for most of the months of January and July. The discounts continue to increase up to as much as 70% off but of course, the selection dwindles.
It wouldn't be Paris without the souvenir shops which are scattered all around especially near famous landmarks. They are all the same but I find the pricing the best at Montmartre. Sure, the goods are cheap but it's fun to remember a few folks at home with a gift that doesn't break the bank. Les Galeries Lafayette actually has the classiest selection of souvenirs on their top floor.
So, to summarize, my best bargains in Paris have been belts and scarves. So much more to choose from than in the US. And, oh yes, for the guys, there is one area of the Marais on rue de Turenne which has only shops for men!
Paris is so much more than shopping at least by my standards but you must come and see for yourself! I would vote for eating over shopping any day!
L & B