Bonjour,
What an interesting day we had yesterday amid more sunshine!  Yay!
We rushed off in the morning to go to the Apple store (again!) to figure out how to buy a new phone for me.  This plan to beat the masses was thwarted when we turned into our St. Paul subway station only to see the security gate blocking the entrance. That's not a great feeling! There was much chatter from folks standing around like us, and we never really knew whether it was a bomb threat, an unidentified package up the line or just traffic, but we lost about 35 minutes. How we take the wonderful Métro system for granted!
Buying a new phone in a foreign country is intimidating, somewhat close to getting one's hair cut and colored. But onward one must go with courage. I lucked out at the Apple store with a great salesman who sat with me the entire time as I purchased a new phone and downloaded all the data. He couldn't have been nicer. I thought I was home-free until I tried to use Air Drop last night. If you have an Apple phone, you're probably familiar, but it's a program I use to instantly move my phone photos over to my iPad for this blog you are reading. It's technology at its best. That's not working, so yes, another trip to the Apple store today, and hopefully, I will get everything back to normal.
My old phone which was a "6" had stopped recognizing my finger tap so I couldn't do anything. It was maddening. Sound familiar to anyone?
We left Apple about 12:30 in search of someplace quiet and relatively "inexpensive" to eat on the Champs-Elysées, and we found it! If you've been on the Champs, you know that the Renault car dealership has been there for years. Upstairs is a delightful cafe/brasserie, and I believe it is now our favorite spot for lunch on this bustling avenue where food prices are ridiculous. (A Coke is 7 euros or almost $8.00.)
The structure has 3 tiers with 2-person tables that are quiet, private, roomy, and provide an amazing view of both the street and the dealership. I hope the photos capture the ambiance.  Colored lights shine down between two layers of plate-glass windows to create a kaleidoscope effect which fits perfectly into our light theme. Plus the food is delicious with top-notch service. We relaxed and celebrated the success with my new phone!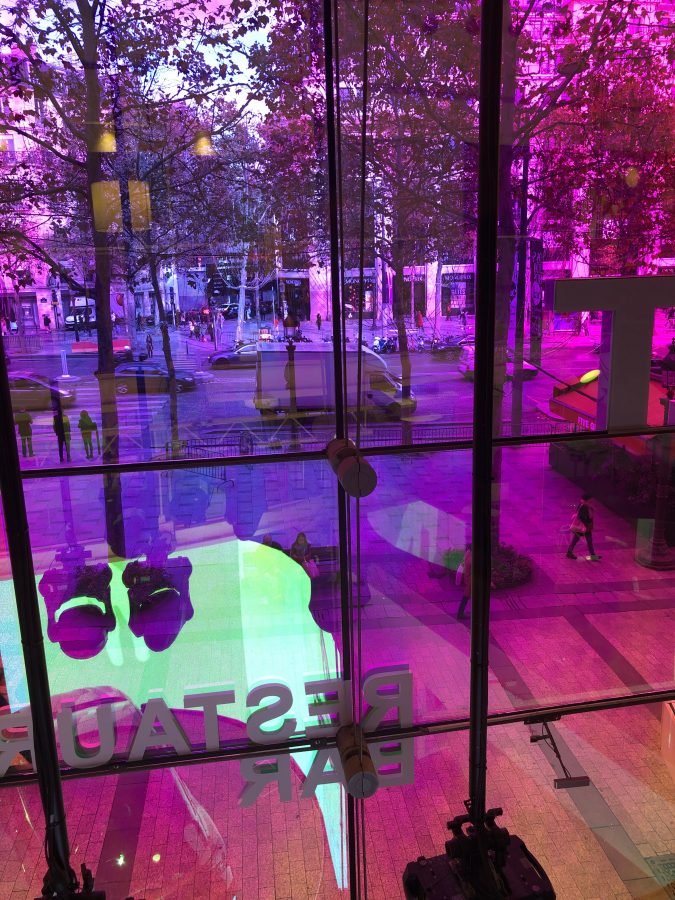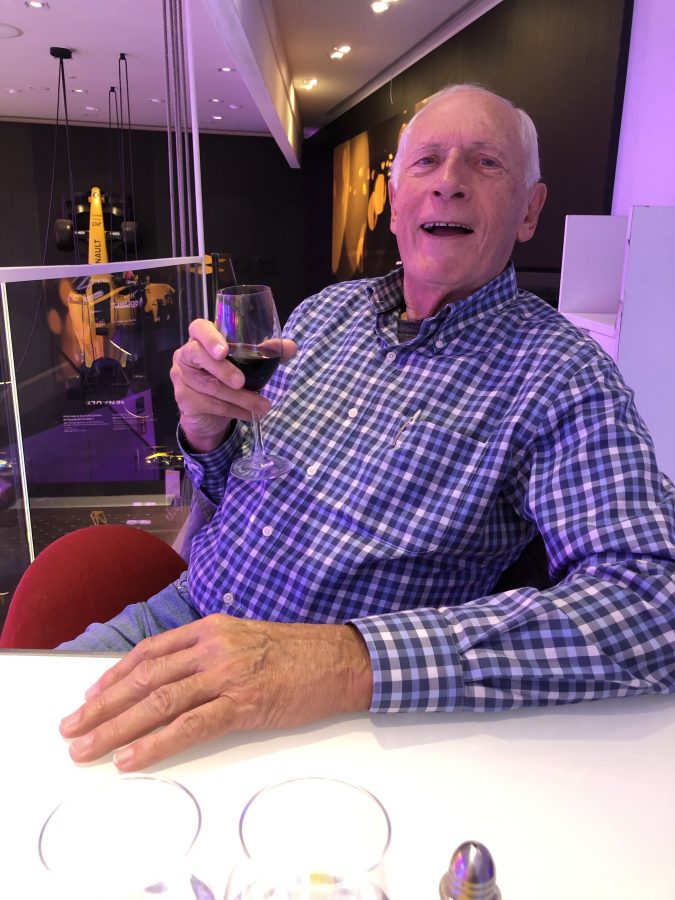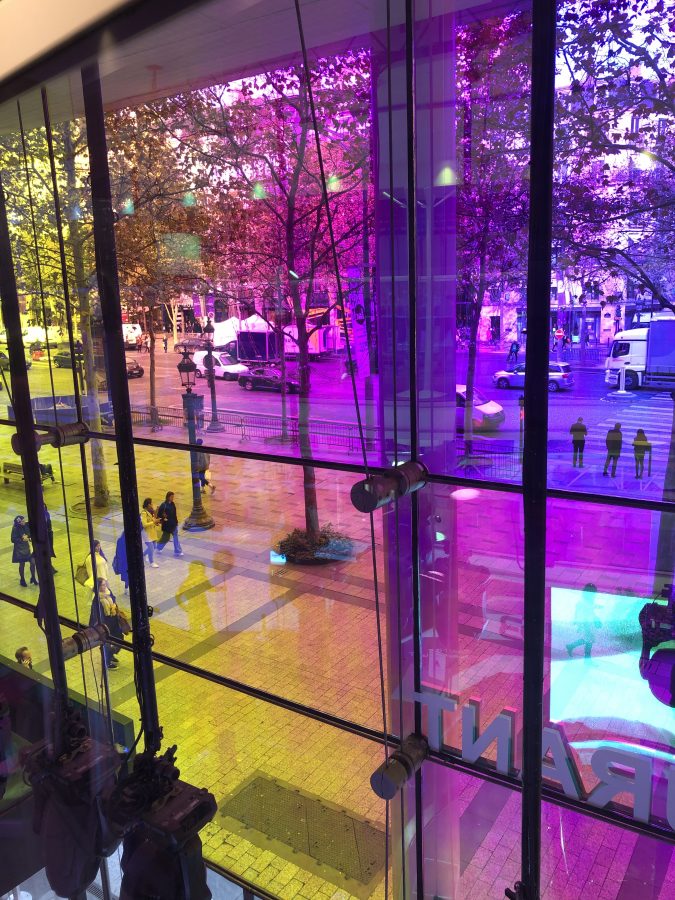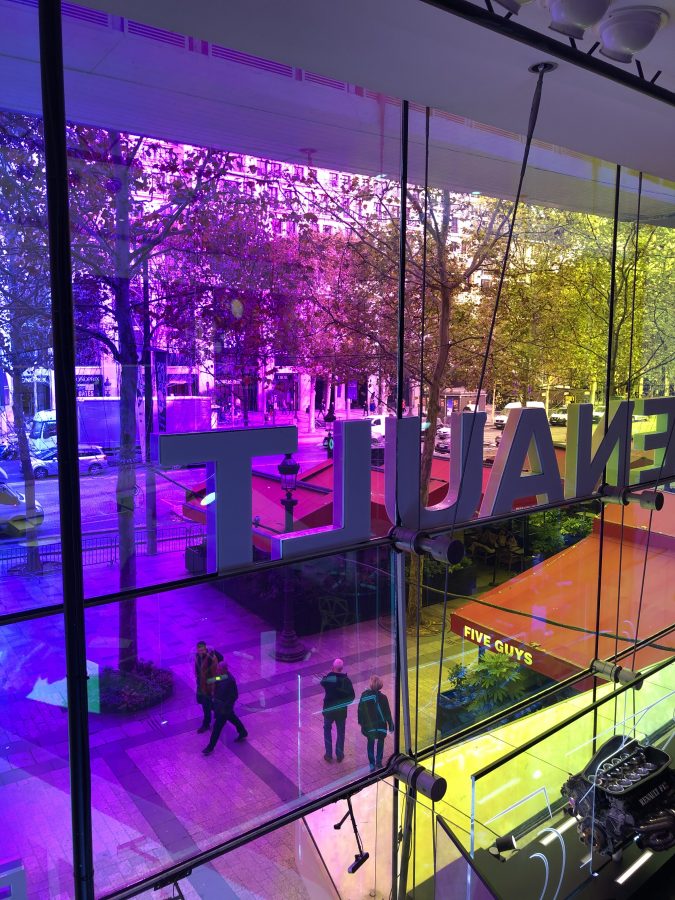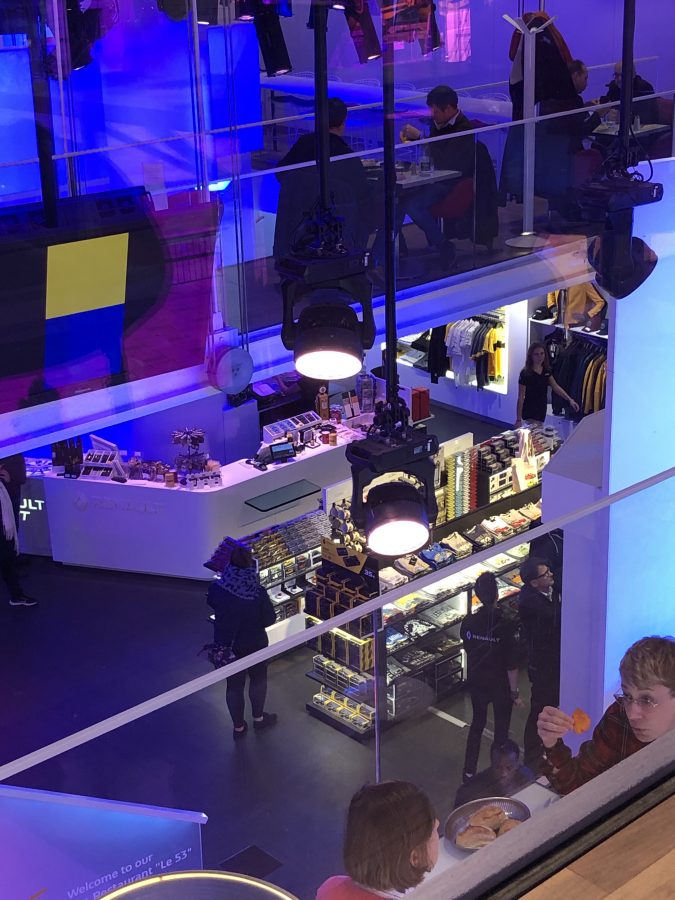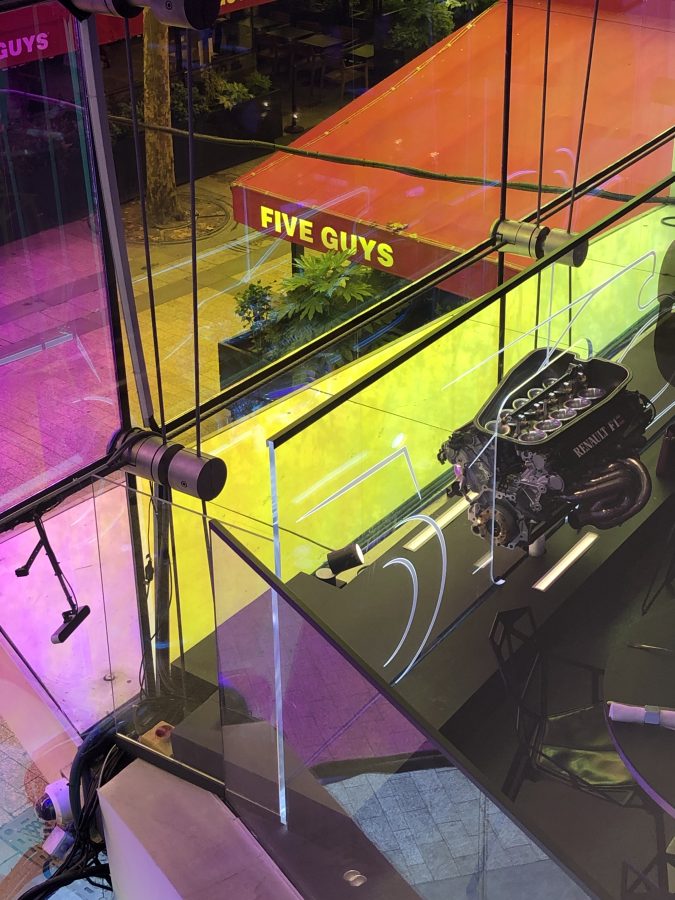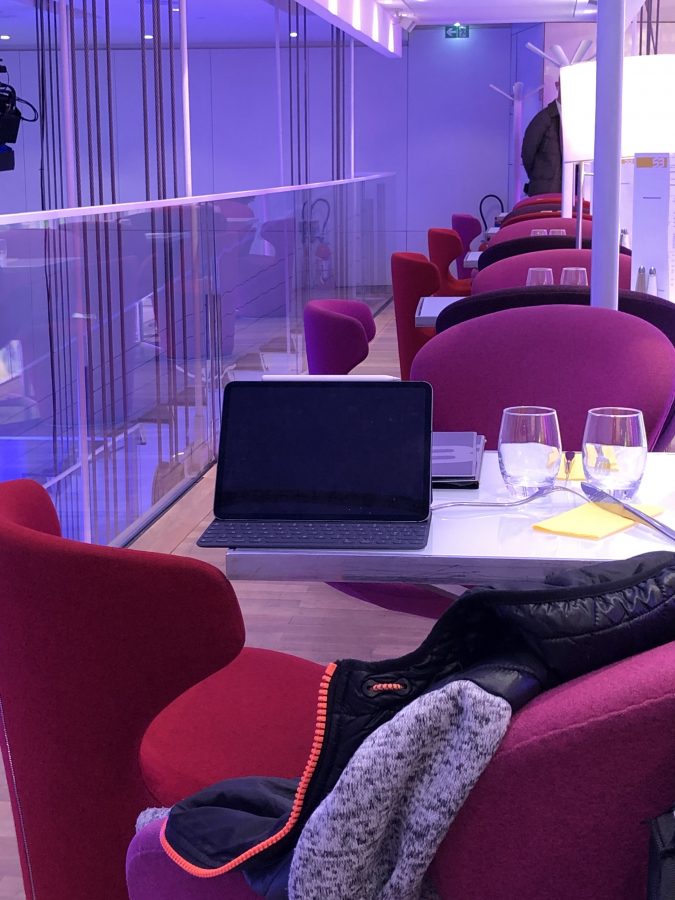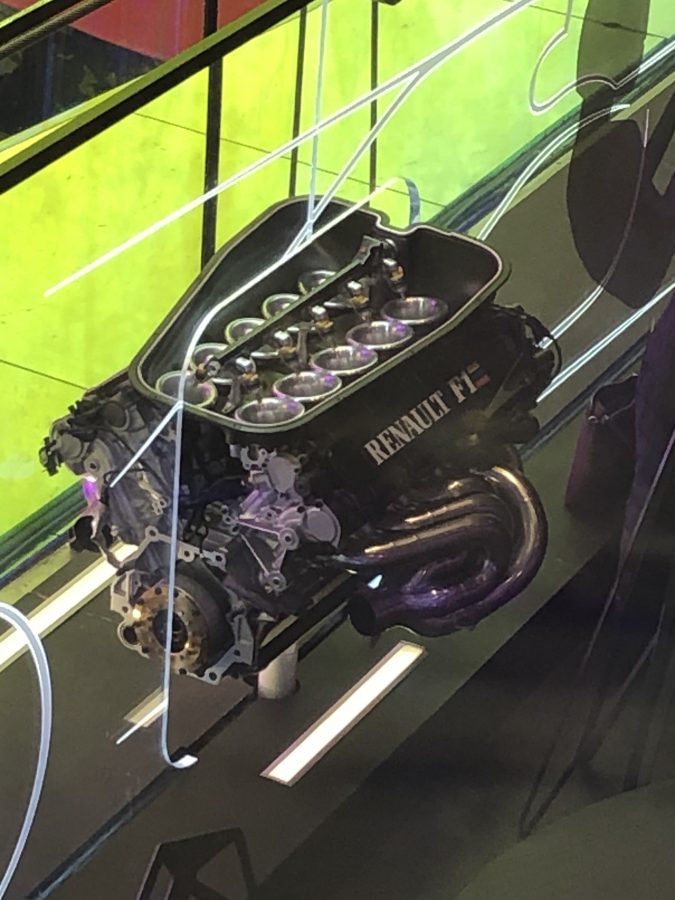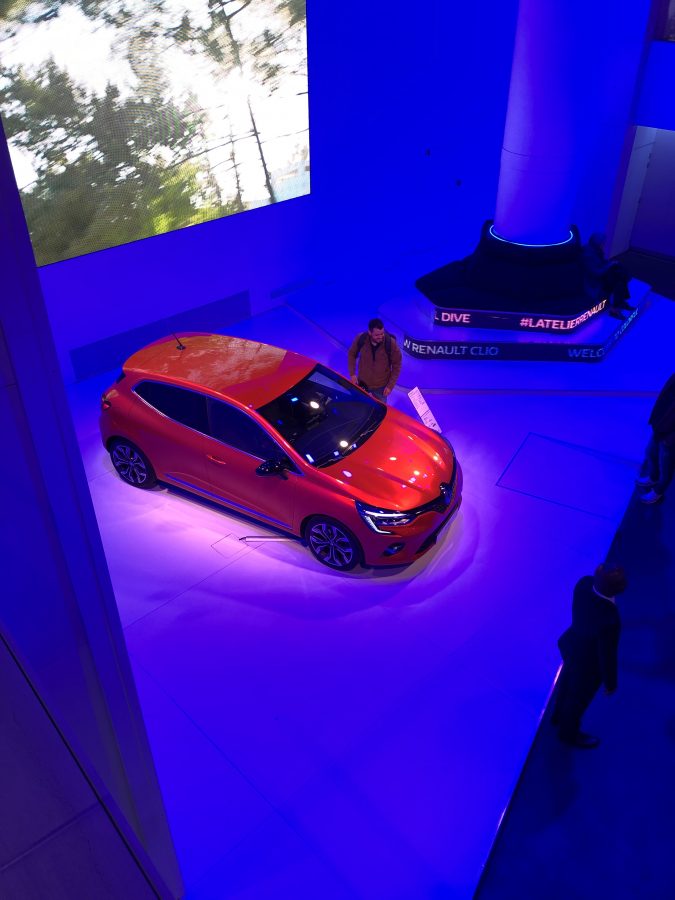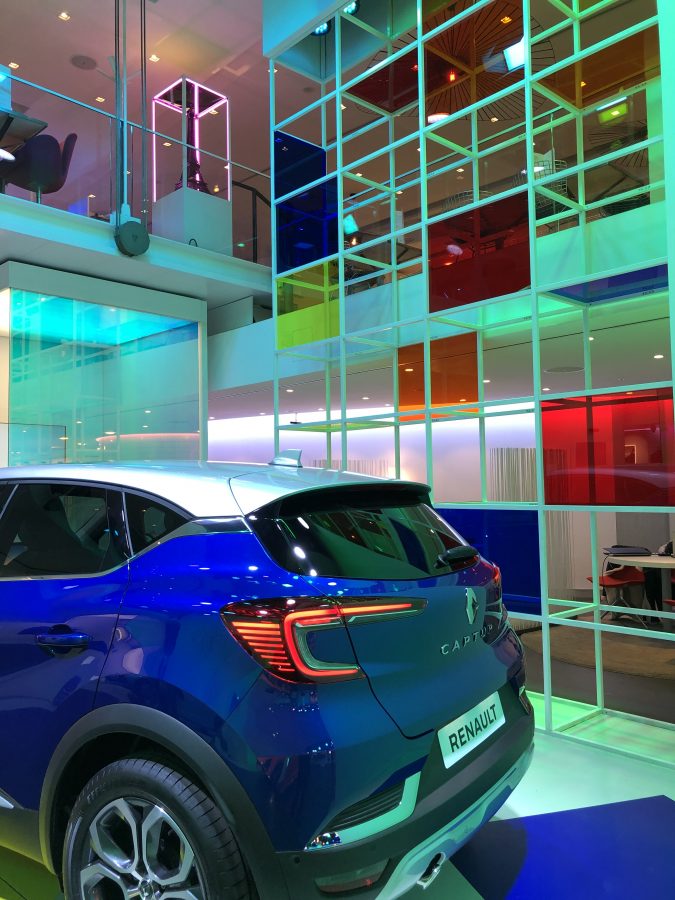 And now for a correction to yesterday's post. I misspelled the restaurant where we are hosting Bernie's birthday party. It is Les Ombres which means the Shadows as in the shadows of the Eiffel Tower. There is no "H" if you tried to Google it. Thanks to Dorcas Harris for catching this!
Wish us luck today back at Apple, and we'll be there when the doors open at 10, if the subway is working! Late afternoon, we will meet our friend Richard Nahem of EYE PREFER PARIS for some refreshment. I know many of you follow his blog which is one I use to find out about the latest and greatest happenings around Paris. We're going to a new spot so stay tuned for hopefully more good photos.
Stay warm in Alabama,
L & B
P.S. Butch and Jerry, how about this idea for your new dealership!