Bonjour,
Yesterday was beautiful and delightfully cooler as we started our day with eating, of course. Miss Manon is our beloved little patisserie at the corner of rue St. Paul and is just across the street from John and Sharon's hotel. We are still hauling it back and forth on the bus, but yesterday it was empty, quick, and no waiting time because nothing much moves in Paris before 10am! We saw a first for us at the patisserie, a chocolate croissant with pistachio nuts. This was not a pain au chocolate.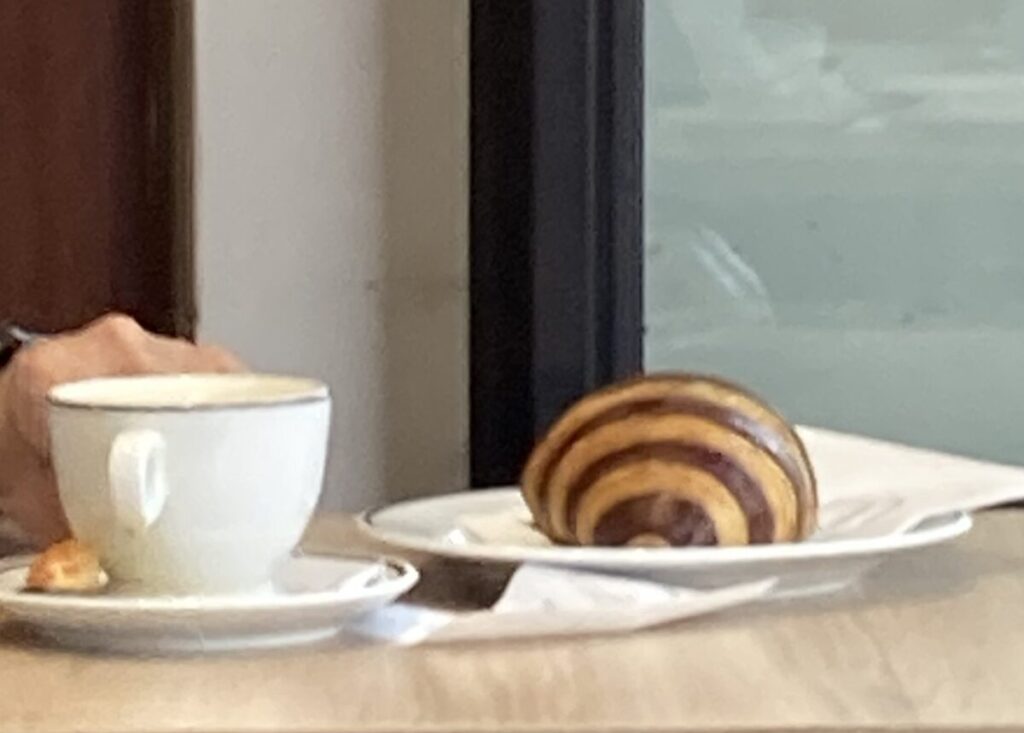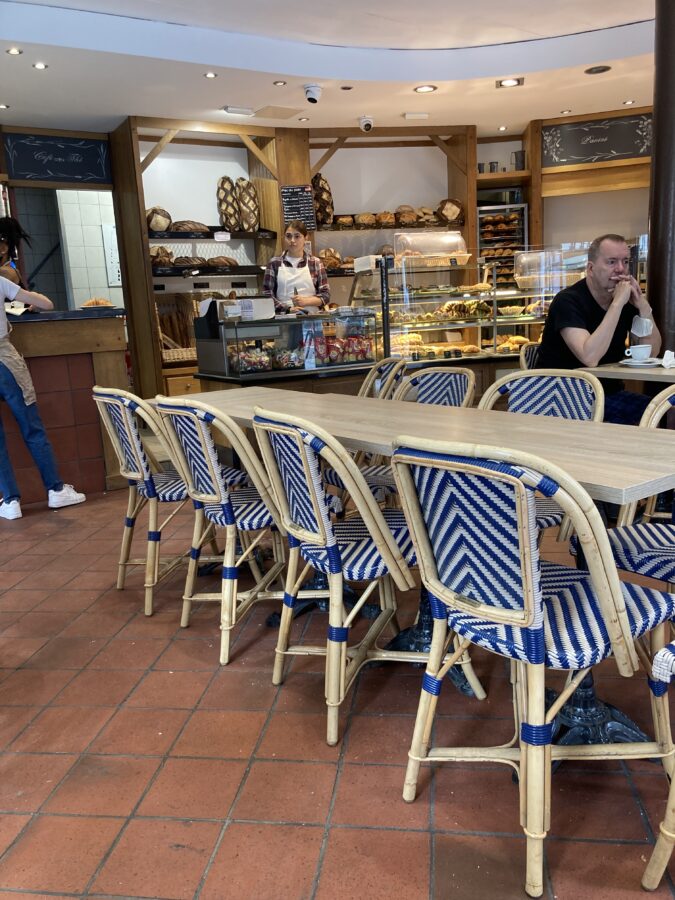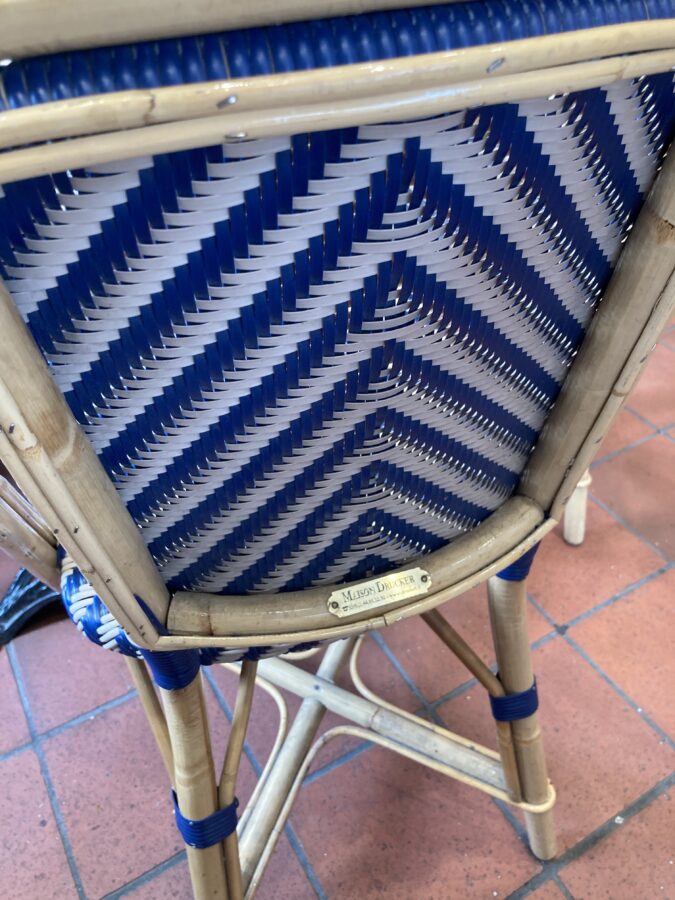 Our goal is to maintain a fun day but not at a frantic pace. We started our day at the very famous Les Halles area which was the former city-wide market. I've written about it many times and would encourage you to Google it. I had the privilege of seeing the old fruit stalls before they were all torn down and replaced with a modern structure which I deplore but you're not surprised. This public area is much like a park now and abuts the massive St. Eustache church in the 1st arrondissement, built between 1532 and 1632, the present building that is. It is Gothic in style and they have been cleaning it as long as we've been coming to Paris.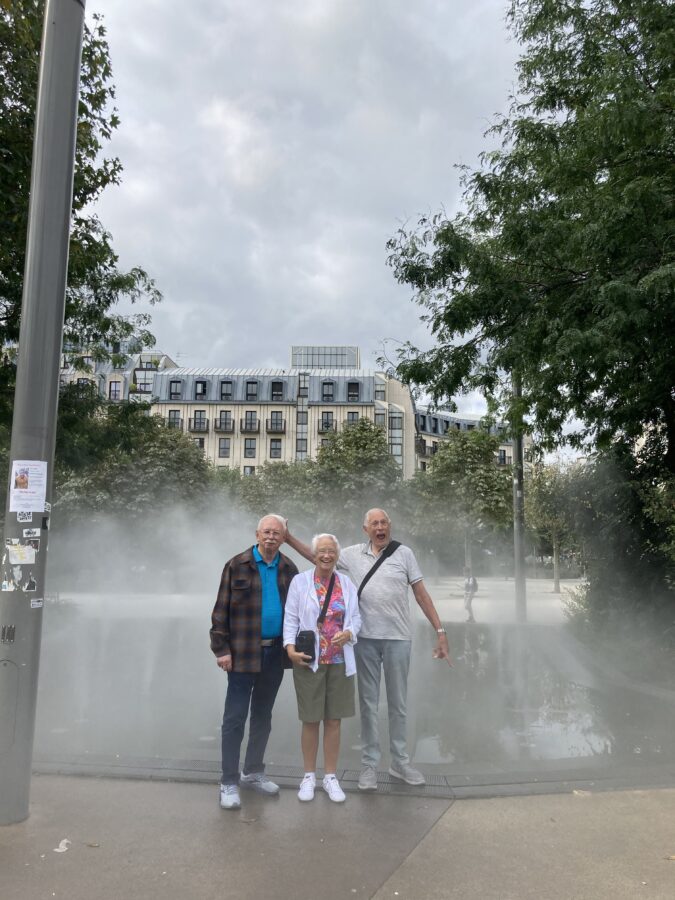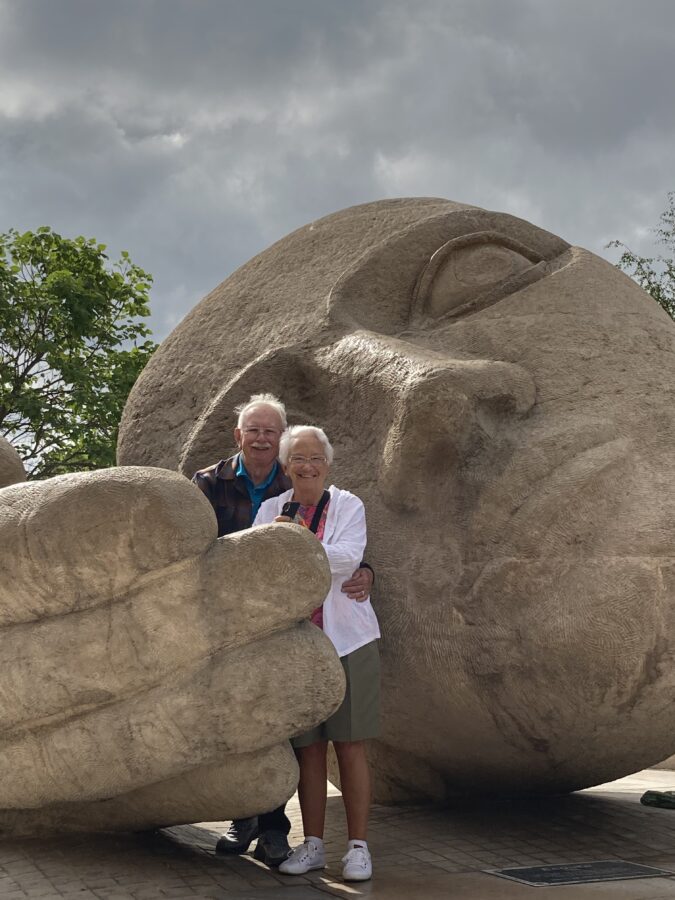 Just around the corner is rue Montorgueil which as I told Johnny took us three or four years to learn to pronounce! It's a very fun pedestrian street and a great place to people watch. Yesterday, as we had lunch we watched workmen try to lift heavy sets of new curtains up to the pent house on the 6th floor using ropes. At the very end, they hit a protruding sign of a fish from the shop at street level and knocked off part of the neon lighting. It was free entertainment. 
In the afternoon, we showed them where Bernie was born and the church where he was baptized, St. Ambrose. Always a tender moment for Bernie.
Many of you have had the multi-media art experience in America which started right here in Bernie's neighborhood at L'Artelier des Lumières. This year's presentation featured Cezanne who painted mainly scenes from Provence, also stills and portraits. It's total immersion with exquisite music. Almost hard to describe unless you experience it. We've seen everyone starting with Klimpt, then Van Gogh, Gaudi and Dali last year and now this lovely exhibit. The photos are hard to edit and part of their charm is to see the spectators.
Our evening concluded with a nice dinner at Carette, slow and easy with great conversation about the universe and the James Webb telescope. Johnny waxed poetic and philosophical!
Today we're off to Giverny. Please forgive typos as I'm in a rush trying to do this, get myself presentable and make reservations, etc. Pretty crazy and they call this vacation!!!
L & B