Bonjour mes amis,
With so little time and so much to see, our final day with the Branhams was overwhelming and exhausting but loads of fun. All the rain we were supposed to have never materialized, and my raincoat still hangs on its peg, unused and gathering dust!
When you plan a trip to Paris, remember that what's missing from the tour books is information about the circulation time to move from spot to spot. Whether by foot, metro, bus, train or taxi, the minutes and hours just seem to evaporate. In your planning process, remember this key fact: time flies here. When you look at your watch, you can't believe that it's already been two hours since the last time you looked! Don't plan five things in the morning and five more in the afternoon. You will be mega frustrated. Suddenly the time will run out along with your energy!
The city is still jam-packed maybe more so now that vacation is over and the native Parisians have returned. Last evening at 10:30pm in the Left Bank, I've never seen so many folks! It was like a carnival outside. Cindi and Dave came to dinner on the #86 bus independently of us and were so proud of themselves! But then after a 3-hour dinner at Le Procope, we couldn't find the bus stop for their return to the hotel. We finally found an available taxi. St. Germain is a one-way street, important info for a return trip. So we learned a valuable lesson about riding the bus last night. We have no clue about where the #86 bus stop is for going in the opposite direction…ha!
Our day began by meeting them at the Bir Hakim subway stop and then a jaunt to Les Champs Elysées. First stop was the beautiful Arc de Triomphe. We all bought tickets and went up top. (True confessions: I did a lousy job all day taking photos, and Cindi and I kept saying that we would airdrop her photos to me but alas, there was never the time or opportunity.)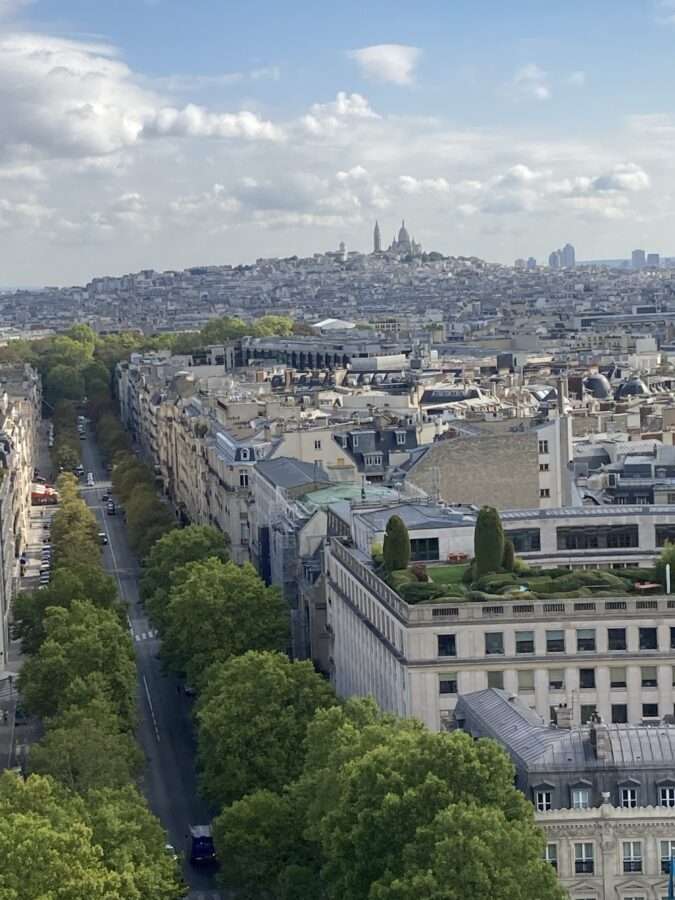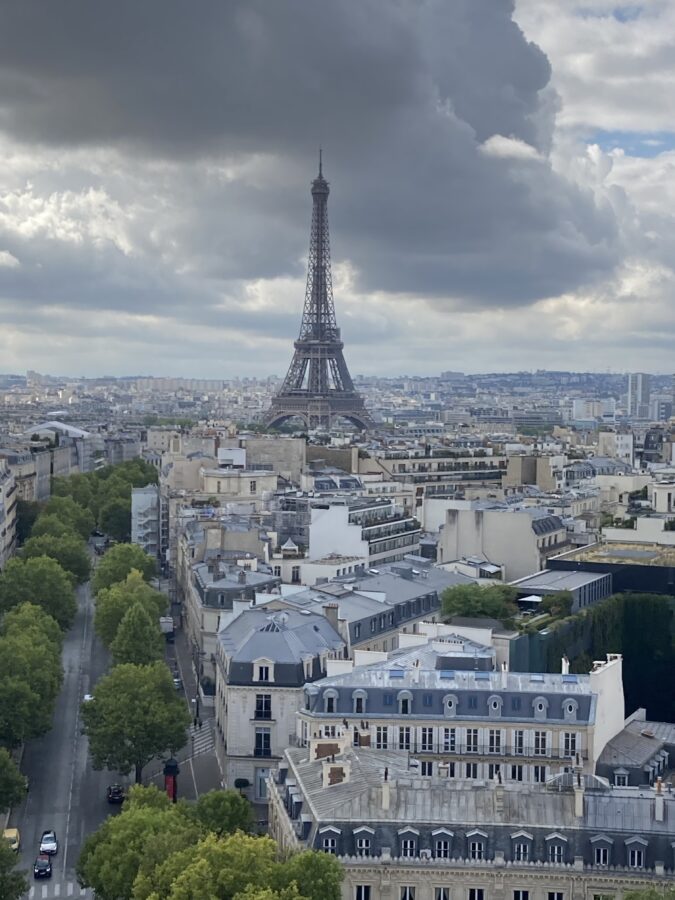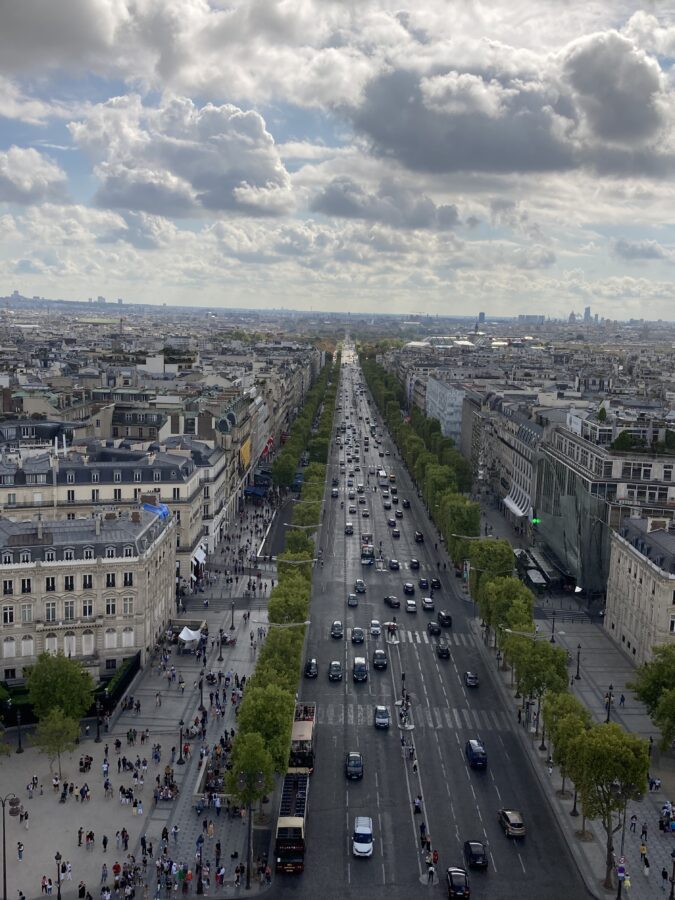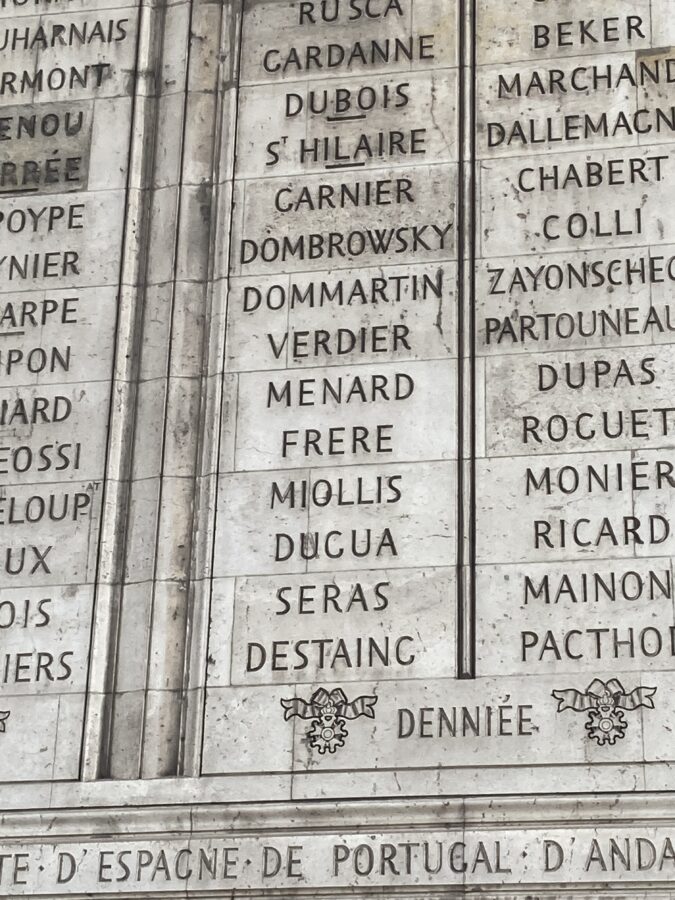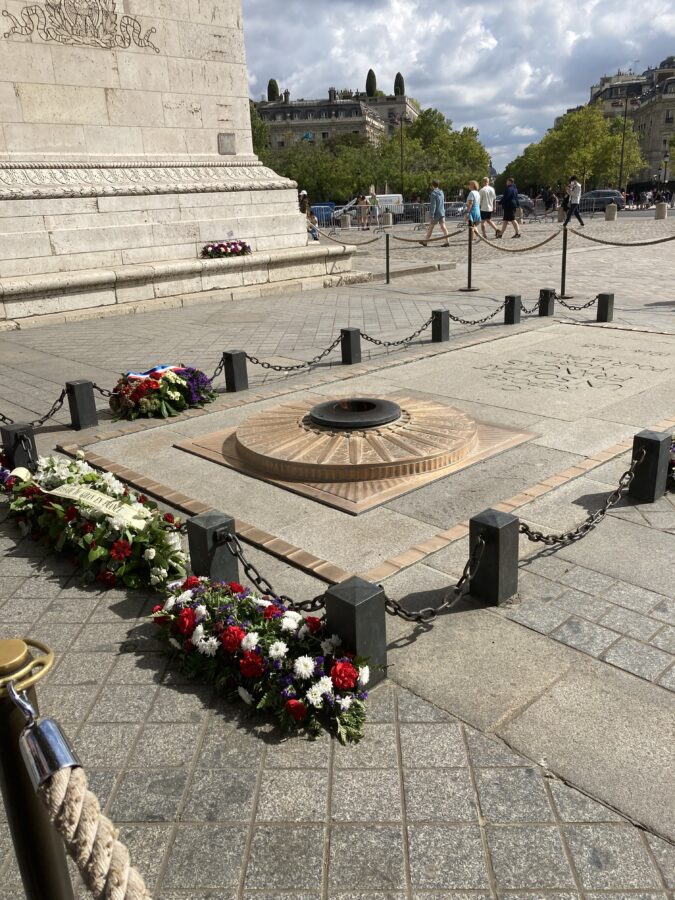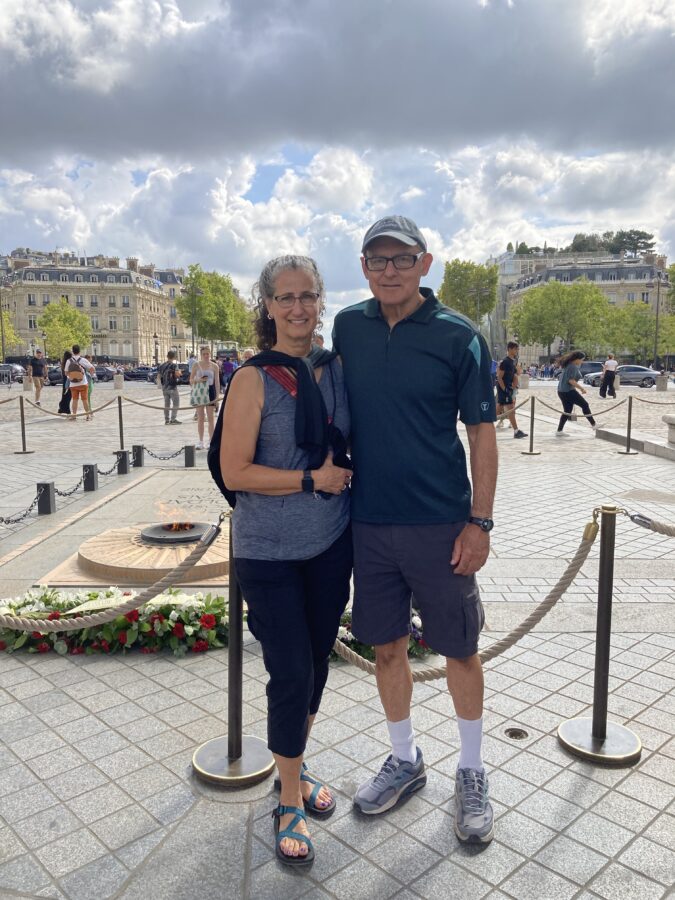 We moved along Les Champs and had to get a snapshot of the Louis Vuitton window.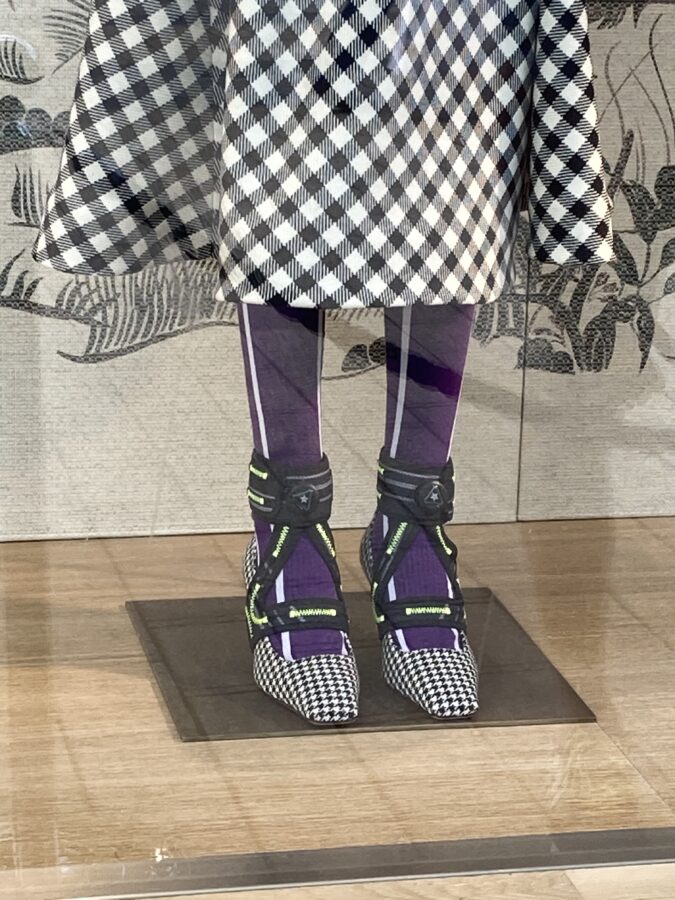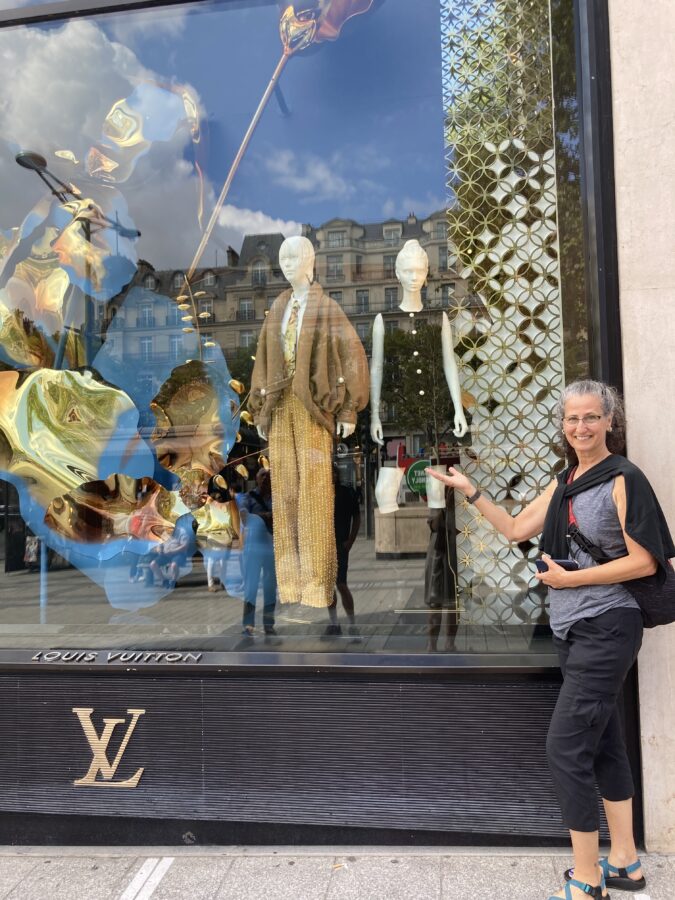 Moving down Avenue George Cinq or George V, we always love to show off the gorgeous flowers inside the Four Seasons hotel there.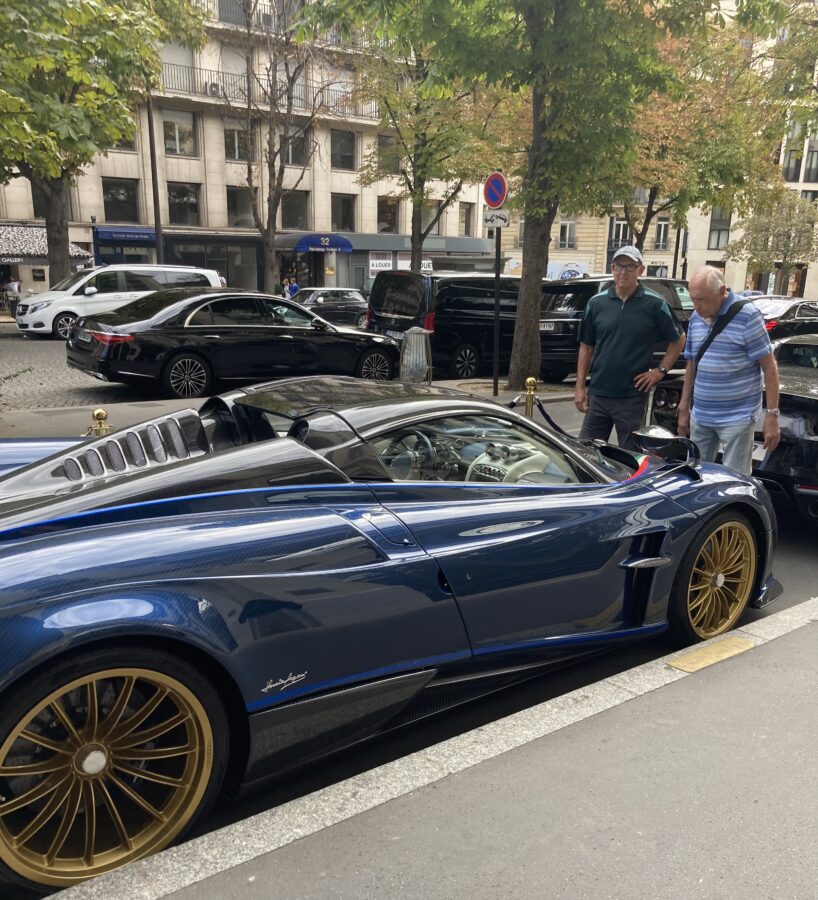 After a nice lunch, we moved along to Pont de l'Alma above where Princess Diana was killed. There is a make-shift memorial for her at the torch of the Statue of Liberty directly above the tunnel where her car crashed. It was freshly decorated because of the 25th anniversary of her death.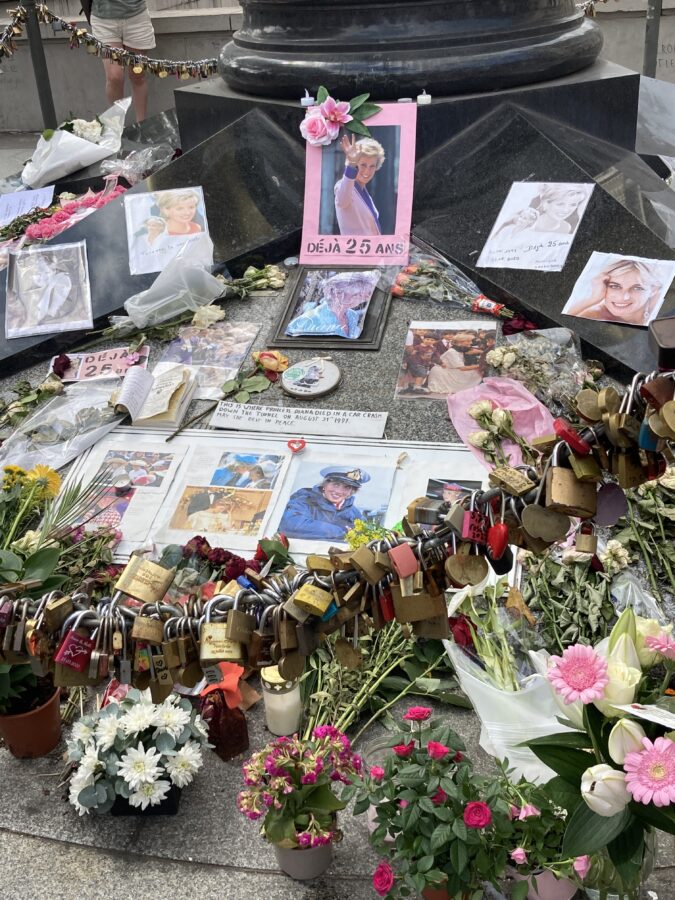 The clock was ticking and we zipped over to Les Galeries Lafayette, taking in the beautiful dome and the view from the top, then across the street and up a block to the opera house, Le Palais Garnier. These were all Cindi's photos…alas!
The irony of our time with them was our respective locations. Their hotel couldn't have been much further from our new apartment, so travel time was such a challenge. We got them back to Bir Hakim and rushed home ourselves. We all needed a short break and time to freshen up and change clothes for our final soirée and dinner at Le Procope. Finding a really nice restaurant that is available for a reservation on a Saturday night in Paris ain't easy, even when you start on it three weeks out! We had a lovely but very slow meal in this very old restaurant (1686) with Dave ordering some of their best, traditional selections: the onion soup and coq au vin in a copper pot. We were stuffed and very hot by 10:30. The place was totally packed!! If you can get this web site to open, you can enjoy many of the photos that I forgot to take!!
https://www.procope.com/en/photos/#salons-privs
So, all in all, a fast and furious few days with friends who couldn't have been any easier and more flexible. We made a bunch of new memories to add to our collection! We wish them Bon Voyage!!
Today, we have Sunday lunch with Jim & Peggy and then they're off too Italy. We have about 20 more days here to hopefully enjoy cooler weather and a few less calories. We're so glad you're along for the ride!
L & B