Bonjour,
Yesterday was a regular, uneventful day in Paris with few opportunities for pictures, I'm afraid. It is a perpetual 48-52 degrees  with rain both day and night, and more rain is in the forecast all weekend unfortunately. This is our second fall trip, and this one has been much more of a weather struggle than before when it was beautiful all through October. Oh well. Paris on a rainy day is still magical in its own way.
At lunch, we encountered an adorable little dog who had braided hair and a pony tail…a first!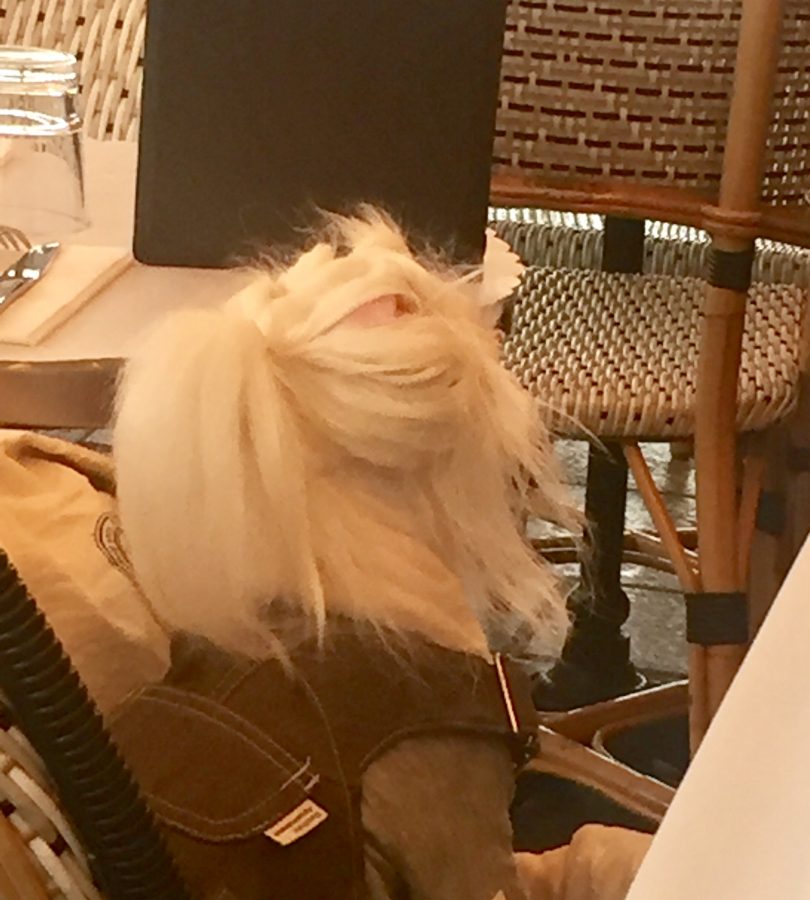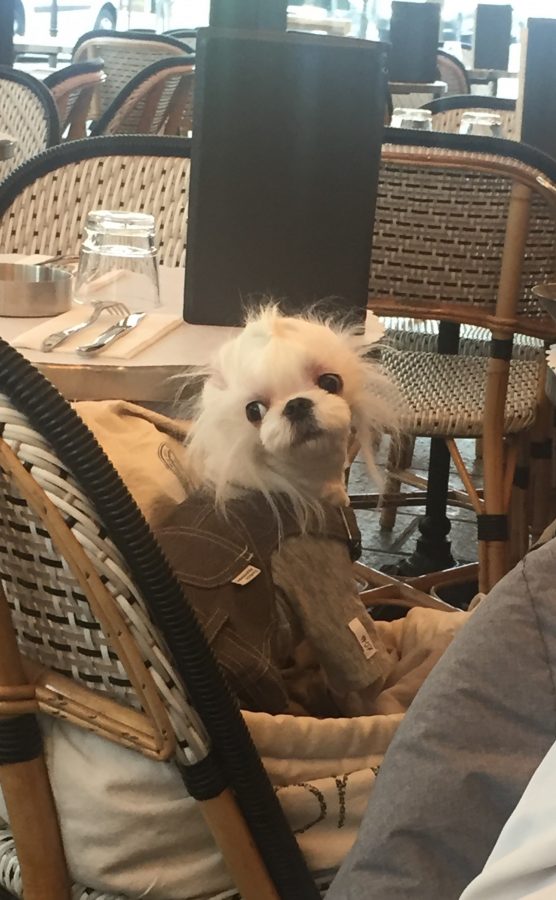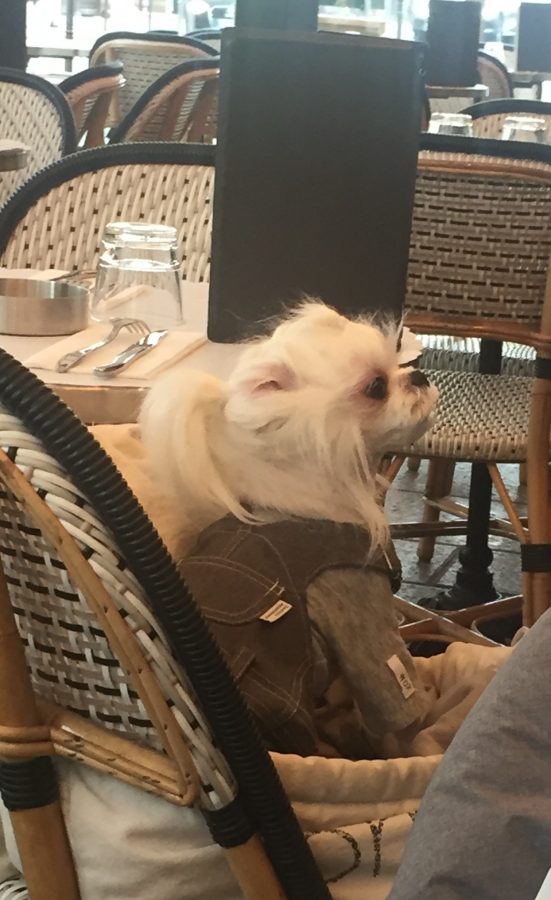 Then we were impressed by an example of street art which I usually don't care for, but this one was huge and so well done. The pedestrian lends some spacial perspective.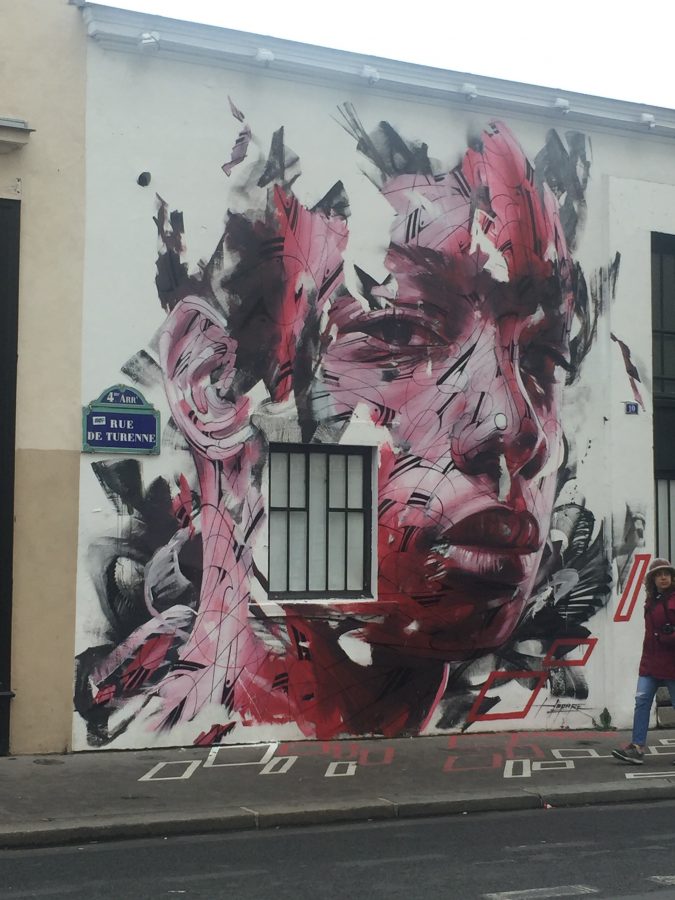 Our goal for the afternoon was to find four new chair cushions for the dining table in our apartment that were affordable. After trekking around to three shops, we abandoned that pursuit as not very wise. Just like at home, we encountered Christmas in all the stores even though it was Halloween! Halloween is not the big event here that it is in the states.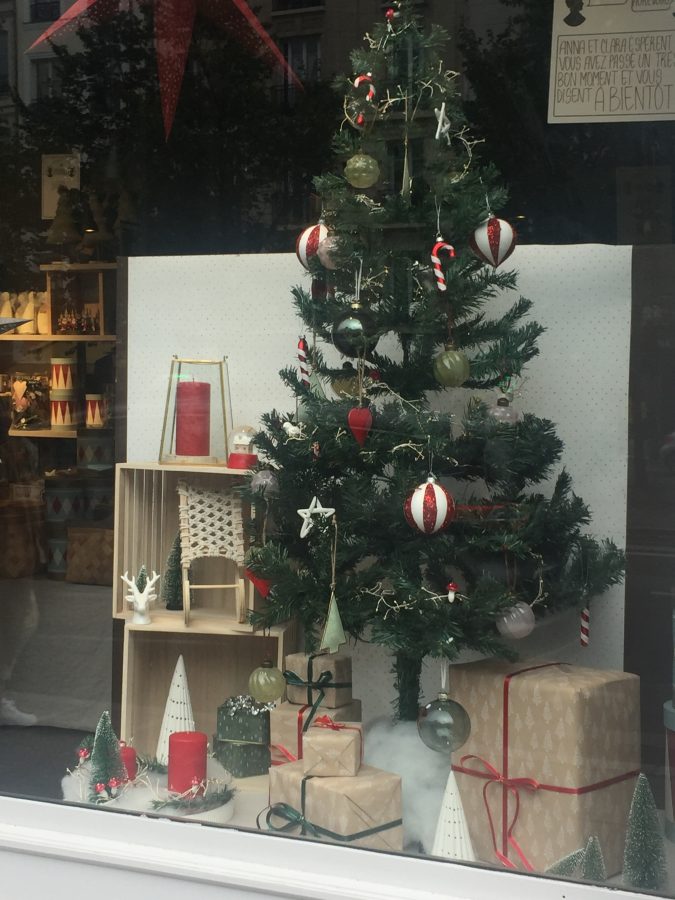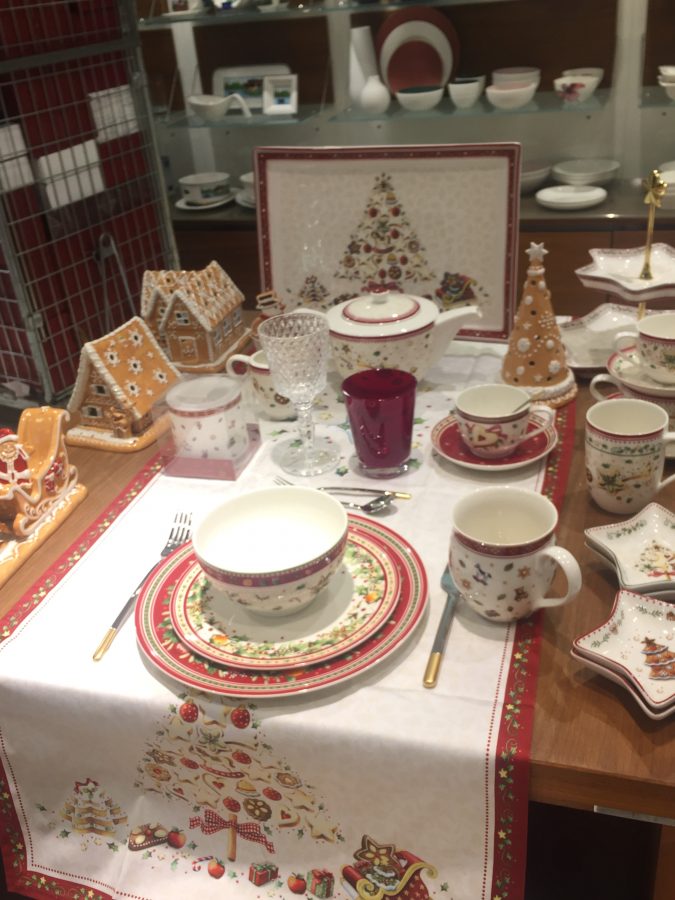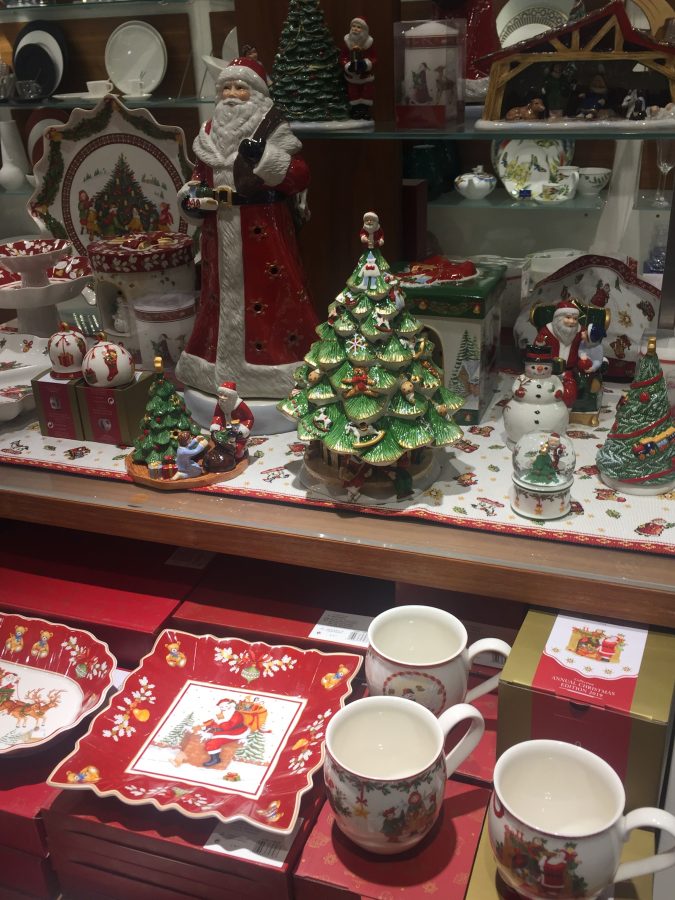 At the BHV, our large department store, we stopped for a coffee at a petite café  hidden inside the store that we had never been to before…much prefer it over the large food court buffet. Bernie is sitting under a BIG pine tree and acting silly!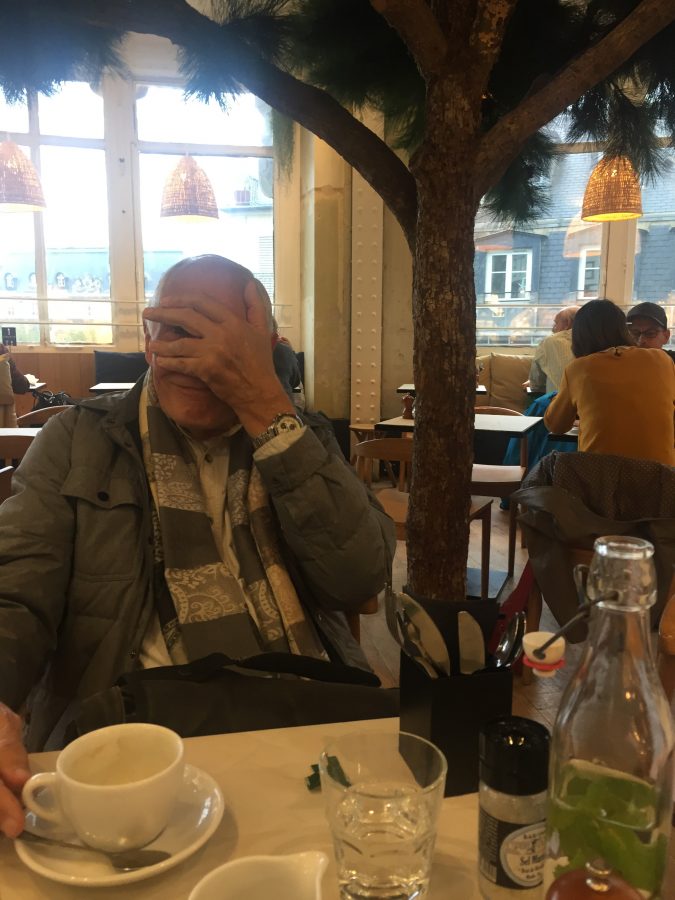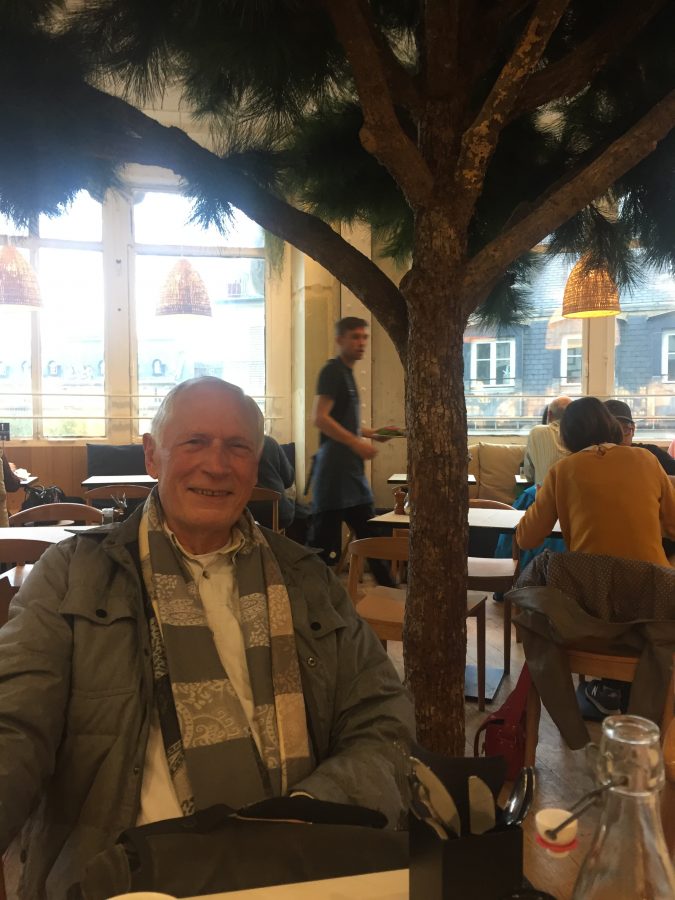 We invited our neighbor Chantal over for wine in the early evening to hear about her month-long stay at a spa in southern France. It was a mixed review (!), and we asked her to join us for dinner downstairs at our beloved neighborhood café/restaurant Le Bouquet St. Paul. The proprietors are leaving after 3 years, and friends gathered to say good-bye! We're so sad because they have treated us very well. It's fun to return to familiar faces. They will be opening a new restaurant after the first of the year in the 15th arrondissement. We will seek them out hopefully next visit. Life goes on no matter where you are. The new owners will arrive today, two guys, so we hope there will be good chemistry. Julie and Joachim have been gracious, and we will definitely miss them and the excellent food they have served.
The road next to us is now open to traffic and we're back to noise, noise, noise!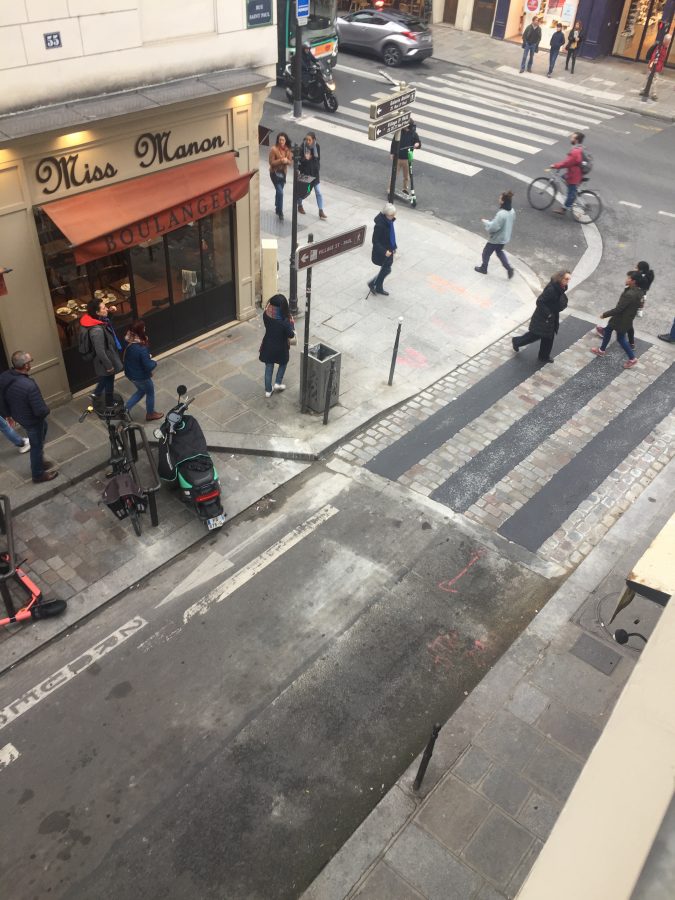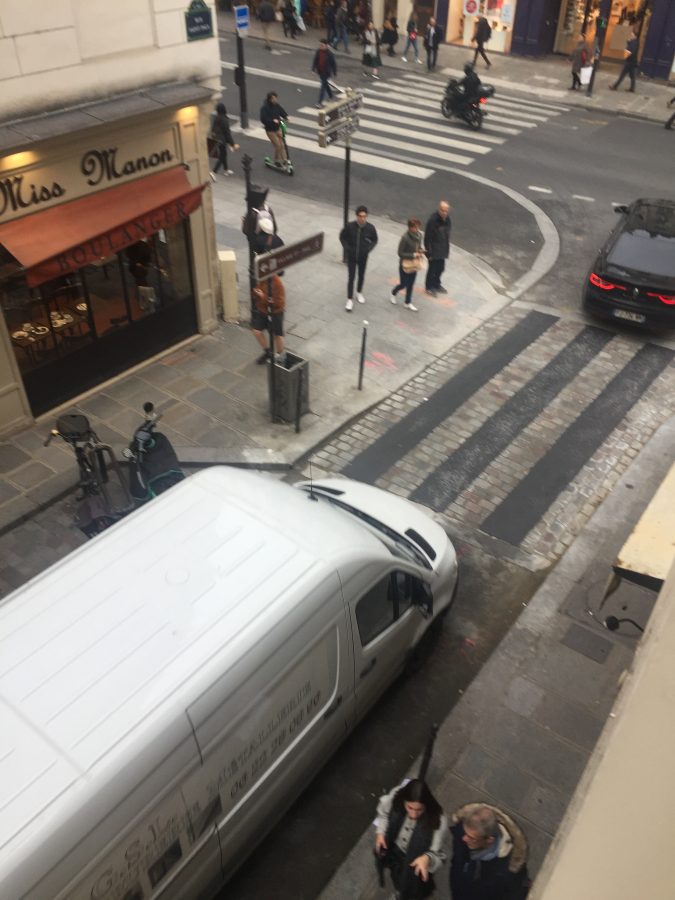 I'm cheating with today's light photo. Bernie saw this somewhere in his digital news feeds. It's actually a Rick Steve's photo of St. Chapelle, and one of the best I've ever seen. If you're coming to Paris, this should be on your must-see list!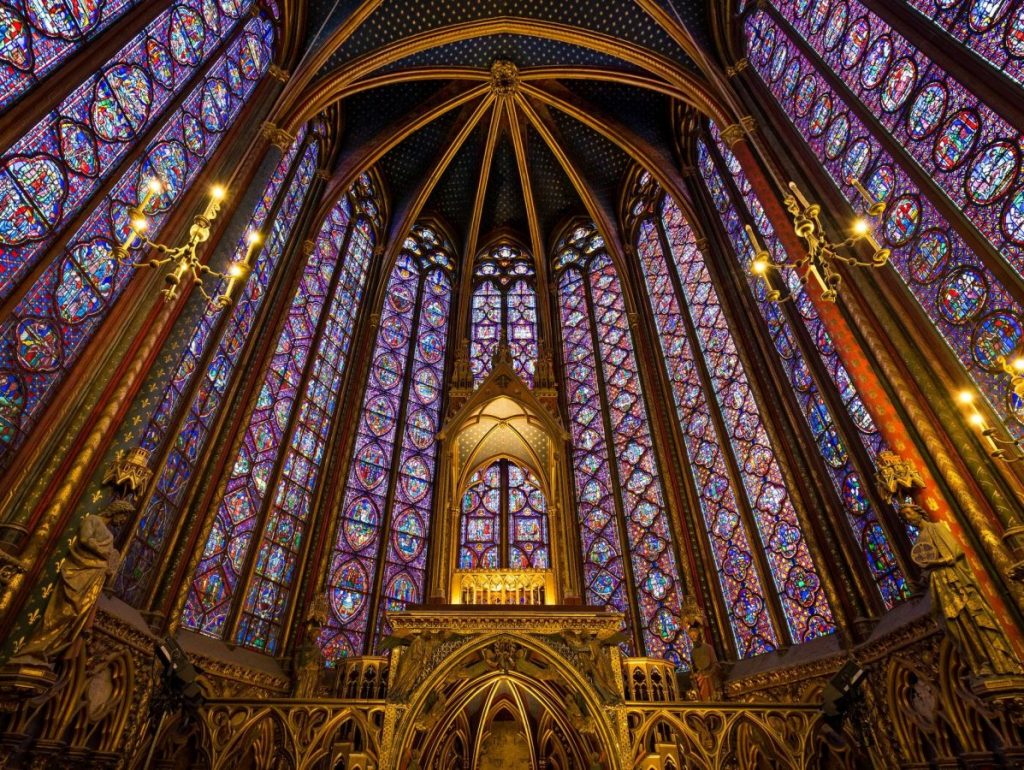 Saturday, we spend the day with Charles & Judy Gattis. Our day is totally planned even amid the rain, and we hope to capture some good photos for you, perhaps some from Charles who is almost a professional photographer. Judy is ready with her new black hat. I'll probably wear mine so we'll be a dynamic duo.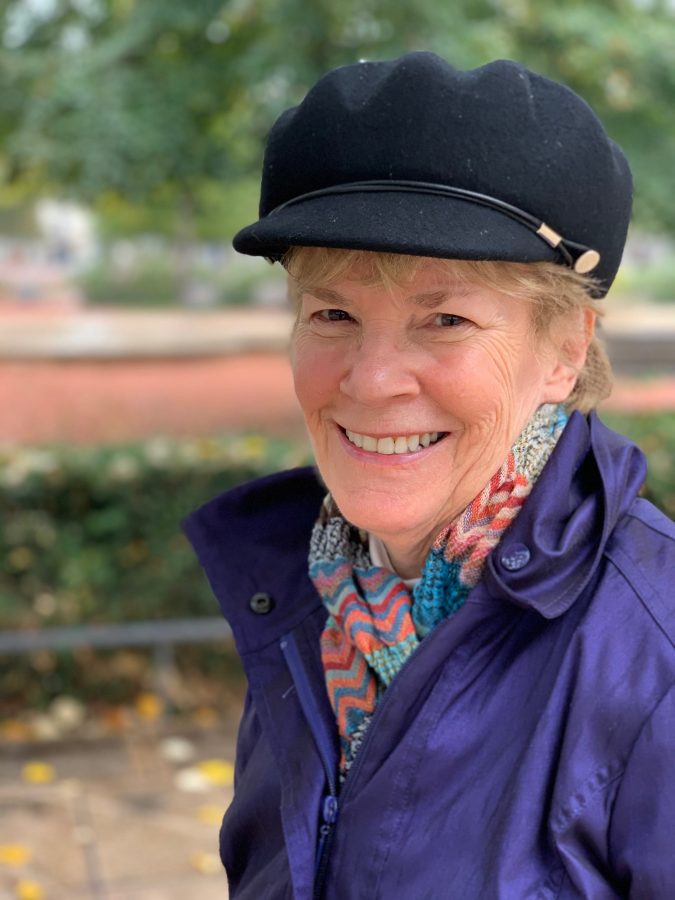 À bientôt
L & B