Bonjour,
Our weekend was made for strolling because the weather has been terrific. We are hoping it will continue for at least another week or two until my son and his family complete their visit. Paris is a different city when it rains…not all bad but not at its total best. Just like at home, weather affects everything we do. I'm a sunshine gal from Alabama so I relish the warm, breezy, blue-sky days.
Friday evening, we had a cup of café at one of our favorite spots on the island and captured some beautiful photos. The Pantheon was under restoration for several years, surrounded by cranes and ugly construction. Now it shines forth in all of its elegant beauty.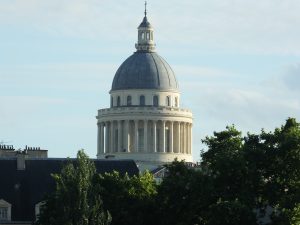 We love to walk the river and captured Parisian life along the way with these picnic scenes of a fun birthday party. The "Birthday Cake" appears to be in the center. We even captured a nun having a fun time.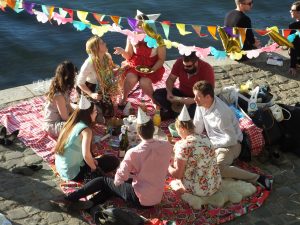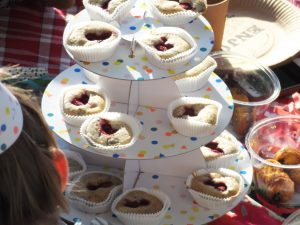 Heading home, we found this beautiful set of window boxes so characteristic of Paris.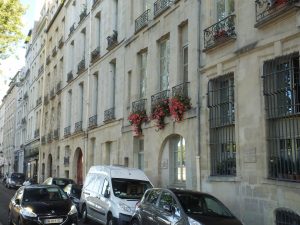 On Saturday morning, we were off for a lunch in Les Tuileries, the lovely garden promenade just outside Le Louvre. We were looking for a Salon de Thé which reportedly has the best Croque Monsieur in Paris, but alas could not find it so I had the worst Croque Monsieur I've ever had, save one! Oh well, there is bad food sometimes in Paris. Where is Le Salon de Thé? Anyone know?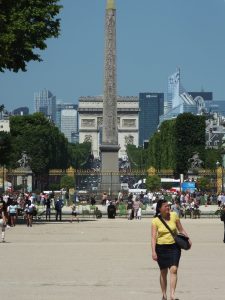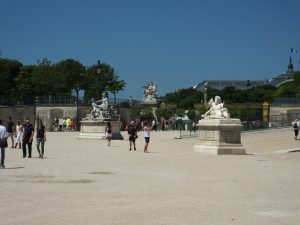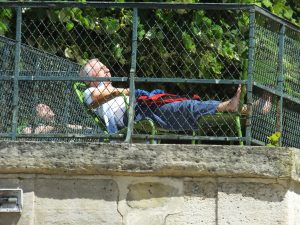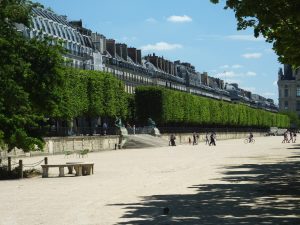 The exit we took from the garden led straight away up to La Place Vendome which contains the recently cleaned monument to Napaleon's triumphs in war
and of course, the famous Ritz Hotel. This is where the very well-to-do circulate around Paris, not so much folks like us! But it's fun to pretend. We walked along rue St. Honoré running into a dude with blue hair.
In the evening after dinner, we were off to the street of the rose bushes in the Jewish district, rue des Rosiers, where there's always something oh so fun to see and hear… Jewish music in the air and a few people who don't want their picture taken!
Heading back toward our apartment, we encountered more music outside the St. Paul/St. Louis church. Notice the sign behind the singer which translates "Concierge of the Quarter." This little kiosk is a walk-up, neighborhood "Angie's List" where you can find a plumber, electrician, carpenter, painter, knife sharpener, etc. 
And finally, the "Purely Paris Photo of the Day" – a lady washing out the bakery after a crowded overrun Saturday.
It was a busy day full of delights. We hope your Saturday was equally good.
À bientôt,
L & B
P.S. I apologize for this post. Sometimes, the internet is very slow on the weekends, and the spacing is not correct. Maddening!!!