I AM RESENDING THIS POST BECAUSE SOME PEOPLE DID NOT RECEIVE IT.
Bonjour mes amis,
Our last few days have been a bit weird and my blog-writing and photography have suffered. For that, I offer regrets but it certainly hasn't been intentional. I've been a bit under the weather, but after a trip to the ER yesterday to the American Hospital of Paris, I am hopefully on the mend. Time will tell. The ER doc yesterday was a bit overwhelmed by some of my more recent medical history but turns out he made the very best decision for me, according to communication with my doc in Huntsville. So onward and upward. God is good!! And so is this internet-connected world we live in.
Our time as you know is winding down with ten days remaining here in Paris. We are choosing to spend as much of it as possible with our Paris friends. I mentioned to you that we had been invited to an "apero" which literally is short for aperitif but as one person said to me, "how can you have an aperitif by yourself?" So an "apero" is a small gathering of friends to eat and drink together and enjoy the moment. On Sunday, we went to the apartment of one of our friends, Elena who is the girlfriend of Bernie's best friend here, Jerome. What an absolute delightful afternoon we had. Her apartment is on rue Pavé on the fifth floor (with a lift) overlooking the Jewish library. Tiny, of course, but perfectly arranged to be inviting and lovely. Taking photos in the homes of friends is a bit touchy so I don't have too many. I have never seen such amazing hors d'oeuvres served just a few at a time. All kinds of fancy saucisson from Spain, bite sized tapas, wonderful exotic smoked salmon which she had bought at the Bastille market that morning, a special Camembert cheese with calvados which was unbelievable. Melon kabobs with all kinds of interesting additions, special breads besides just a baguette, and the best of all, tiny cups filled with a deviled egg topped with a peeled shrimp. Two other friends of theirs came with their two doggies, KiKi and Otto, who were perfectly behaved. It was Leopolo's 59th birthday. He is a professional opera singer and teaches voice. He serenaded us all afternoon with his deep, booming baritone voice. Bernie joined in on some of it. To top off the time together, Elena had bought a beautiful birthday cake done as only the French can do. Decorated with strawberries, it had a pistachio base filled with crème. Oui, it was a low-calorie afternoon!  And it was also a memory that we will forever cherish.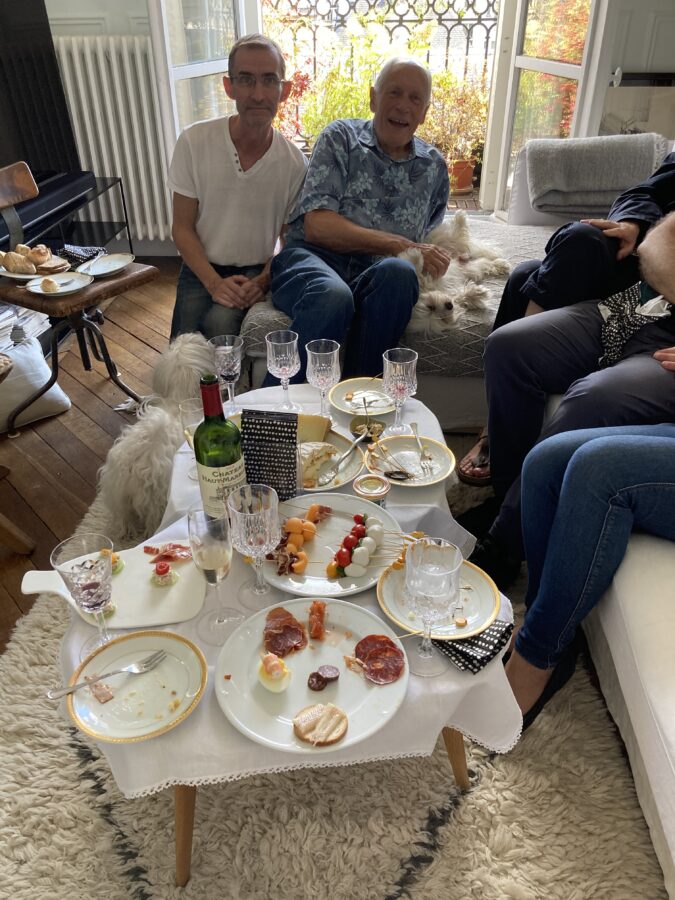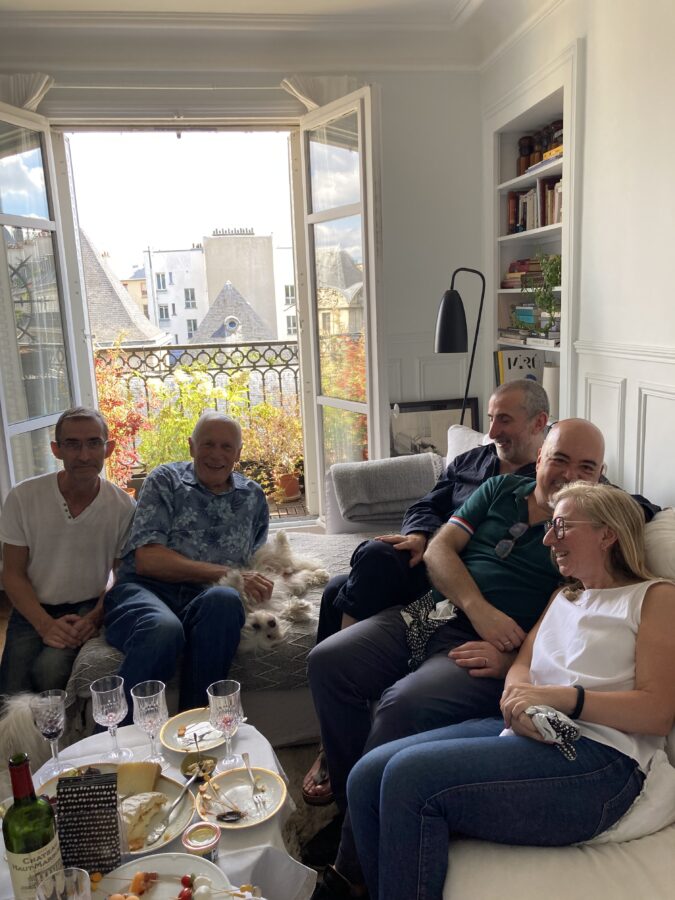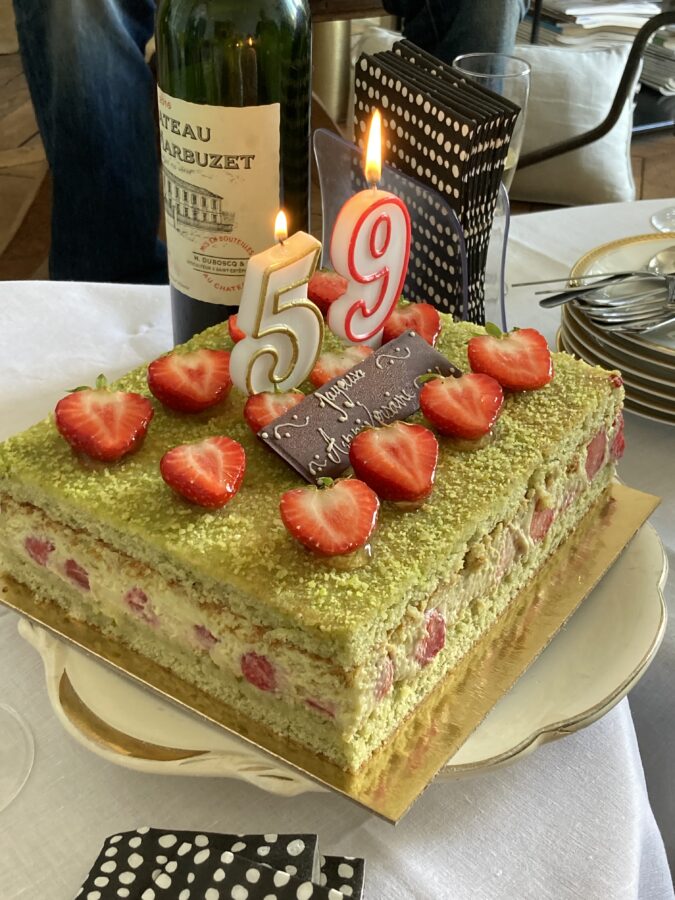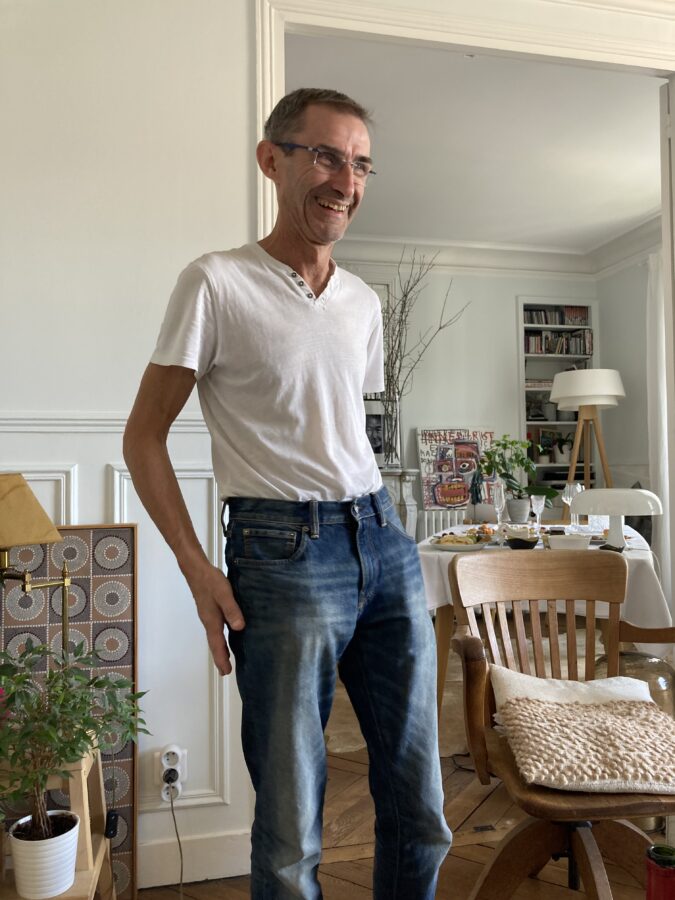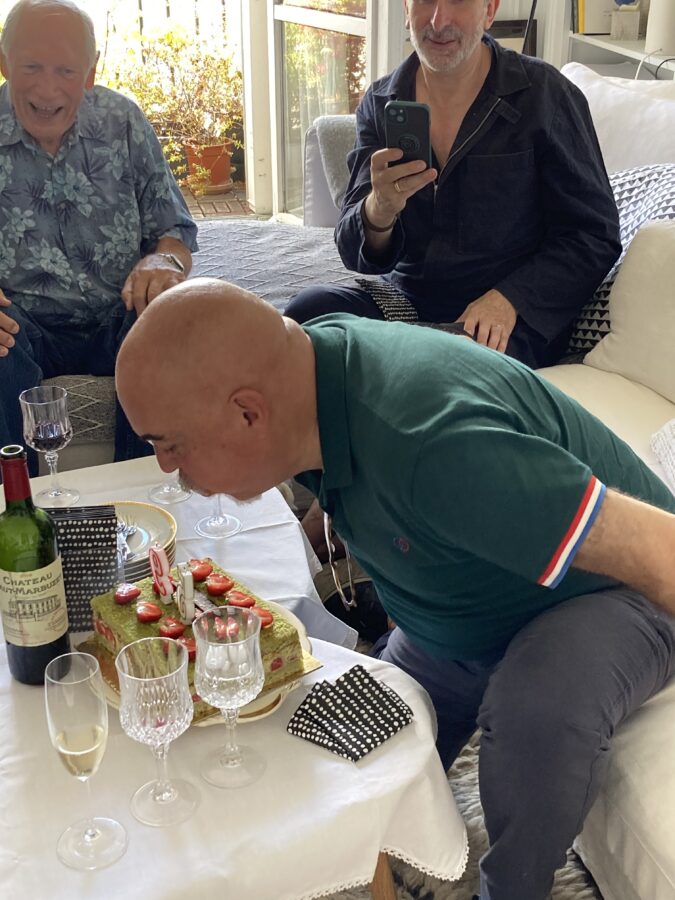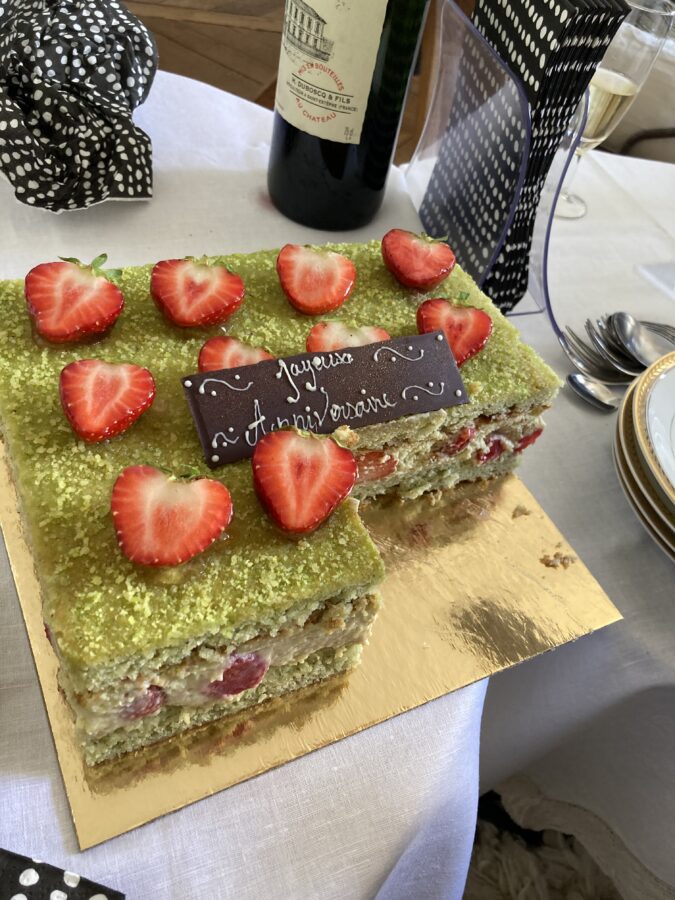 After our time at the ER yesterday morning, we took the bus to Bernie's old neighborhood around Place Victor Hugo. There is a favorite restaurant we always enjoy called Romeo. It's lovely on the inside and we sat at the very same table where I captured Bernie in a photo in October of 2019 which ended up winning the light theme contest that year. You may remember it. I found the photo in my library!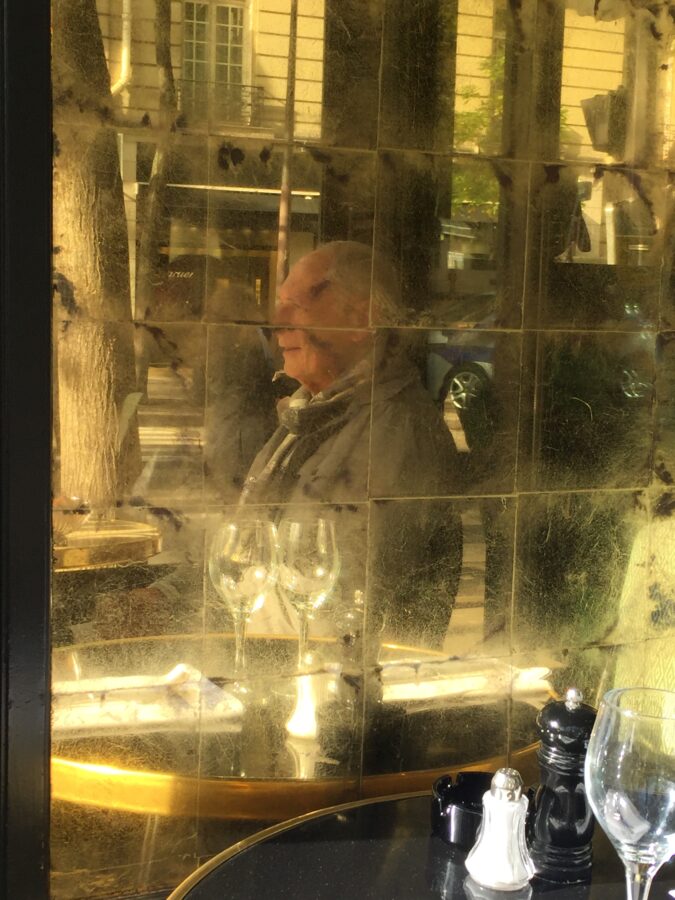 Last evening, we were invited to dinner at the home of our former neighbor and dear friend, Chantal, whose apartment was on the same floor as ours for years. Climbing those 34 steps to our old apartment was heart-wrenching…so many memories from so many years. Some of you have stayed in that apartment with us. Chantal had such a delightful meal for us, as she said "all cold." The starter was a jellied soft poached egg wrapped in ham followed by Spanish pork with a salad. The dessert was from a shop on Francois Miron, little meringue cakes which were like eating air. We had an assortment of chocolate, strawberry, praline, coffee, etc. Here's the web site of the shop if you want to take a look.
https://auxmerveilleux.com/en/merveilleux/65-179-mini-merveilleux.html#/4-flavor-chocolate
It was a 4-hour visit which we cherished. We will try to connect one more time on Friday afternoon for a visit to a shop Chantal knows near Odeon which sells café chairs!  How appropriate that would be.
Speaking of which, just when I think I can't find any different café chairs to show you, here's some from our bus ride.
Today looks to be a rainy one. Our plan to go to Montmartre one last time will have to wait.
Have a great day,
L & B