Salut,
Yesterday (Sunday) began for us just before 8am with blaring music and loud commentary outside our window as a lively 10K race for the city of Paris was staged. Around 18,000 people participated, and Bernie grabbed his camera and chased around after them.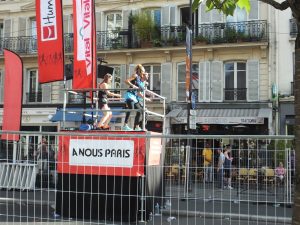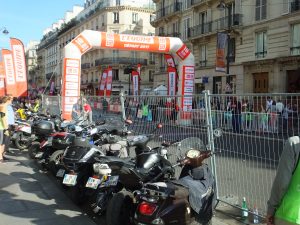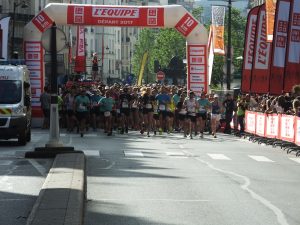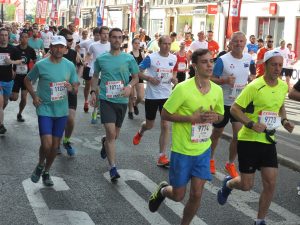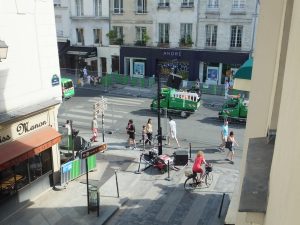 I attended church services at St. Paul/St. Louis and lit a candle for my dear friend, Barbara Buice, who is so very ill. May her pain soon be taken away!
We made a rather poor decision to go over to rue Cler after a bite of lunch inside the apartment, forgetting that it was Sunday and thus finding the shops mostly closed. So we opted to go the The Champs instead and just people-watch. We have a favorite bar/restaurant called of all things Unisex with bright orange chairs and a wonderfully nice restroom. It's down close to the Franklin Roosevelt subway stop, not as crowded, and not boxed in as so many of the cafés are on The Champs. We deliberatedly caught some "male-oriented" photos to balance our post from the other day which focused on women's fashions. Guys, hope you enjoy!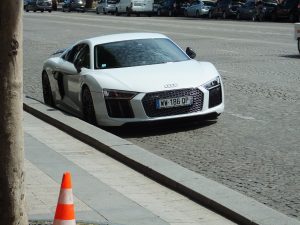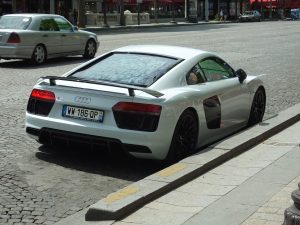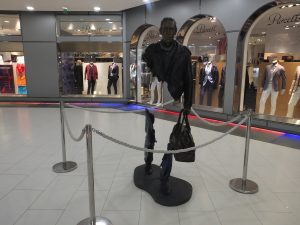 It seems all things were coming up lavender, even a subway station.
The "Purely Paris Photo of the Day" speaks to the truth that one never knows what you will see on the streets of Paris.
We ended our evening sitting down at Le Bouquet St. Paul with friends, Mark and Linda, from Australia. It was their last night in Paris, and we have so enjoyed their company.  BUT ask us if we got a photo of them…alas, we did not! Shame on us. We did, however, capture the beautiful light of Paris at sunset against the ancient buildings with their chimney pots. It's the featured photo at the top of the blog.
And today will be laundry all day. Ugh! But we do have a nice new Electrolux washing machine.  Just have to figure out how to use it which isn't always easy! Each load takes 2 hours and 41 minutes…oh-là-là!
À bientôt
L & B
P.S. Let me know if you prefer the pictures larger as I embed them in the blog which might save you the time of clicking to enlarge.